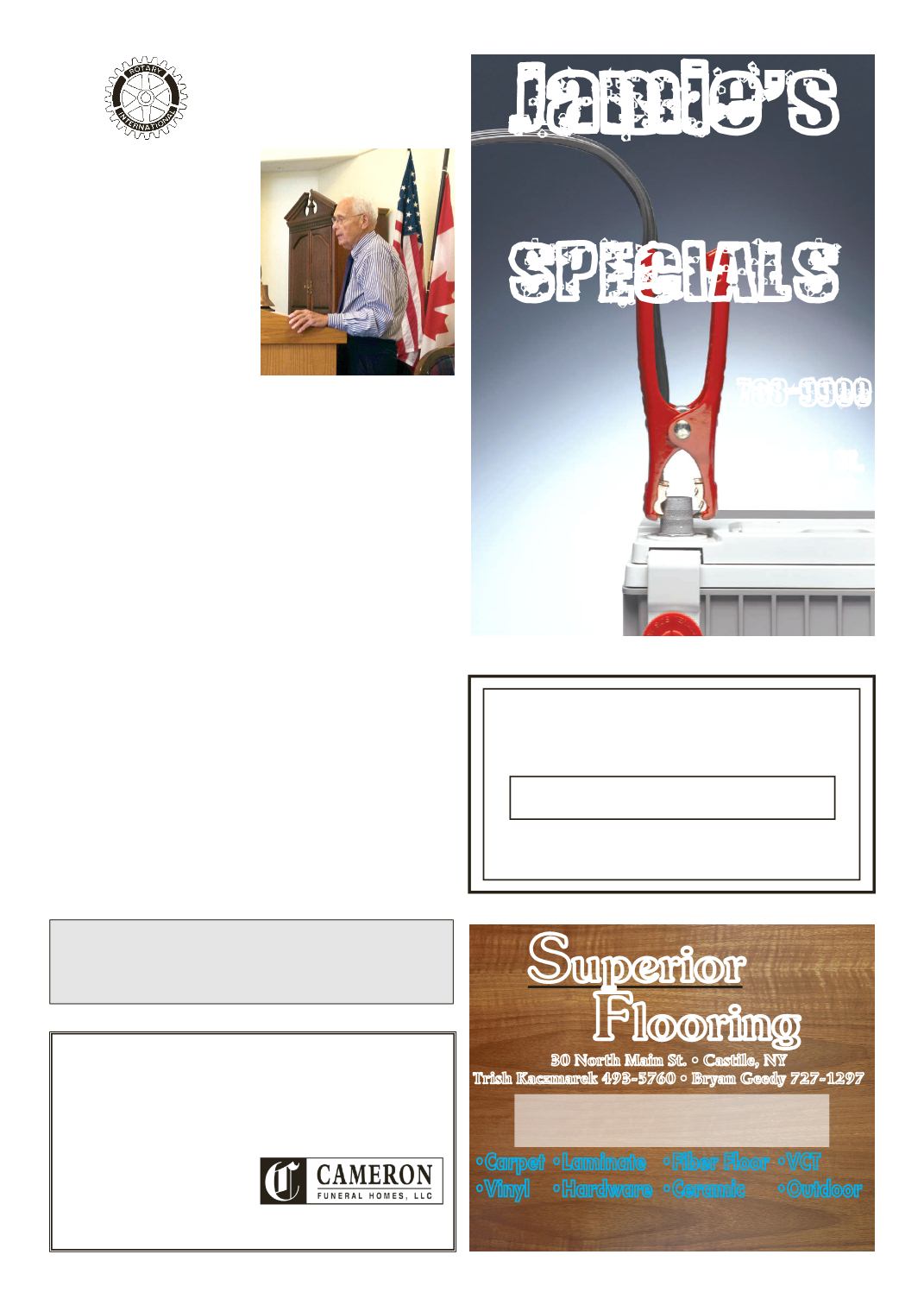 LEROYPENNYSAVER&NEWS -AUGUST 3, 2014
HelpingFamiliesCelebrateaLifeLived
"Our FamilyServingYours Since 1907"
Trusted•Honest •Proven
(585) 768-6800•LeRoyFuneralHome.com
Cameron, Brady&Steuber
FuneralHome
111Wolcott Street
LeRoy,NY14482
SUPPORTYOUR LOCALADVERTISERS!
They help sponsor the local news section of the Le Roy Pennysaver.
THANKS FORYOUR SUPPORT!
LeRotary
Notes
Plumbing • Heating
Installation&Repair Service
For All Residential &Commercial Work
'
BobAdams
Automotive
LubeOil Filter
&Rotation - $24.95
Alignments - $49.95
NYS Inspections -
$15.00
All BrakeWork
15%OFF
FREEWash&Vac
WithAnyRepair
$50ormore
Call TodayFor
AnAppointment -
Or StopByAt
AugustDaily
A noon time shower couldn't
dampen the weekly meeting at
theGreensofLeRoy,Wednesday.
Braving the rain along with our
members were several guests.
Joining us today were: Carol
Wolfe'sgranddaughterCatherine
Lee,ChristineGephart'ssonAlex
and theHonorableCharlesDusen
This week's announcements
included: June reported that the
LeRoy Historical Society will
be holding a Euchre Night on
September20th.PresidentRandy
toldus that thereareplentyofop-
portunities for weekly programs
and that the Area 14 Christmas
Party in scheduled for January
2nd and Martha reminded ev-
eryone of the upcomingYWCA
Wheels on Heels event. Tracy
Ford gave the Club the report
on another successful year at the
Oatka Festival hot dog stand,
also reporting thatco-chairperson
Scott McCumiskey will be next
andTimMoagwere asked about
their missed meetings, and only
Tim had the use a green card.
Thisweek's fining sessionwas
the result topnotch investigative
work by President Randy at this
year'sOatkaFestival. SamVagg
fined $5.00 each for their superb
workasnewFestivalCommittee
members. SamVagg was fined
an additional $5.00 for being
asked to"work the street"during
theparade.TracyFordwasfined
$5.00 forborrowingmoney from
BobCarlson to feed her jewelry
obsessionwith festival vendors.
TomMcGinnis paid dearly for
catching anapduring this year's
fishing derby, the night after his
50-year Class Reunion with a
$5.00 fine. Bob Carlsen didn't
quite get out of his recent traffic
stop, the police officer said he
"couldn't ticket an 82 year old"
President Randy had no trouble
thoughcitinghim fora$5.00 just
This week's program was an
information filed presentation
given by Bruce Baker on the
HeroinEpidemic inOurCountry.
The talk covered every aspect
of the opiate. Bruce went into
detail defining the drug, giving
a complete history of use along
with thecurrent stateofaddiction
and chronic use of the narcotic.
Thank you Bruce, for sharing
your knowledge and research.
Like us on Facebook at "Rotary
30NorthMain St. •Castile,NY
TrishKaczmarek493-5760 •BryanGeedy727-1297
We have it all!
WBECertified FREEESTIMATES
•Carpet •Laminate •Fiber Floor •VCT
•Vinyl •Hardware •Ceramic •Outdoor
Serving you the best
Price •Quality& Flooring around!