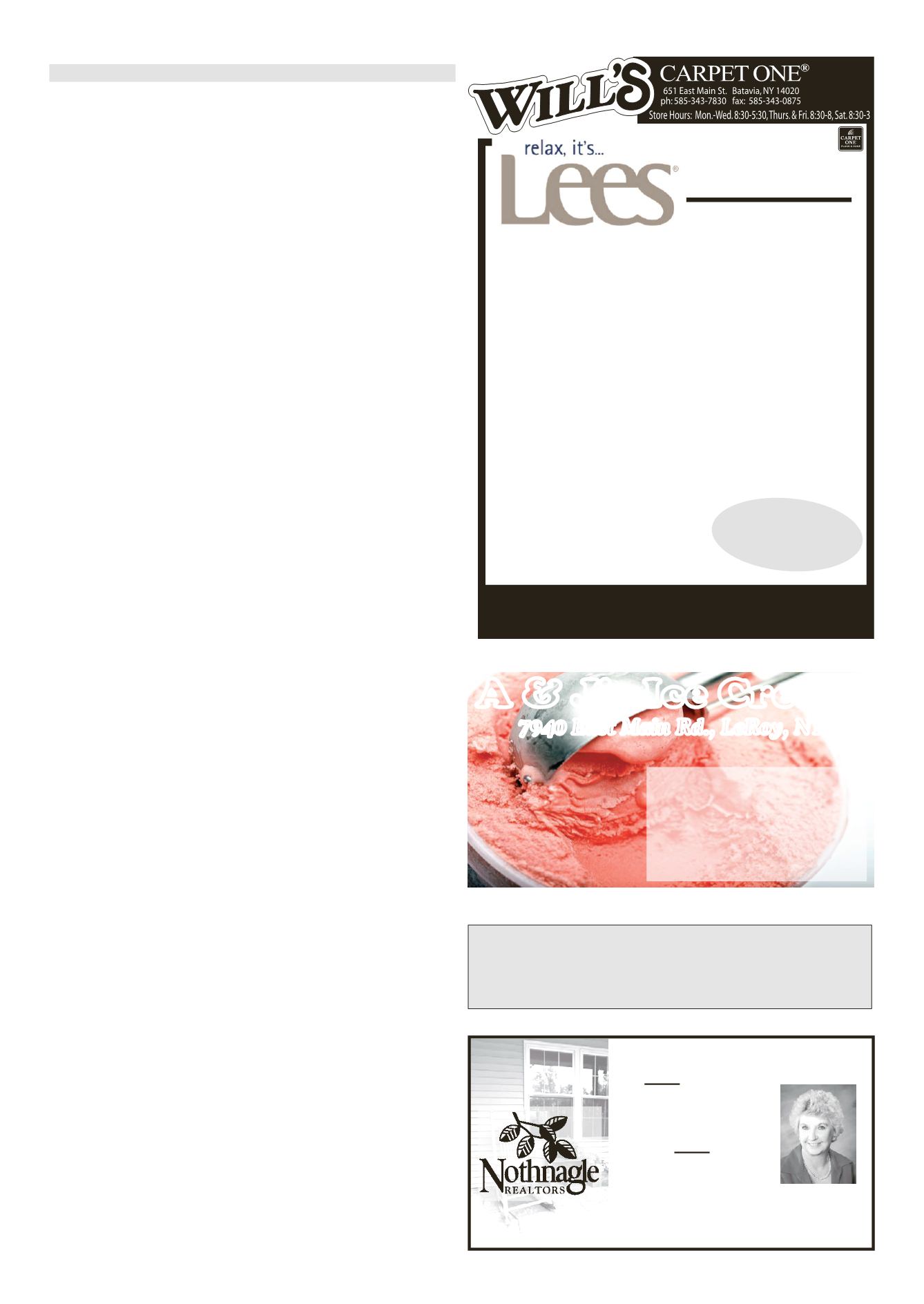 LEROYPENNYSAVER&NEWS -AUGUST 3, 2014
FLOOR
&HOME
TheONE store for your perfect floor.
•NOExclusions - Stain& SoilWarranty
• 25YearPet StainWarranty
• FreeEstimates
• FinancingAvailableTo
QualifiedBuyers
7940EastMainRd., LeRoy, NY
Hurry
LimitedTime!
Batavia
585-343-6750
NOW is theBEST time
toBUYwith the interest rates
at their lowest!
Don't wait
toBUY -
call
LindaBeaumont
for all your real
estateneeds.
LindaBeaumont
Home (585) 768-6315
LicensedReal Estate
Salesperson
Multi-MillionDollar Producer
AROUNDTOWN
byStephenR. Barbeau
Supervisor, Town ofLeRoy
(585)768-6910 x 231
I am very pleased to announce
the formal creation ofWater Dis-
trict#10.Afteradecadeofworkby
many residents of theLeRoy-East
Bethany/Wescott/Cole (west) Rd.
area (NYSmunicipal law requires
this to be a grassroots endeavor)
to improve their water quality
andquantity, theTownBoardwas
able to facilitate this to successful
I amalsopleased toannounce
the final adoption of a newly
updatedand revisedTownCode.
For the first time since 2001,
our new code book is updated
to include local laws passed
since then, updated revisions to
general NYS Municipal Law,
standardizes language,andelimi-
natesoutdated information.Even
moreexciting, residentswillnow
be able to access the entire code
on-linebygoing toGeneralCode
Publisher's (our contractor)web
site (generalcode.com–a linkon
theTownweb site forthcoming).
Click on eCode360, then NYS,
then scroll down to Town of
LeRoy (one note, ChapterA179
is still under review). Thankyou
to thePlanningBoard,Chairman
Dawley, CEO Steinbrenner for
their assistance on this project.
Speaking of code, the Board
has been petitioned by a group
of residents to amendour current
Noise Local Law (Chapter 105).
Currently, there isa9:00PM"cur-
few" for conducting construc-
tion-type activities, operating
power equipment (e.g., mowing
the lawn), and other "unneces-
sary" noise activities that might
disrupt neighbors. Their request
is tomove thisPM time to11:00
and their request is supportedby
thePlanningBoard's recommen-
dation (note: theVillage time in
their code is 11:00 PM). If you
wish tocomment on thispropos-
al, please contact a Town Board
member or attend the public
hearingonAugust28at7:00PM.
approached the Town Board. In
sum, this service will no longer
be able to sustain itself more
than another year or two and
needs substantial governmental
subsidies to continue. LeRoy
Ambulance, servicing only the
Village and Town of LeRoy,
maintains a 24/7/365 presence
(one crew and vehicle available
at all times), with a totally paid
staff of about twenty-six, and a
response time of 4-8 minutes.
Due to labor costs, increasing
fuel and equipment costs, and
a huge decrease in government
Medicare/Medicaid reimburse-
ments (a large percentage of our
ambulance calls), the revenues
areno longer there.TheCounty's
MercyEMSservicedoesprovide
backupservicewhenLeRoyAm-
bulance isonanother call but the
average response time to LeRoy
then increases to about 17 min-
utes. At present, it is estimated
the initial year's subsidy request
($60,000) would add about 16
cents per thousand of assessed
property value to the tax rate.
Thecurrent tax rateof .90would
move to $1.06 (just for ambu-
lance- about $16.00 increase for
pling with the following ques-
tions: Should theTown (Village)
begin to subsidizeLeRoyAmbu-
lance? Ifnot,willMercyEMSbe
able to fill the void adequately?
If so (subsidize), what is the
best method to do so (create
a "district" or straight budget
line item)? Howwill LeRoy be
impacted by the State's tax cap
(andnow, tax freeze) legislation?
Finally,LeRoyBusinessCoun-
cil is sponsoring LeRoy Com-
munityNight at Dwyer Stadium
on August 8 at 7:00 pm. Our
Muckdogs play the New York
Yankees affiliate fromStaten Is-
land,ourchampionLittleLeague
teams will be recognized, there
are fireworks after the game,
and a number of our merchants
have graciously donated gift
certificates fordrawingsbetween
innings. Reduced price tickets
($5.50- cash only) are available
at theTownHall, LeRoyFederal
CreditUnion,FiveStarBank,and
TompkinsBankofCastile.Come
join the fun, support community
baseball, and support our local
Town (and at the ballgame)!
CARPET
ENTIRELINEOFLEE'SONSALE
InstalledWith a 6#Pad
50%
OFF
SUPPORTYOUR LOCALADVERTISERS!
They help sponsor the local news section of the Le Roy Pennysaver.
THANKS FORYOUR SUPPORT!