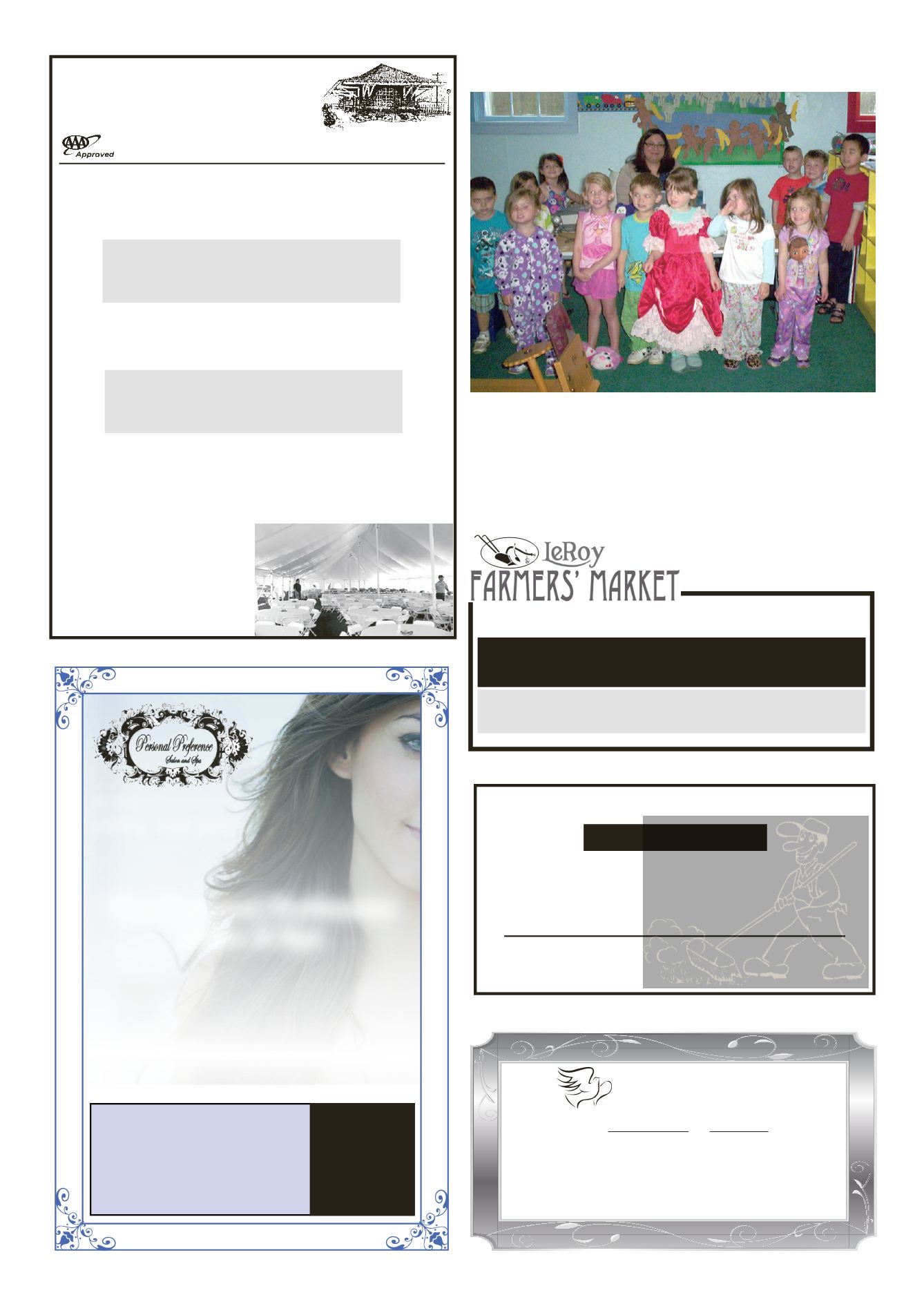 LEROYPENNYSAVER&NEWS -AUGUST3, 2014
D&RDepot
63LakeSt. (Rt. 19), LeRoy• 768-6270
Let'sMeetAt The ...
OpenForBreakfast, Lunch&Dinner - 7DaysAWeek 7am-9pm
F
ALCONE
F
AMILY
Funeral&Cremation Service, Inc.
Director/Owner
Director /Owner
FuneralDirector
SUNDAY,AUGUST3rdDINNERSPECIAL
SHOREDINNER - $20.99
(includes seafood bisque soup, lobster tail, crab cakes, broccoli
salad, beverage, and fresh strawberry shortcake)
SPECIALEVENT–AUGUST2 and 3
Laura IngallsWilderWeekend
at theGeneseeCountryVillage andMuseum
SUNDAY.AUGUST10thDINNERSPECIAL
ROASTCHICKENDINNER
withhomemadedressing
- $15.99
(includes soup or salad, realmashedpotatoes, beverage& dessert)
SPECIALEVENT–AUGUST8, 9, 10
National SilverBaseBallTournament
At theGeneseeCountryVillage andMuseum
TheDepot's new sister company, DoubleLRentals - offering tables, chairs,
heaters, bars, linens, dishes& catering supplies for your special occasions!
10%Discount
when youuseboth the
D&RCateringServices
andDoubleLRental
foryour event.Visit dou-
blelrental.com
or call us at
(585) 344-0023
Jams, jellies, eggs, gluten free baked goods,Yancey'sFancyCheeses, Tracy'sTeas,
Natural DogTreats byEva, NundaMustards, OnceAgainNut Butters,
First Light CreameryCheeses andYogurts, baked goods, organic produce, honey,
maple syrupand fresh, locally grown produce.
• LeRoyFarmer'sMarket onFacebook
TRIGON PARK
Saturday, Aug. 9th
9:00 am-12:30 pm
LOCAL • FRESH•DELICIOUS •NUTRITIOUS
More variety arrivingweekly as the growing season progresses. Support your neighbor! Buy Local!
ourCommunityboothwith theirquilt raffle.
8/9Market -
Folk 'OTheRoadwill be in ourMusic tent.
LeRoy Nursery School had a special visitor from The Center
forMissing&ExploitedChildren,DebraOrtizPardi. Shevisits
everyyeardoingawonderful programonkeepingour children
safe. Safety isapriorityatLeRoyNurserySchool.Picturedhere
is the2DayClass. Someenjoyingpajamadayand someplaying
dress upwhilewaiting tohave their child IDs taken. Something
very important forparents tohave.
TeachingSafetyAt LNS
CleaningService
•Carpet &UpholsteryCleaning
•Spot Cleaning&Odor Removal
•Tile&WoodFloor Cleaning&Waxing
•Complete Janitorial Services
(585) 768-2250
768-2250
Kate will be specializing in
FamilyHair Care •Updo's
Mani's •Pedi's •Gel Nails
The Personal Preference
Salon& Spa
Would like to welcome the very talented
Kate Parmenter
Kate has been a hair stylist for 6 years
MAINATTRACTION