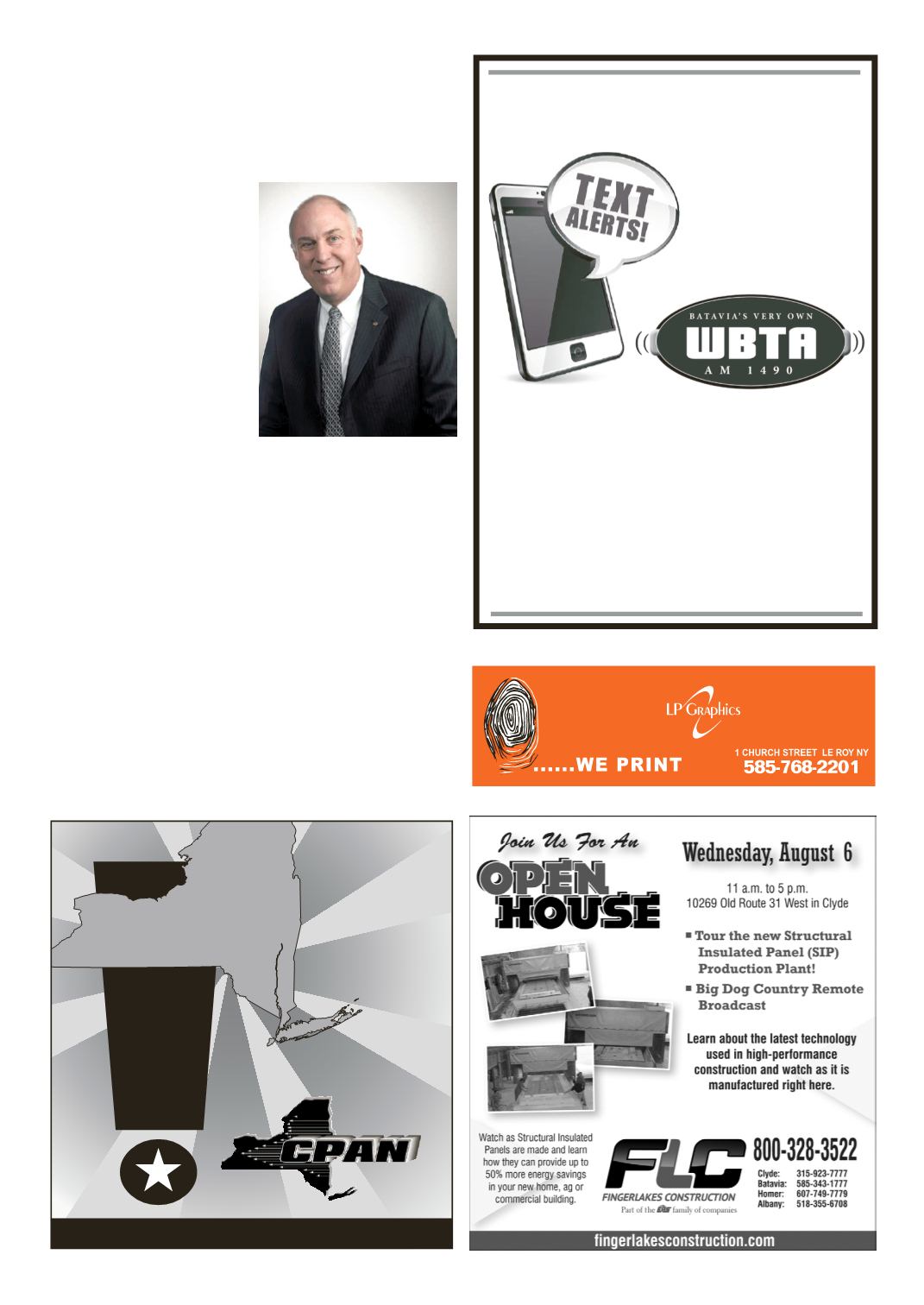 LEROYPENNYSAVER&NEWS -AUGUST 3, 2014
SIGNUP TODAY!
GET ONLY THE
NEWS YOU
CHOOSE
FROM
New! Signup for TEXTALERTS.
Get only thenews you choose!
Be the first to know about SevereWeather,
BreakingLocal News, TrafficAdvisories&dSchool Closings.
Signup today forWBTATextAlerts.
You need to only supply your cell phonenumber
and select the services youwant to receive.
Wewill never sell your information to anyone.
WBTAi.com
SUBMIT
YOURAD
HERE
ONE
ONE
*$490 for15words. $15 foreachadditionalword.
AGreat Deal toReach theWholeState!
After 26 years as president
of Castile, James W. Fulmer is
retiring as President at the end
of this year, but will remain as
chairman of the bank's Board
of Directors, said Stephen S.
Romaine, president andCEO of
TompkinsFinancialCorporation,
the bank's parent company.
Fulmerwill retain several oth-
ercorporate roles, includingvice
chairmanof theTompkinsFinan-
cialBoardofDirectors, chairman
of the board of Tompkins Insur-
ance Agencies, and member of
theboardsofTompkinsFinancial
Advisors, Tompkins Mahopac
Bank andTompkinsVISTBank,
all affiliates of Tompkins Finan-
Fulmer is active in a variety
of professional organizations,
including theBoardofDirectors
of the Federal HomeLoanBank
of NewYork and was recently
appointed to theFederalReserve
Bank of NewYork Community
Depository Advisory Council.
He actively serves as a member
of theBoardofDirectors ofErie
and Niagara Insurance Associ-
ation of Williamsville, Cherry
Valley Insurance Agencies of
Williamsville, theUnitedMemo-
rial Medical Center of Batavia,
and is Vice Chairman ofWXXI
Public Broadcasting Council of
Heandhiswife,Marjorie, live
inLeRoy. Theyhave threegrown
torshasnamedJohnM.McKenna
president and CEO to succeed
Fulmer. McKenna has been a
seniorvicepresidentatTompkins
Bank of Castile for five years,
concentrating in commercial
FulmerRetiringAs
PresidentOf
TompkinsBankOfCastile
lpgraphics.net