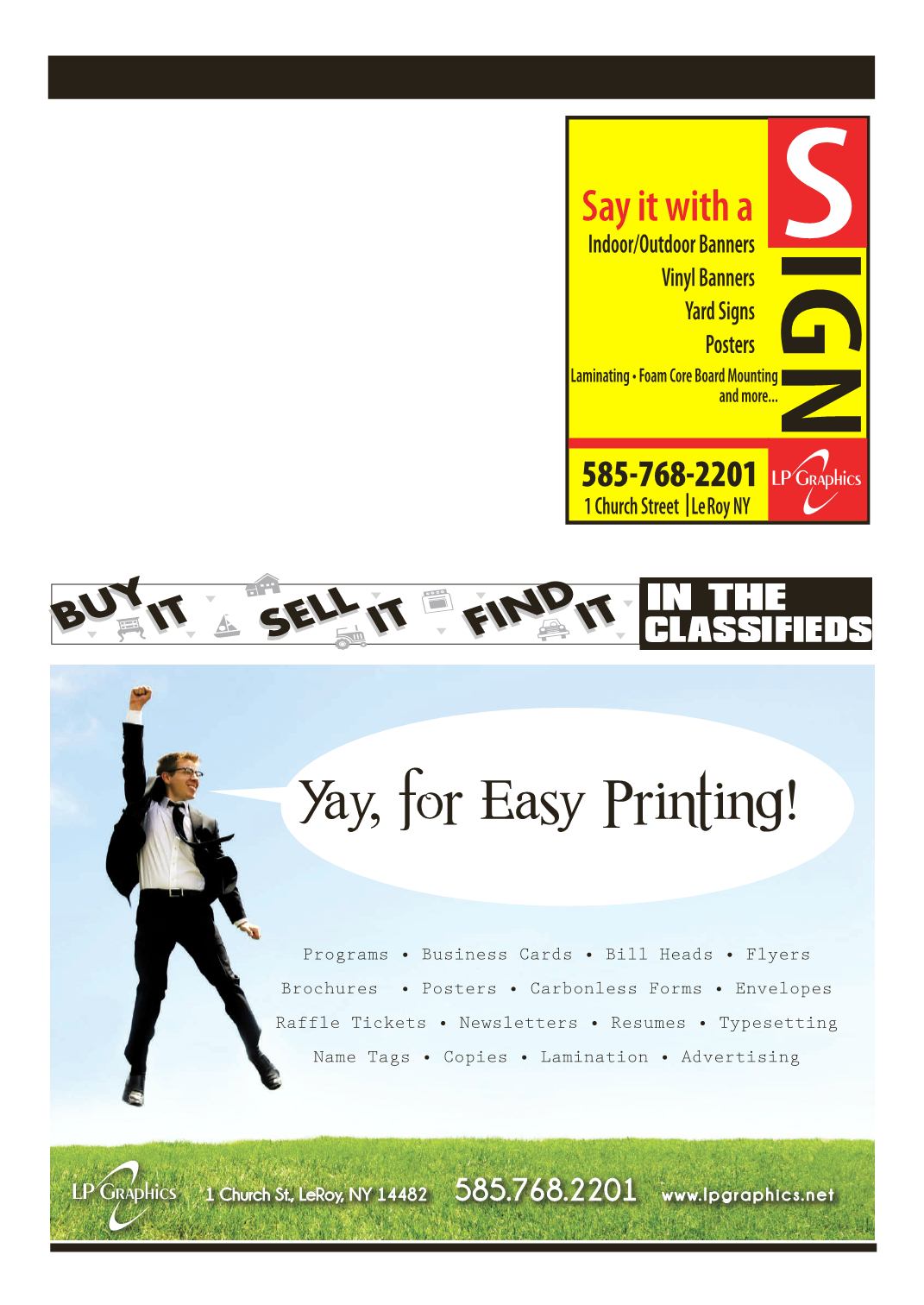 LEROYPENNYSAVER&NEWS -AUGUST3, 2014
REPLACEMENT WINDOWS
$189 INSTALLED.
ble hung, tilt-in. $50 rebate
on all Energy Star Windows.
cards accepted. Call Rich @
DIVORCE $350*
Regular Divorce. Covers chil-
dren, etc.OnlyOneSignature
Required! *Excludes govt.
fees. Local & In-State Phone
No. 1-800-522-6000 Ext. 100.
Baylor & Associates, Inc. Est.
BANK ORDERED SALE.
to 10 acres - from $69,900.
Beautiful Bethel NY. Near
WoodstockSite. 85Miles from
Manhattan. Assorted Hard-
site, underground utilities,
across from lake.Walk to Per-
forming Arts Center, financ-
DISH TV RETAILER.
at$19.99/month (for12mos.)
& High Speed Internet start-
ing at $14.95/month (where
available). SAVE! Ask about
SAME DAY Installation! CALL
SAFE STEP WALK-IN TUB.
Alert for Seniors. Bathroom
falls can be fatal. Approved
by Arthritis Foundation. Ther-
apeutic Jets. Less Than 4 Inch
Step-In. Wide Door. Anti-Slip
Floors.AmericanMade. Instal-
lation Included. Call 1-800-
BUNDLE AND SAVE! DI-
RECTV,
INTERNET
&
PHONE
Free 3months of HBO, starz,
GENIE 4-room Upgrade LOCK
IN 2 YR Savings. Call 1-800-
REDUCE YOUR CABLE BILL!
Get a whole Satellite system
installed at NO COST and pro-
gramming startingat $19.99/
to new callers, SO CALL NOW
AIRLINE JOBS START HERE
-
Get FAA approved Aviation
MaintenanceTechnician train-
ing. Financial aid for qualified
students. Job placement as-
sistance. Call AIM 1-866-296-
DO YOU HAVE VACATION
PROPERTY FOR SALE OR
RENT?
nearly 5 million households
and over 12million potential
buyers, a statewide classified
ad can't be beat! Promote
your property for just $490
for a 15-word ad. Place your
ad online at fcpny.com or call
lpgraphics.net