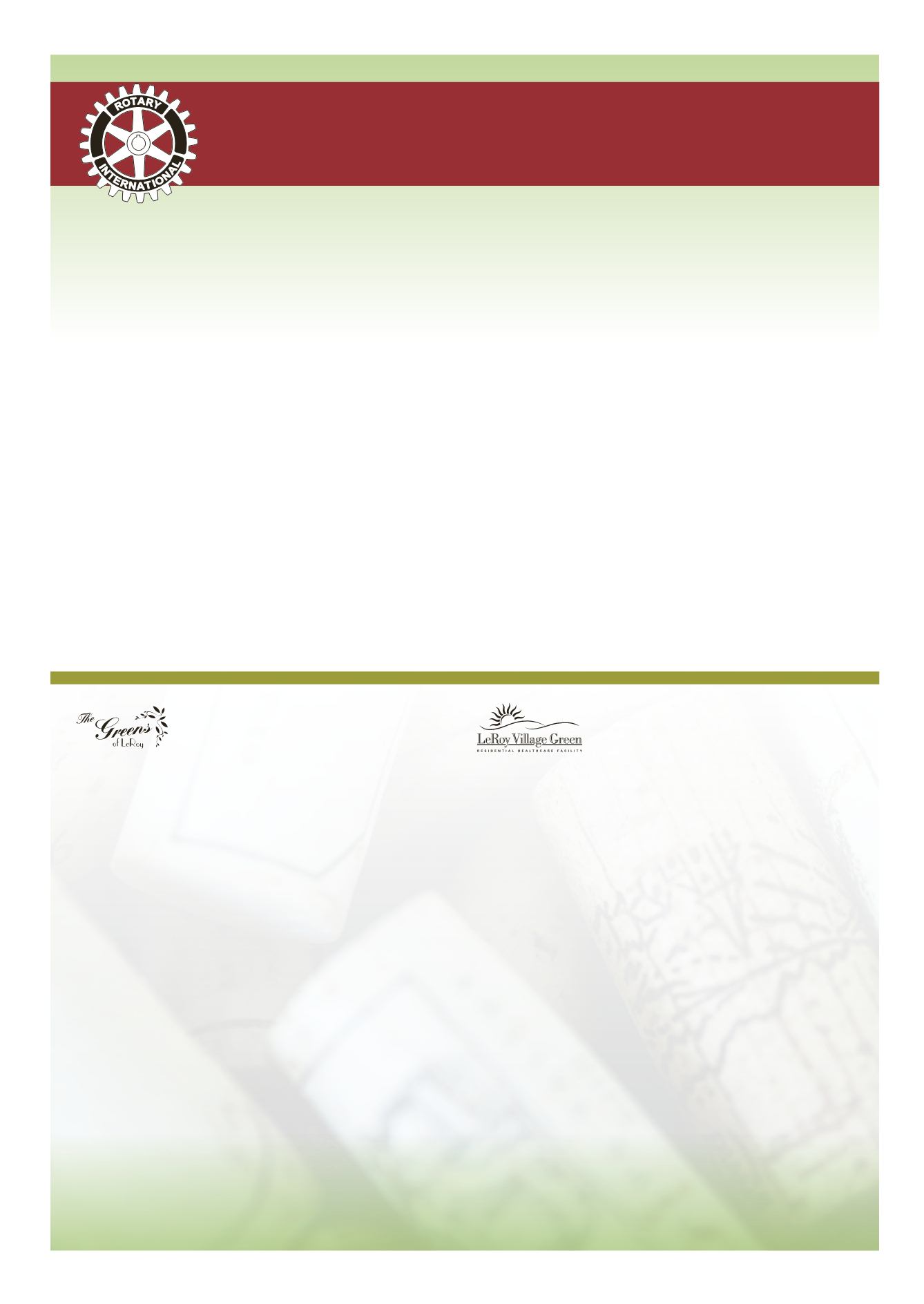 LEROYPENNYSAVER&NEWS - JULY 6, 2014
WBTA
CindyBishop
Motts/Snapple
Randy&MaryannVink
Barilla
Steve&Vergina Zocco
Stan's HarleyDavidson
Travel Centers of America
Tops-LeRoy
LeRoy Physical Therapy
-Village Fitness
Memorial ArtGallery
George EastmanHouse
SenecaPark Zoo
Vintage&Vogue
RochesterMuseum&
ScienceCenter
TheHobbyHorse
Tom&KimCox
YMCA
Crnkovich's FarmMarket
MacPherson'sOrchard
Crocker'sAceHardware
AdventureCalls
Bob&GraceCarlsen
Seabreeze
Batavia'sOriginal
Bob JohnsonChevrolet
Sticky Lips
TheCoin Shop
GoTToGo Electric
PCore
Target-Batavia
MarionKohl
TomMurray&MaryYoung
BataviaMuckdogs
Orcon
RonRossi
TracyMartorana
TheYNGodess
Mahan's
Woody's Pizza
Anil Sawhney
Chesley's
Pizza Land
The SeacowGrill-Geneseo
Chris & JamieBiviano
C&G's
DurableMedical Equipment
GoldenCoin Laundry
Jeff &ChristineGephart
LeRoyChiropractic
Place EyeCare
LPGraphics
Wegman's Brockport
Rochester Amerks
Trailways
Rick& Tamera Torrey
Cheryl Zebrowski
ElizabethAnn Perrin
StephenCappotelli
AlannaDriscoll
Rayleigh Staba
BrookeBower
AllisonWeaver
Rachel Glucksman
SavannahGill
ElizaHarvey
TheRotaryClubof LeRoy
is pleased toannounce the
2014REAMilne ScholarshipRecipients are:
The2014Rotary Interact Scholarshipwinner is:
Hanna Tillson
The REAMilne Scholarship Board of Directors & The Club of LeRoy
would like to thank thecommunity for all theamazing supportwe received through
2014Graze to RaiseCampaign
. This fundraiser helps well deserving students in
the LeRoy School District further their education. This year
$29,000.00 in scholarships
wereawarded. Onceagain, weoffer ourmost sincere thank you.
to the followingpeople&business:
TheGreens of LeRoy LeRoyVillageGreen
Smokin' EagleBBQ&Brew
Spirits
D&RDepot
LBGrand
LeRoyCountryClub
Tompkins Insurance
Five Star Bank
Bankof Castile
TAGGConstruction
Walt DisneyWorld
TheBataviaRotaryClub
TomMcGinnis
BobBennett
CarlMcQuillen
RYANHeating
TheBoylan Family
Scofield's Transfer Station
TAMAssociates
Jim& Joan Ellison
Chuck& JuneDusen
CHWright
StaffordCountryClub
Sundry Emporium
Tony&BettyGugino
Bob&BethBoyce
Tracy&Dave Ford
FreedMaxic
Cedar Street Rentals
Arby's-Brockport
Constellation-Finger Lakes