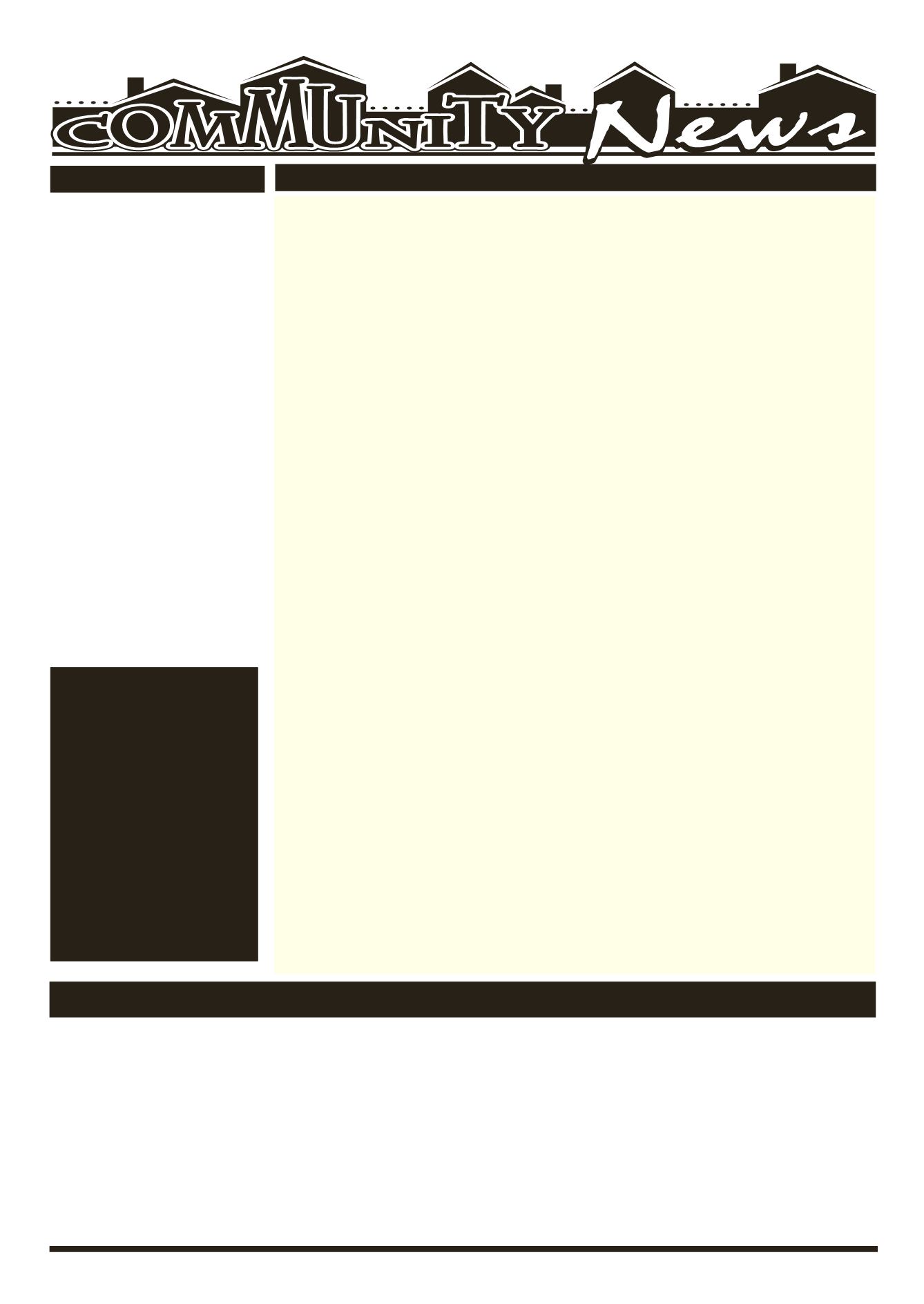 LEROYPENNYSAVER&NEWS - JULY 6, 2014
All GeneseeCounty residents, 60andolder, can takepart in thisweek'sactivitiesat theBataviaSenior Center, 2BankSt., Batavia. Formore information, call 343-1611.
WEEKLYEVENTS
OBITUARIES
Arthritis Exercise
is scheduled for 9:30 a.m.; A representative from
Univera Insurance
will be available from10:00 am to12:00pm.;
Bridge
Alzheimer'sAssociationMeeting
is scheduled for 8:30am to1:30pm.; Ameetingof the
MealsonWheelsDrivers
Cribbage
Quilters
are scheduled tomeet at 9:00a.m.;
Euchre
is scheduled tobeginat 1:00p.m.
IndependentHealth
willbeavailable from9:30am to11:30am.;
CribbageandBridge
LegalServices
isscheduled from8:30am to5:00pmByAppointmentONLY.;
ArtClassandLineDancing
TaiChi
is scheduled tobeginat 12:30pm.
SUNDAY, JULY6
AWANA Program at Penuel Christian Fellowship.
12:15 to 1:45 pm. Ages 5-17 broken into groups. Developing friendships. Having
fun. LearningaboutGod. Safeenvironment.
Konnect YouthGroup at LivingWaters Church,
onMain St. LeRoy. Sundays
from6:30 to8:30pm for ages12-18. "BringDownall theWalls! ConnectwithGod
andConnectwithothers." Formore information, checkus out onlineat: livingwa-
tersleroy.org/konnect-youth-ministry/
MONDAY, JULY7
TOPS (TakeOffPounds Sensibly)
meetsMonday evenings from 6:30-7:15 pm
at the LeRoy Presbyterian Church, corner of Clay &Main Streets. Visitors always
welcome. Call 768-2933 formore info.
Weather program for 3, 4, and 5 year olds at theWoodwardMemorial
Librar
y from1-1:30p.m. Listen to stories and learnabout theweather. Call 768-
TUESDAY, JULY8
LCCP'sGRACE'SKITCHEN:
(WillbeCLOSED, Tuesday, July8th)
every Tuesday evening, 5-7 pm at the LeRoy UnitedMethodist Church, 10 Trigon
Park. ParkingavailableonTrigonPark& the lots to the left andbackof theChurch.
Handicapped Entrance in thebackof the Church. Takeout&delivery are available.
Formore info. contact SelbyDavisat585-738-8882or
WEDNESDAY, JULY9
VillageofLeRoyBoardMeeting
, 7pmat theVillageHall, 3WestMainSt.
WoodwardMemorial LibraryBoardofTrustees
THURSDAY, JULY10
GeneseeVeteransSupportNetwork
(GVSN) supports thedevelopment ofVet-
erans focusedAAmeetingseveryThursday, 6-7pmat theFirstBaptist Church, 306
E.Main St., Batavia.Meetings ledbyMikeW. & are open tonon-veterans aswell.
Handicapaccessible. For additional information call 585-302-0825.
GRACE'S CLOSET: A ClothingGiveaway Program
sponsored by Le Roy United
Methodist Church, 10 Trigon Park, Le Roy. 9:30 am to 11:30 am every Thursday.
Wehave clothing for all ages. Spring& Summer clothingnowbeingput inplace.
Weare inneedof lighter coats, clothing, shoes, pajamas, bedding, sheets inall bed
sizes. Weaccept donations bedroppedoffat thehousenext to the church. Please
put all bags INSIDE on thebackporch. Noelectronics,TV's, computers, dishes, etc.
Anyquestions call theoffice768-8980.
TownofLeRoyBoardMeeting
, 7pmat theTownHall BoardRoom, 48MainSt.
MacrameBraceletsProgramattheWoodwardMemorialLibrary
ZenDoodle Program for adults at theWoodwardMemorial Library
6:30 – 7:30 p.m. Leader: Diana Furman. ZenDoodle is themethod of creating
art using different structured patterns. Call 768-8300 or register online at
FRIDAY, JULY11
Penuel ChristianFellowship,
OneStep to Freedomaddictionsministry, aChrist
Centered Addictions program, a weekly meeting every Friday at 7 pm. Call the
Church formore informationat768-6901or406-3863.
Friday Fun at theWoodwardMemorial Library
from 12:00 - 2:00 p.m. for
children in kindergarten through 6th grade. Children can come to the Library to
play!WehaveagiantbinofLegos,WiiwithGuitarHeroanda largeselectionofboard
games.Feelfreetobring lunchorsomethingtosnackon!Registration isnotrequired.
Saturday, July12
All Babies Cherished, 445 Ellicott St., 344-5660 -
ChickenBBQ Fundraiser
Dukes SmokinBone, 11:30am til soldout. PickupatAll BabiesCherished -Tick-
UPCOMINGEVENTS
LCCP'sMommy&MePlaygroup: Every2nd&4thFriday,
Physical Therapy (in thebackgym). Anymoms and their birth-kindergarten chil-
dren arewelcome to come enjoy socialization, lunch, coffee, structuredgames &
OatkaFestival2014:
Joinus forthe26thAnnualOatkaFestival! July19th&20th,
10am-6pm. Kick-offwith theParade: Saturday, July 19th@11am.Wrap-upwith
theDuckDerby:Sunday, July20@5pm.FindusonFacebook&Twitter forupdates!
Oron theweb: oatkafestival.org
TheStaffordHistoricalSocietyinvitesthepublictothe10thAnnualTasteof
Stafford
eventfrom5:00to8:00pm.onThursday,July10,2014. Theevent is located
in Ilette Park at the corners of Route 5 to Route 237 in Stafford. Bring yourmost
comfortable lawnchairandenjoytheday. (Rain?WewillmeetatStaffordFireHall).
Veterans Only Social Club -
Genesee Veterans Support Network announces a
newmeeting locationatScooter'sFamilyRestaurant,3711WestMainStreetRoad,
Batavia, NY - for the once amonthVeterans Only Social Club. Meetings are held
the second Saturdayof eachmonth from7:00 to8:30PM.Veterans of all eras are
invited toattend. GVSN is locatedat 3837WestMainStreet Road, Batavia, NY. For
more information, contact GVSN, POBox 541, Batavia, NY14021-0541Director@
LeRoyNurserySchool'sAnnualYardSale
will beon July19and20during the
Oatka Festival in the front yard of the First Baptist Church at 5 E. Main St. Please
helpsupportour school andfindsomegreatdeals foryourself!Wearealsoaccept-
ingdonationssopleaseconsiderus ifyouhaveanyyardsale leftovers!CallBetsy@
356-4506 to scheduleapick-upordelivery.
Callingall 3, 4and5 year olds :
Smart Campat LeRoyNurserySchool
July 14-18 from9 am-12pm. This year's themewill be Stars and Stripes. Children
will learnaboutpatriotic themes through funsongs, craftsandgames.Pleasecon-
tactBetsy@356-4506 to register.
Fish FryDinner on Fri., July 18, 2014 at theNorthBergen
PresbyterianChurch
7068N. BergenRd. Bergen. Serving4:30p.m. - 6:30p.m.
Themenu includes fried fish, roasted potatoes, cabbage salad, applesauce, rolls,
beverage, andhomemadedesserts. Formore information call
TheJulymeetingoftheLeRoyTown&CountryGardenClub
siveDinneronWed.July16thstartingat5:45pm.atthehomesandgardensofBetty
Gugino (1WoodwardDrive), SusanDambra (4WoodwardDrive) andNancyBaker
(46EastMain). ContactAnnWaltersat737-9481or768-8130formore information.
CommunityCalendar Submissions shouldbe sent to:
Le Roy
Pennysaver
LE ROY— Dorothy M. Hardy, 90, of
EastMainRoadpassedaway at home
Thursday evening (June 26, 2014).
CALEDONIA/HENRIETTA—Margaret
C. Mack, 98, died Thursday (June 26,
2014). Memorials may be made to
Benincasa, 3880 RushMendon Road,
EASTBETHANY -ClarenceL. Rich Jr.,
80, of East Bethany and Micco, Fla.,
passed away at his Florida residence
onNov. 3, 2013, underVitas Innovative
LE ROY—Antoinette A. O'Geen, 94,
formerly of MyrtleStreet, passed away
Monday afternoon (June 30, 2014)
at the Le Roy Village Green Nursing
Home. The courtesy of no flowers is
requestedwithmemorialssuggested to
St. JudeChildren'sResearchHospital,
262 Danny Thomas Place, Memphis,