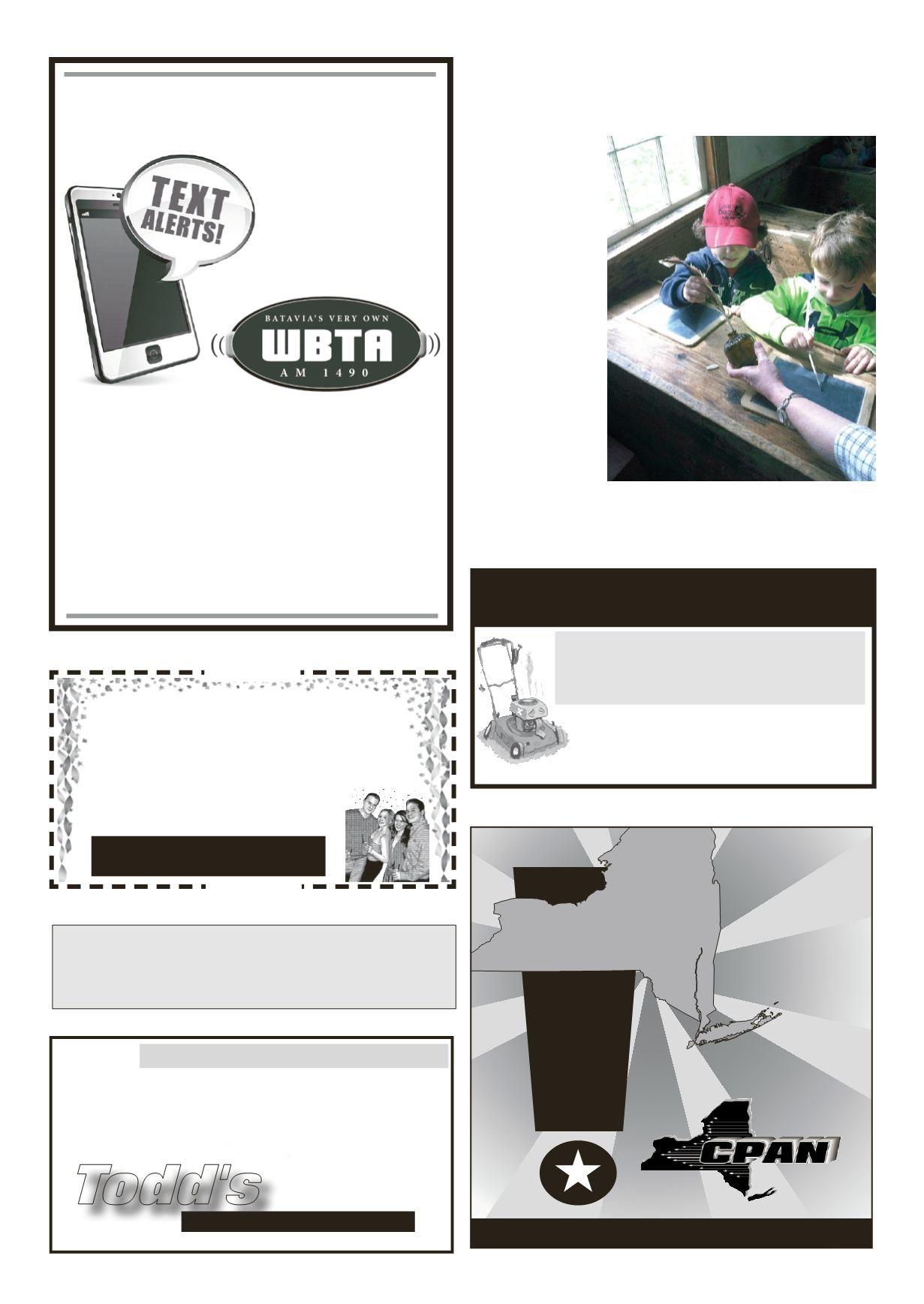 LEROYPENNYSAVER&NEWS - JULY 6, 2014
SIGNUP TODAY!
GET ONLY THE
NEWS YOU
CHOOSE
FROM
New! Signup for TEXTALERTS.
Get only the news you choose!
Be the first to knowabout SevereWeather,
Breaking Local News, TrafficAdvisories&dSchool Closings.
Signup today forWBTATextAlerts.
You need to only supply your cell phone number
and select the services youwant to receive.
Wewill never sell your information toanyone.
WBTAi.com
ONE
ONE
*$490 for15words. $15 foreachadditionalword.
AGreat Deal toReach theWholeState!
NewHomes •Additions •Garages •PoleBarns
ToddCarli • Phone 703-0964
Todd's
Decks •Windows •Doors
Kitchens •Baths
CeramicTile
Basement Finishing
CustomShelves/Built-Ins
Siding •Remodeling
Roofing • SnowPlowing
FULLY INSURED
American Legion
Post 576
585-768-2090
CLIP&SAVE
CLIP&SAVE
Inside - 2RoomsAvailable
Outside - LargePavilion
•Engine andTransmissionRebuilds
•Lawn andGardenEquipment •ATV's, Dirt Bikes
•PickUp andDeliveryAvailable
Hours: Tues.,Wed. 6 pm to 8 pm
Thurs., Fri., Sat. 9am to 6 pm, Closed Sun.,Mon.
8525Rt. 237, Stafford,NY14143
TheGeneseeCoun-
tryVillageandMu-
seum was a great
place for thePre-K
children at Love
Bugs Preschool to
spendtheirlastfield
trip. They learned
all about what is
was like to live as a
child in the 1800's.
They participated
in many activities
and chores that the
children were re-
quired todo tohelp
their families way
back then! They
were even able to
seewhat itwas like
togo toschool.Picturedhereare thechildrenusinga featherand
ink towrite just like theydid over100 years ago!
AVisitToTheGenesee
CountryVillage&Museum
SUPPORTYOUR LOCALADVERTISERS!
They help sponsor the local news section of the
Le Roy Pennysaver
THANKS FORYOUR SUPPORT!