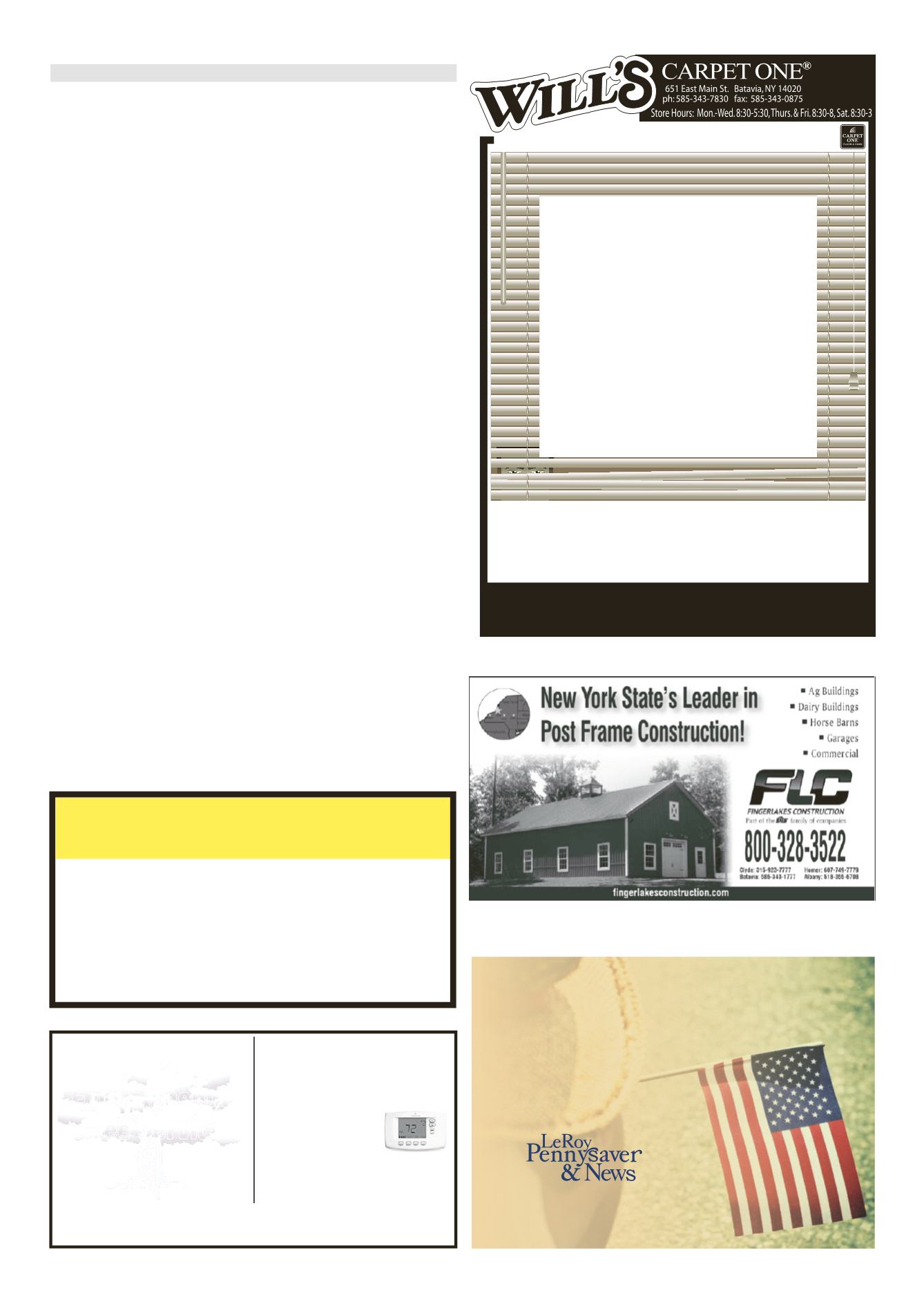 LEROYPENNYSAVER&NEWS - JULY 6, 2014
FLOOR
&HOME
TheONE store for your perfect floor.
585.768.2201
1ChurchSt., LeRoy, NY14482
tothosewhomhavemade
thiscelebrationof
our independence possible...
ALLWORKMANSHIP GUARANTEED • INSURED
297-9097 • 768-7737
• InteriorPainting
• Plaster/LathRestoration
•Drywall&DrywallRepair
•TextureRemoval
• Floors Stripped
&Refinished
•OldCeilings&Walls
MadeLikeNew!
MikeDarby'sPatch&Paint
Hunter
Douglas
WindowCoverings
Select Styles
• Professional InstallationAvailable
• FreeEstimates
• FinancingAvailableToQualifiedCustomers
Malovich
Environmental
Tree Service
•TreeTrimming
•TreeRemoval
•StumpGrinding
FreeEstimates • Fully Insured
24Hour Service
•Residential
•MobileHomes
•ServiceRepairs
•New Installations
•ChimneyCleaning/Repairs
•ChimneyLiners
585-409-6509
AROUNDTOWN
byStephenR. Barbeau
Supervisor, Town ofLeRoy
(585)768-6910 x 231
weekend!Anumber of items to
First, the Town Board has
authorized me to extend our
intermunicipal agreement con-
cerning the fuel depot. Initiated
over twenty years ago, this con-
tract governs fuel useamong the
LeRoy School District, Town,
Village, and Fire Dept. (LeRoy
AmbulanceandGeneseeCounty
Sheriff are secondary users).
Eachentitypays for itsown fuel
usebutweareable toutilizestate
bid prices. The School District
graciouslymanages this process
for us.We divide any necessary
repairs evenly. This is a great
example of shared service that
Second, theBoard also autho-
rizedme to sign a contract with
MercyEMSAmbulanceservice.
Wehaveutilized thiscounty ser-
vice formanyyears as a backup
towhenLeRoyAmbulance ison
Next, Ihavebeen informed that
repairs to the railroad tracks on
CircularHill Rd. are, in fact, on
schedule for late summer/early
fall.More updates on detours in
Thefinal revisionofourupdat-
ed Code is in and the Board has
set July 24 as the public hearing
date. This revision contains NO
this does is enters all code revi-
sions made since 2001 (the date
of the last revision to the book),
updatesrevisionsfromNYSGen-
eralMunicipalLaw, standardizes
some language, eliminates some
outdated information. Copies of
the proposed changes are avail-
able in the Town Clerk's Office
beginning July 17. TheGenesee
County Planning Board has re-
viewed the proposed changes to
the zoning chapter and our local
Planning Board the remaining
Also on July 24will be a pub-
lic hearing to formally establish
waterdistrict #10, per residential
I wish to echo the Mayor's
sentiments about traffic safety
around our pool and parks this
summer. Additionally, I very
much recommend formerLeRoy-
an John Scanlan's newest book,
VictimsofCircumstance.Anoth-
erwinner from John andgreat to
add toyour summer reading list!
Thankyouverymuchandseeyou