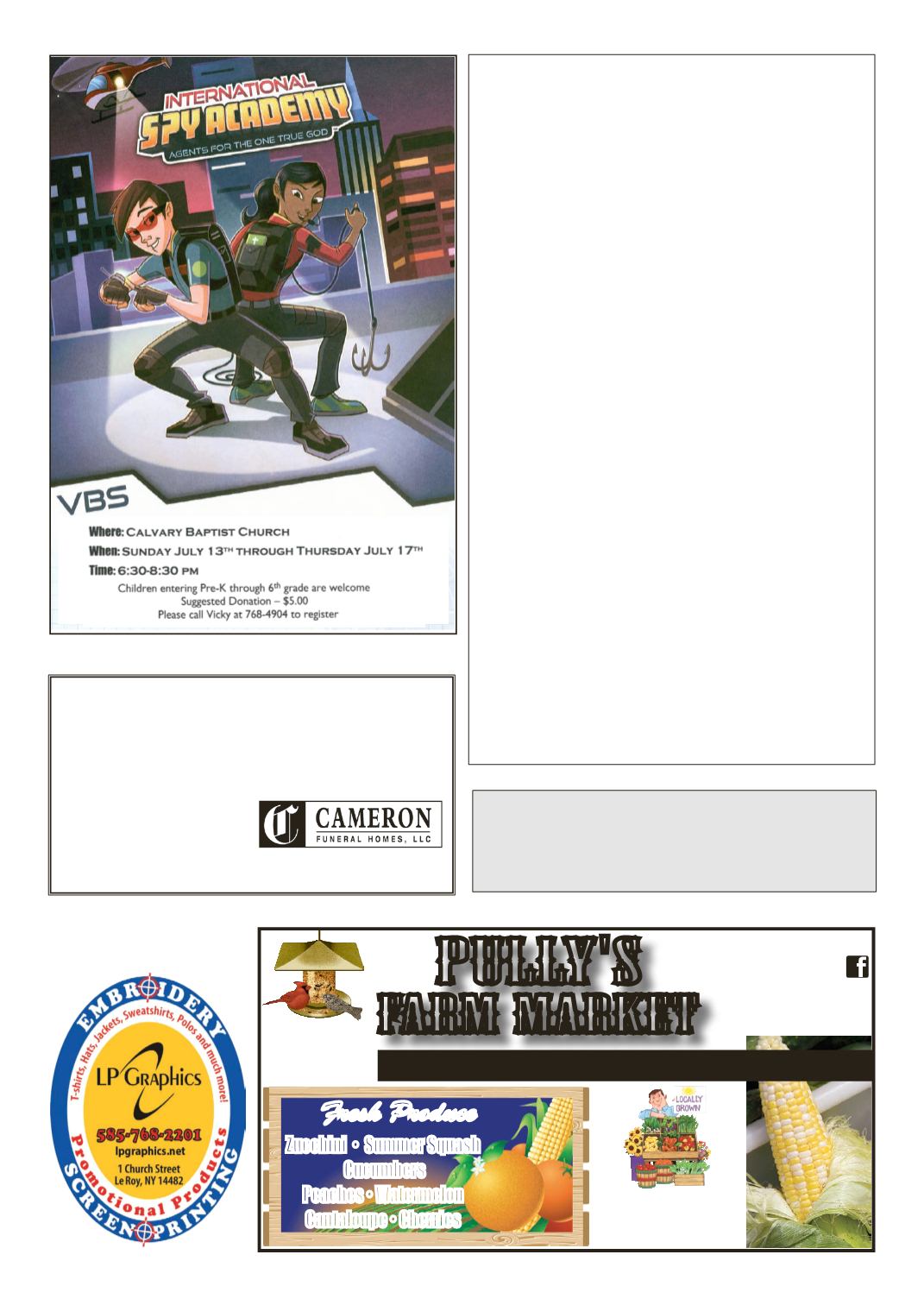 LEROYPENNYSAVER&NEWS - JULY 6, 2014
HelpingFamiliesCelebrateaLifeLived
"Our FamilyServingYours Since 1907"
Trusted•Honest •Proven
(585) 768-6800•LeRoyFuneralHome.com
Cameron, Brady&Steuber
FuneralHome
111Wolcott Street
LeRoy,NY14482
Jams • Jelly
Seeds
Gift CertificatesAvailable!
BIRD
SEED
&FEEDERS
8160LakeRd. (Rt. 19)
LeRoy, NY
1/2mile southof Thruway
768-2280 • 704-1157
Hours:Mon.-Sat. 9-6, Sunday9-5
pullysfarmmarket.com
SUPPORTYOUR LOCALADVERTISERS!
They help sponsor the local news section of the
Le Roy Pennysaver
THANKS FORYOUR SUPPORT!
Sweet Corn
-
Approx. July 6th
(FLC) in Clyde, NewYork is
expanding with the addition of
a newStructural InsulatedPan-
el (SIP) manufacturing plant.
The plant is about 10,000 sq.
ft. and includes equipment for
laminating, cutting and prefab-
bing the panels. The plant was
completed inMayand isnearing
fullproduction.At thatpoint, the
plant is expected toproduce1.5
millionsq. ft.ofpanelsannually.
Fingerlakes was started in
1969and is thenumberonepost
framebuilder inNewYorkState.
They manufacture complete
building packages for a wide
range of construction including
personal garages, commercial
office complexes, municipal,
equestrian, agricultural, dairy
facilities, post frame buildings
andmany other building types.
There is also a construction
division with company crews
to assure quality construction
of the building packages. FLC
waspurchased inApril 2013by
EnergyPanel Structures (EPS),
andsince then21new jobshave
beencreated.Total employment
at Fingerlakes is 125 with an
additional four jobs expected to
be added for the newSIPplant.
"We have a reputation for
providing our customers with
the highest quality of build-
ings," said Tom Farina, FLC
sales manager. "We can now
offer SIPconstruction as anew
building package for those
customers who are looking for
ahigh-performancehome,agor
Structural insulated panels
are known for their energy-effi-
ciencyandareaprovenbuilding
product.Thepanelsconsistofan
insulatingfoamcoresandwiched
between oriented strand boards
(OSB).Thepanelsaremanufac-
tured under factory controlled
conditionsandcanbe fabricated
tofit nearly anybuildingdesign
resulting inabuilding that isex-
tremely strong, energy-efficient
EPShas a corporateoffice in
Graettinger, Iowa and was es-
tablished in1981asasubsidiary
with the Fingerlakes location,
EPS has an additional manu-
facturing facility in Perryville,
Missouri andemploysover350
at all locations.Thecompany is
employee-ownedandservesall
but thewestern and southwest-
ern states of theU.S. through a
dealernetworkofmore than400
independentauthorizeddealers.
FingerlakesConstructionAdds
SIPManufacturingPlant