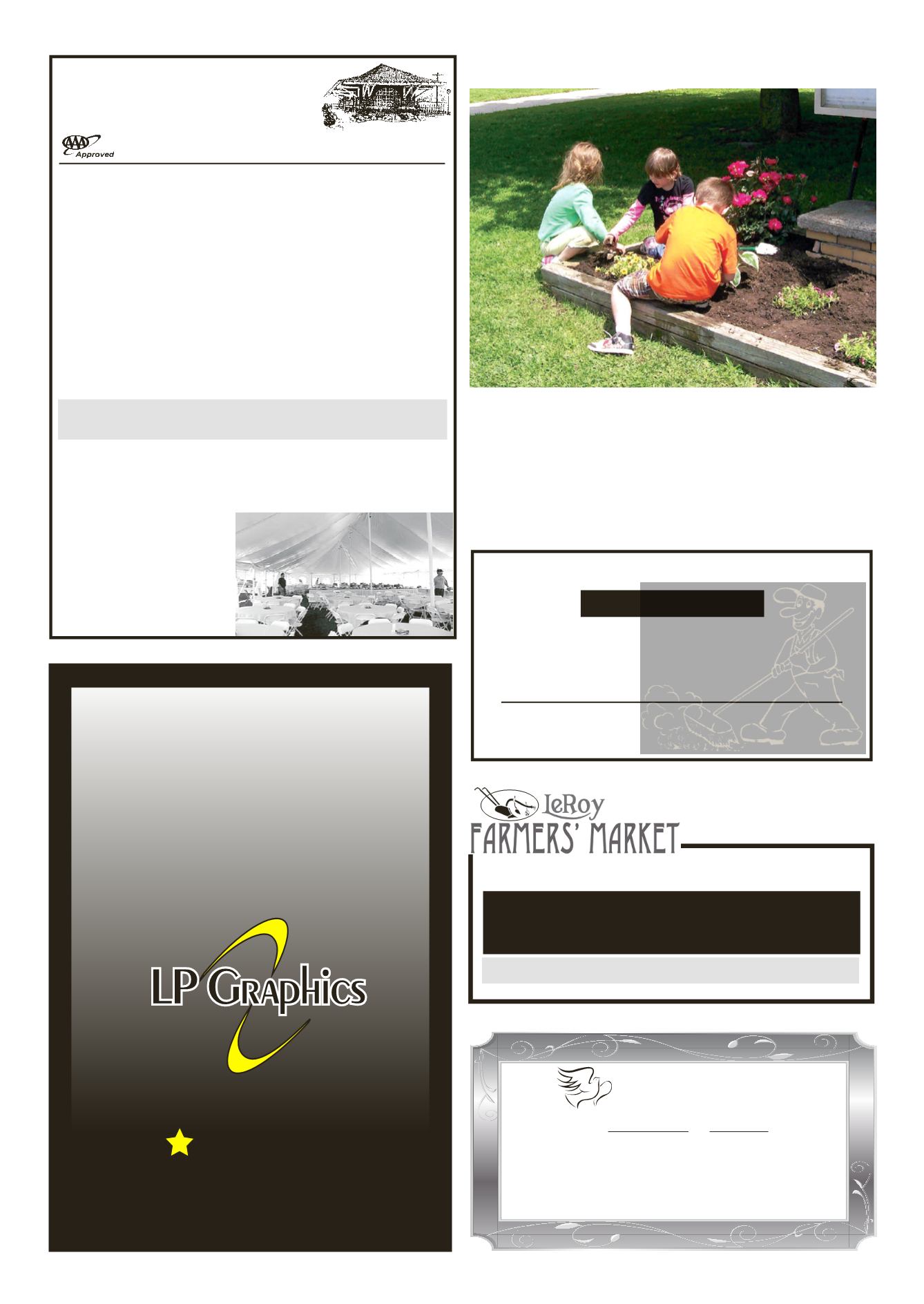 LEROYPENNYSAVER&NEWS - JULY 6, 2014
D&RDepot
63LakeSt. (Rt. 19), LeRoy• 768-6270
Let'sMeetAt The ...
OpenForBreakfast, Lunch&Dinner - 7DaysAWeek 7am-9pm
F
ALCONE
F
AMILY
Funeral&Cremation Service, Inc.
Director/Owner
Director /Owner
FuneralDirector
SUNDAY, JULY6thDINNERSPECIAL
BARBECUEDCHICKENn'RIBSDinnerSpecial - $16.99
(includes soup or salad, potato salad, beverage
andChessCake dessert)
SUNDAYJULY13thDINNERSPECIAL
HOMEMADECRABCAKESDINNER - $16.99
(includes chilled strawberry soup, potato salad, beverage
anda crème puff for dessert)
SUNDAYJULY20thDINNERSPECIAL
BEEFn'SEAFOODKABOB'SDINNER - $16.99
includes soup or salad, beverage, and a banana split dessert)
Joinus July 19/20 forLeRoy'sOATKAFESTWeekend
on theCreekbank)
TheDepot's new sister company, DoubleLRentals - offering tables, chairs,
heaters, bars, linens, dishes& catering supplies for your special occasions!
10%Discount
when youuseboth the
D&RCateringServices
andDoubleLRental
foryour event.Visit
doublelrental.com
or call us at
(585) 344-0023
Jams, jellies, eggs, gluten free bakedgoods,Yancey'sFancyCheeses, Tracy'sTeas,
Natural DogTreats byEva, NundaMustards, OnceAgainNut Butters,
First Light CreameryCheeses andYogurts, baked goods, organic produce, honey,
h, locally grown produce.
eRoyFarmer'sMarket onFacebook
TRIGON PARK
Saturday, July 12th
9:00 am-12:30 pm
LOCAL • FRESH•DELICIOUS •NUTRITIOUS
More variety arrivingweekly as the growing season progresses. Support your neighbor! Buy Local!
Entertainment Tent
& StaffordHistorical Society in our Community booth.
Members of theLeRoyTown&CountryGardenClubworked
with three students from Diane Miller's first grade class on
Tuesday, June 3rd. The grade school childrenwereworking to
help beautify the grounds around the school by pulling out the
weedsandplantingflowers.Thechildren (MariahAshley, Elaina
Blake andMitchell O'Neill) shown in the picture above helped
toplant roses, hostas and annuals in front of theWolcott Street
School sign.
BeautifyingTheSchool Sign
CleaningService
•Carpet &UpholsteryCleaning
•Spot Cleaning&Odor Removal
•Tile&WoodFloor Cleaning&Waxing
•Complete Janitorial Services
1CHURCHST, • LEROY, NY • lpgraphics.net
WEHANDLEALLASPECTSOFPRINTING...
PROGRAMS
LETTERHEADS
BILLHEADS
FLYERS
BROCHURES
POSTERS
CARBONLESSFORMS
ENVELOPES
RAFFLETICKETS
NEWSLETTERS
RESUMES
TYPESETTING
RUBBERSTAMPS
ENGRAVEDSIGNS
NAMETAGS
COPIES
LAMINATION
COMMUNITYFAX
NEWSANDPICTURES
ADVERTISING
BUSINESSCARDS
HOURS: Monday thruFriday 8:00 to 5:00