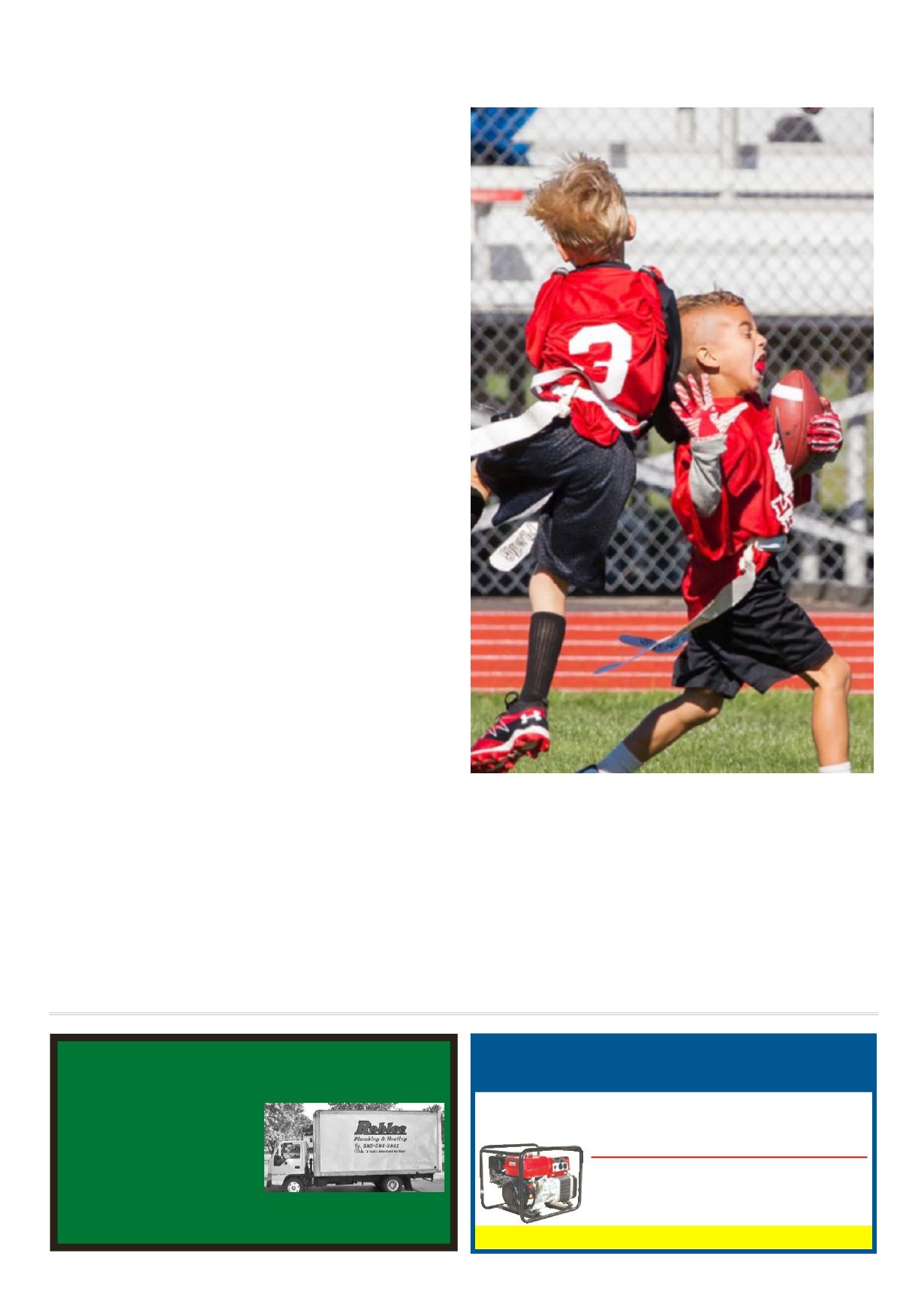 LEROYPENNYSAVER&NEWS -OCTOBER 9, 2016
ATV's • Snowmobiles •Generators • Snowblowers
Tuesday-Friday, 10 am to 4 pm, OtherTimesByAppt.
8525Rt. 237, Stafford, NY
Service&Repairs -ALLMAKES&MODELS
PickUp&DeliveryAvailable
AllMajorCredit CardsAccepted
ROBLEE
Plumbing&Heating, LLC
10991LakeRd., Pavilion • (585) 584-3841
Fully Insured
LUXAIRE
GOULD
NYSCertifiedBackflowTester
Water&Sewer Lines •Water Treatment&ConditioningSystems
teams traveled 20 minutes
to York this past Sunday to
challenge themselves against
the York Knights. Knights
opposing Knights on a perfect
fallday, inapicturesquestadium
overlooking the foothills of the
southern tier. The longstopped
train in the distance, along an
oldwater tower in thesamesight
line on a football Sunday with
cheerleaders laughter echoing
into thevalleyas theanticipation
ofanunderdogsfightingchance,
sets up the beginning of a new
rivalry that is officially born.
Two towns,with familiar faces,
and lastnameswith thebrightest
lights in both being the ones
that shine on the football field
against small town andmost in
attendancewouldnotwish for it
prepared all week for the three
headedYORK attack featuring
Bauer, Pangrazio, & Englert
who thrive on their passing
onslaught , blazing speed and
above average size. Rivalries
have familiarity, respect, and
a common goal to achieve the
same thing and if these kids in
both towns stay in place and
continue to play thiswonderful
team game at a high level both
communitieswillshineasbright
as their stadium lights. And,
fanscancircle thisgame for the
nextdecadeplus,as itwillbe the
marqueematchupof theCYFL.
the ball first and successfully
moved the ball down the field
TheLeRoyRed&BlackFlagFootball Teams
against the YORK defense.
Andreas Condidorio started
off red hot as the work horse
running back had great runs
early. Conadorio's inside
"Pocket Hercules" Gaillard as
their "thunder & lightening"
tour continues every Sunday.
Gaillardwho is the fastestplayer
on the field every week broke
great block from Jacob Keller.
LeRoy defense looked strong
early stopping thehighpowered
offense until Englert threw a
perfectpassoverCarsonStiles to
the lefthittinghis favorite target,
Pangrazio in stride for the long
Aftergreatdefensiveplayby
both teams that featured several
last secondflaggrabsand tipped
passes,LeRoywas inposition to
take the lead. BrennanWeber's
near interception along with
aggressive defense fromMarin
Olovani andCameronDunaway
the game, YORK would go to
its finishing move of Englert
to Bauer, as another long
touchdownpass that isextremely
difficult todefendbreaks the tie.
timeexpiring, ran their2minute
offense and moved the ball
downfield. Grady Kanaley and
MarinKemp had several tough
runs asYORKwas unforgiving
on their interior line. Peyton
Privitera hit Jude Christ with a
12yardpasswith some running
after the catch as Brayden
Wilson and Caleb Schutt had
perfect passprotection.Withno
time leftLeRoygoes toGaillard
again as he breaks the interior
defense andhas room to runbut
is stopped short byYork's tough
Rivals tobe, forsure. YORK
may not know it yet, and they
names yet, but next year the
kids will be easy to identify as
the chip on their shoulder will
Thenextgame is thisSunday
against GVB at the new and
improvedHartwoodPark. The
Pee-Wee team led by Brady
Mclurg and Isaac Stella makes
itsHartwood debut at 9AM.