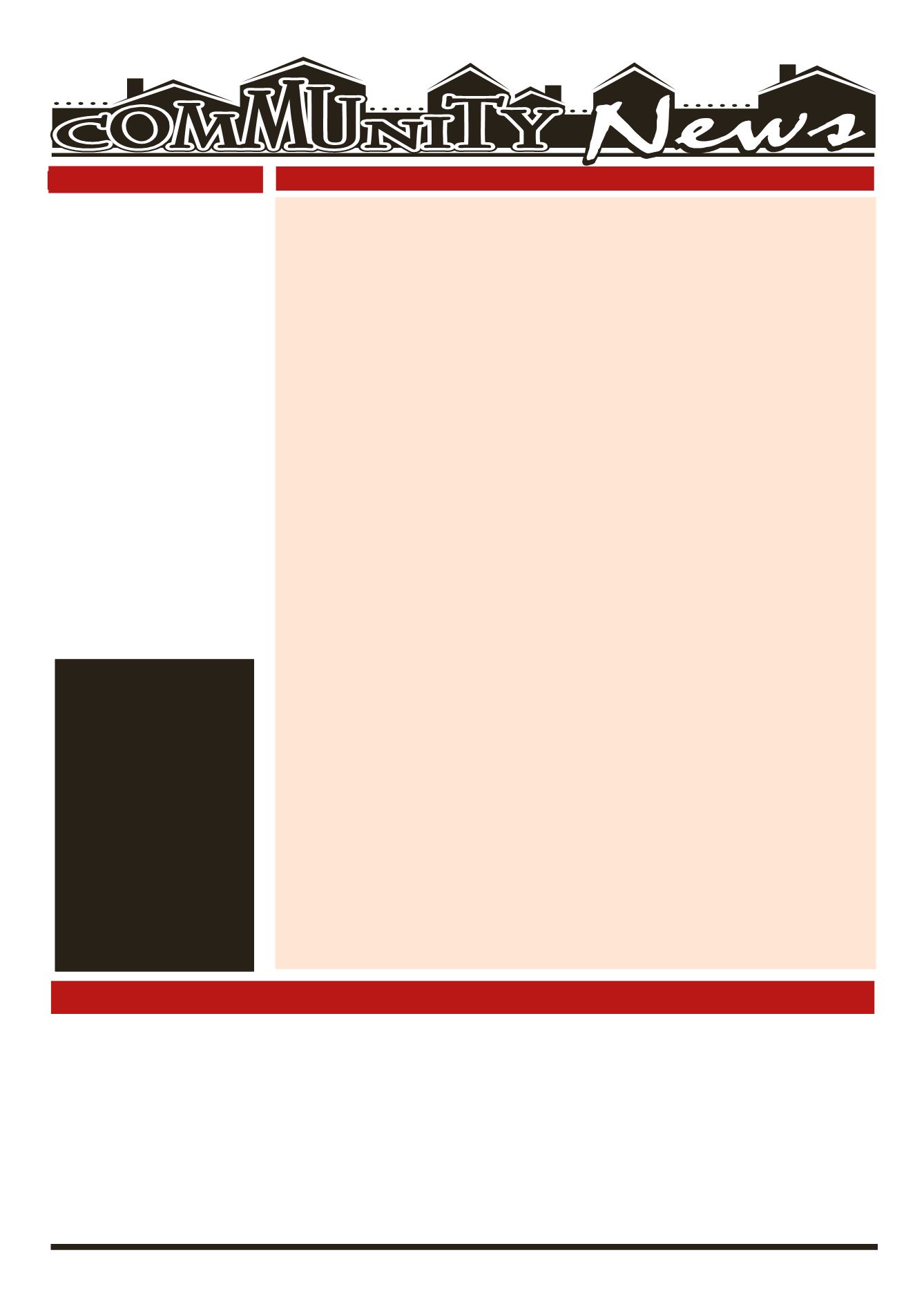 LEROYPENNYSAVER&NEWS -OCTOBER 9, 2016
Le Roy
Pennysaver
All GeneseeCounty residents, 60andolder, can takepart in thisweek'sactivitiesat theBataviaSenior Center, 2BankSt., Batavia. Formore information, call 343-1611.
SENIORCITIZENSACTIVITIES (October 3rd -October 7th)
WEEKLYEVENTS
OBITUARIES
CLOSED
Cribbage
is scheduled tobeginat1:00p.m.
Quilter'sGroup
isscheduled tobeginat9:00a.m.;
Euchre
isscheduled tobeginat1:00p.m.;
Medicare101Program
Tai Chi
is scheduled tobeginat 9:30a.m.;
GentleFitness
is scheduled tobeginat 10:30a.m.;
ARepresentative fromDeferred
Compensation
is scheduled from 11:30 a.m. to 1:30 p.m.:
Cribbage
is scheduled tobegin at 1:00 p.m.;
Bridge
LegalServices
(BYAPPOINTMENTONLY) isscheduled for theday;
ArtClass
isscheduled tobeginat10:00a.m.;
LineDancing
scheduled tobeginat10:00a.m.;
Euchre
is scheduled tobeginat1:00p.m.
SATURDAY, OCTOBER8
TheCovingtonUnitedMethodistChurch ishavingtheirannualHamDinner
with Bazaar and Bake-sale on Saturday, October 8th from 4-7pm. The
menuwill include ham, rolls, potatoes, squash, beans, applesauce, and
severalkindsofhome-madepies. Thechurch is locatedonSimmonsRoad,
betweenPavilionandPerry, inWyomingCounty.Takeoutswillbeavailable.
MONDAY, OCTOBER10
TOPS(TakeOffPoundsSensibly)
meetsMondayeveningsattheLeRoyPresby-
terianChurch, corner of Clay&MainStreets.Doorsopenat6:00PMandmeeting
is from 6:30-7:15PM. Visitors are always welcome. Call 585-768-7103 for more
ToddlerTimeforTwosandThrees
at theWoodwardMemorialLibrary.
Program runseachMonday throughNovember14 from10:30 -10:50AM.
Toddler Time is a storytime for childrenwho are 2 and 3 years old and a
caringadult.Rhymes,stories,music,flannelboards,coloring,andbubbles!
Call 768-8300or registeronlineatwww.woodwardmemoriallibrary.org.
TUESDAY, OCTOBER11
Preschool Storytime :
EveryTuesdayat11am featuring stories, craft and
songsatPavilionPublicLibrary, 5 WoodrowDr., Pavilion. For info: 584-8843.
Preschool Storytime
begins onTuesday, October 4 for childrenages 3,
4,5and6at theWoodwardMemorial Library.Program runseachTuesday
throughNovember 15 from 6:30-7:00 PM. Stories, music, flannel board
stories, fingerplays, nursery rhymes, coloring, sign language, games and
bubbles!Childrenmustbe3bythestartingdate.Call768-8300orregister
onlineatwww.woodwardmemoriallibrary.org.
GRACE'SCLOSET:
A clothinggiveawayprogram sponsoredbyLeRoyUnited
MethodistChurch, 10TrigonPark, LeRoy, 9:30 to11:30AMeveryThursday.We
haveclothing forallages.Weare inneedofboy'sclothingsizes0-3T.Donations
canbedroppedoffat thehousenext to the church. Pleaseputall bags INSIDE
on thebackporch. NOELECTRONICS, COMPUTERS,DISHES, etc. OpenTuesdays
5-6:30pm.Anyquestions call theoffice768-8980.
WEDNESDAY, OCTOBER12
WoodwardMemorial LibraryBoardofTrustees
onWednesday,October12at4:30p.m.
TheOctobermeetingoftheLeRoyTown&CountryGardenClub
beheldonWednesday, Oct 12that theFirst PresbyterianChurch. Dinner
will be served promptly at 6:00 pm followed by an important Business
Meeting.Table service will beprovided. Contact JulesFeltesat703-0087
FRIDAY, OCTOBER14
PenuelChristianFellowship,
OneSteptoFreedomaddictionsministry,aChrist
CenteredAddictions program, aweeklymeeting every Friday at 7 pm. Call the
Church formore informationat768-6901or594-9575.
PenuelChristianFellowship
isorganizingayoungadult fellowshipandBible
study. Ages: 12 andup, Time: Fridays from 7-9pm, Study: the book of Romans
(a16week course), taughtby JosiahGariboldi. Place: 7115WestMainStreet.
SATURDAY, OCTOBER15
VeteransOnlySocialClub -
GeneseeVeteransSupportNetworkannounces
anewmeeting location at Scooter's FamilyRestaurant, 3711W.Main Street
Rd, Batavia - for the once amonthVeterans Only Social Club. Meetings are
held the 2nd Saturday of eachmonth from 7:00 - 8:30 PM. Veterans of all
eras are invited to attend! GVSN is located at 3837West Main Street Road,
Batavia, NY. For more info, contact GVSN, PO Box 541, Batavia, NY 14021-
0541Director@gvsn.netwww.GVSN.net585-302-0825.
UPCOMINGEVENTS
AnnualTurkeyDinner
,ByronPresbyterianChurch,WestMainSt.,Sun.,
Oct. 16, 11:30a.m. to2p.m. Adults $10; children $5; under 5 free.
Takeouts available; handicapaccessible.
The Genesee Valley Civil War Roundtable
presents Kevin Pawlak on "Shep-
ardstown - InTheCivilWar",Wednesday, October 19that 7:00pmat LeRoyUnited
Methodist Church, 3rddoor on right endof long sidewalk. 10TrigonPark, LeRoy.
Discussionperiodwill followprogram. Newmembers arewelcome! Kevinwill be
speakingononevast confederatehospital.Doorsopenat6:30pm.
SpaghettiDinner
atStoneChurchPresbyterianChurch,7549LakeRd.S.
Bergen,NY14416 ,Oct. 19th.@4:30pm. through6:30pm.
2016Anti-Rabies ImmunizationClinic
-October20th from4:00 to7:00pm
at the LeRoyVillageHighwayGarage, 58North Street, LeRoyNY. Eachdog, Cat
andferretvaccinationsarefree.Voluntarydonationsareaccepted.Newavailable,
save timebyfillingout your registration formbeforehandat:www.co.genesee.
ny.us/departments/health/index.html. Bring to copies for ech pet! Genesee
CountyHealthDepartment,Divisionof EnvironmentalHealth.
Fall Festat thePavilionLibrary
: BookSale, Fri.,Oct. 21, 1 to5p.m.
Sat.,Oct. 22, BookSale&BakeSale, 10a.m. to12:30p.m. Sat. Book
Sale-$1/bag;bagsale forbookscontinuing the followingweek-24th to
28th.WoodrowDr., Pavilion. Info: 584-8843.
Foodlink FreeMobile Food Pantry:
Morganville United Church of Christ is
partneringwithFoodlinkofRochester tohosta freemobile foodpantry,Tuesday,
October 25, 3:30-5:30 pm at Morganville United Church of Christ, 8466 Mor-
ganville Road (off Rt 237, 1mile north of Stafford). The exact food items and
quantity available arenot known, but freshproducewill be available. Must be
18yearsof age, no income requirementor ID required. Mustprovideownbags/
vehicletotransport itemstoyourhome. Foodprovidedonafirstcome,firstserve
basiswhile supplies last.
CommunityCalendarSubmissions shouldbe sent to:
LEROY~ KennethR.MacGregor,
age 79, of Warsaw Road, passed
awayWednesday afternoon, Sept.
28, 2016.Memorialsaresuggested
to either Our Lady of MercyParish
or the American Cancer Society.
Your memories and condolences
may be shared with Mr. MacGre-
LEROY ~ ReidW. Ackley, age 87,
of Bernd Road, passed away on
TuesdayeveningOctober 4, 2016.
PerReid's request, therewill beno
visitation or services. Memorials
are suggested to the New York
State Veterans Home, 220 Rich-
mondAvenue,Batavia,N.Y. 14020.
Your memories and condolences
may be shared with Mr. Ackley's
familyatwww.falconefuneralhome.