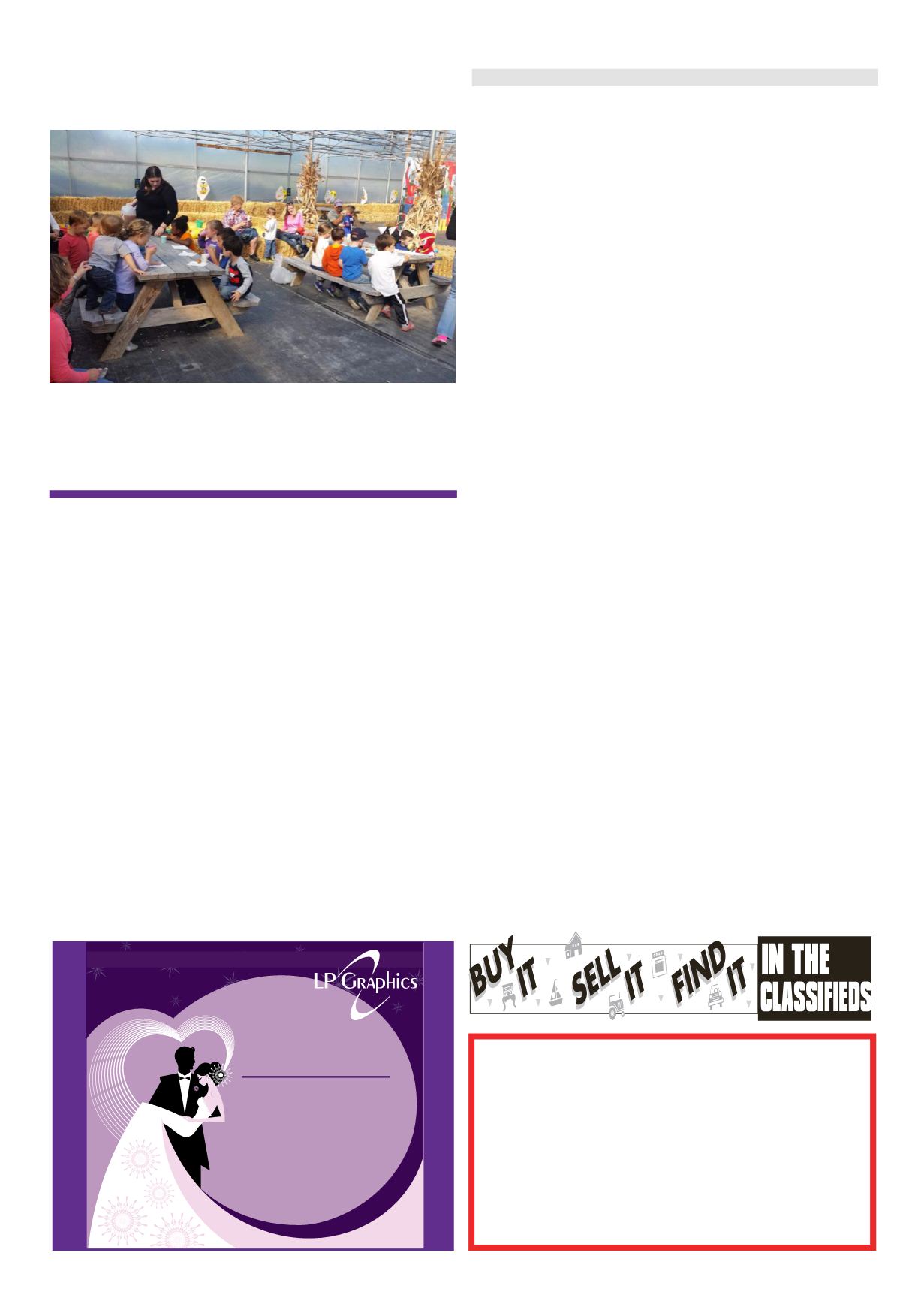 LEROYPENNYSAVER&NEWS -OCTOBER 9, 2016
CommunityFreeSchool
SupplyDistribution
In August the First Baptist
Church of LeRoy continued a
project which had been started
in 2015 to distribute school
supplies for area school chil-
dren. According to a National
Retail Federation's survey, the
averageAmerican familyspends
approximately $670 per year
for back-to-school supplies.
TheSchool SupplyDistribution
Center was setup at the First
BaptistChurch tohelpparentsof
local area students. During the
last twoweeks this August free
school suppliesweredistributed
to 79 families (147 children) on
an"as availablebasis". Supplies
included K through 12th grade
Supply project was the local
Mission project for the ecu-
menical Vacation Bible School
program held this summer. The
VBSprogramparticipantswere
asked to contribute various
school supply items for this
Items andmonies were also
generously donated by: Rotary
Club (through the Vic Blood
Foundation); members of the
First Baptist Church congrega-
tion; other churchcongregations
Roomy secondfloor
2 bedroom apartment
Centrally located, off street parking.
$675/mo plus average $200/mo. utilities and
Call (585) 768-8553 or
(585)409-6221
byKimCox
Superintendent of Schools
What great day for a Walk
October 5th, hundreds of stu-
dents gathered at the Knights
of Columbus for the 4th annual
Walk to School Day.
enjoyed a snack and were re-
minded of the safety rules of
walking to school. TheDistrict
Wellness Committee sponsors
this event each year to raise
the awareness that walking to
school is a terrific way to stay
healthy and energized for a
would like to express their
thanksandgratitude to themany
businesses and individuals that
donated items tomake the"Walk
to School Day" a great success:
Education, Administrative
The annual walk to school
day is just one way the Le Roy
CentralSchoolDistrict connects
to, andcelebrateswith, theentire
community.Asadistrict, it isour
goal and responsibility toensure
that our students develop strong
academic skills, aswell asmeet
the Graduation Outcomes of
Accountable, Responsi-
ble,EffectiveCommunicators,
Community-Minded, Critical
Thinkers, Able to Persevere
andEmbraceDiversity.
On Thursday, November 3rd,
you will see students and staff
from the Jr./Sr. High School
demonstrating these attributes
in their service learningproject,
"Class-Up the Community".
Teams of students will be out
and about in the community
raking leaves, clearing debris,
and making minor repairs at
several public and private areas
of the town and village. If you
are in need of anywork done at
your home or business, please
contactMrs.LyndaLowe, Jr./Sr.
HighSchoolAssistantPrincipal,
at 768-8131 or email, llowe@
leroycsd.org. We are looking
formore jobs and are excited to
Walking to school is oneway
topromote ahealthy lifestyle. If
you are looking for other oppor-
tunities, consider utilizing the
newWolcott Street School Fit-
ness center! The center is open
Monday and Wednesdays from
6:00am -8:00amandTuesdays
and Thursdays from 5:00 pm -
8:00 pm. For more information
about the Fitness Center, please
call (768-7115 x1109) or visit
ourwebsiteatwww.wssfitness@
Itwasabeautiful fallday forLoveBugsatPully'sFarmMarket.
Thechildrenand their familieshadagreat timeenjoyingall the
fabulous fall activitiesPully'shas tooffer.ThePreschoolers shot
the apple cannon, helped wash the pumpkins and learned all
about pumpkin seeds!A great timewas hadby all.
LoveBugsPreschoolVisits
Pully'sFarmMarket
It's
all
You
about
1ChurchSt., LeRoy, NY •OpenM-F8-5
585.768.2201
Andwe are proud tobe a part of
these important occasions and
celebrations in your life.
Wehave themost complete
Wedding Invitations&
Announcements plus
Accessories suitable for all
social occasions.
lpgraphics.net • Fax585.768.6334