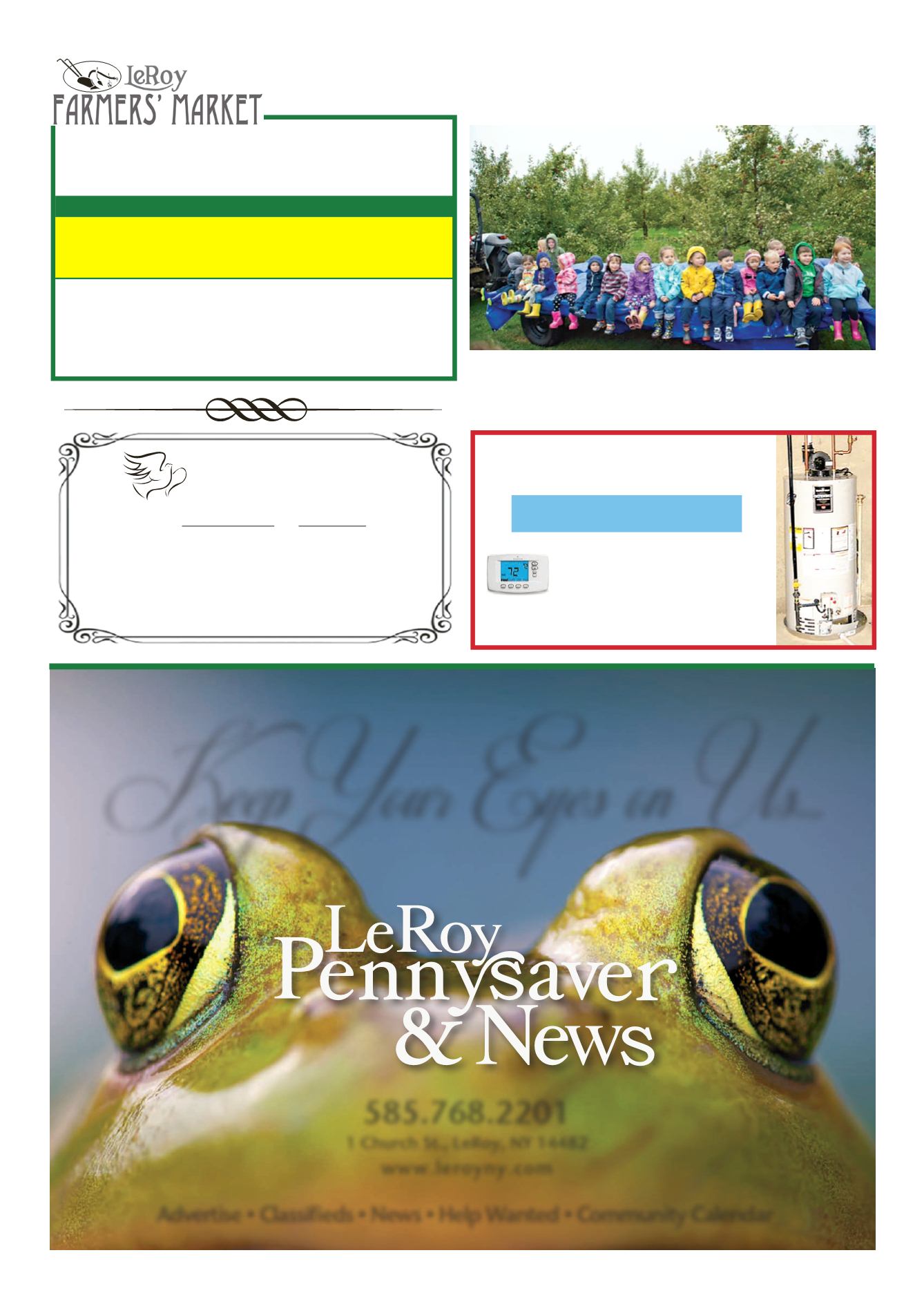 LEROYPENNYSAVER&NEWS -OCTOBER 9, 2016
Director /Owner
FuneralDirector
F
ALCONE
F
AMILY
Funeral&Cremation Service, Inc.
Director/Owner
"ALOCALFAMILY
CARINGFORLOCALFAMILIES"
• LeRoyFarmer'sMarket onFacebook
Saturdays ThroughOctober 22nd
LOCAL • FRESH•DELICIOUS •NUTRITIOUS
Seasonal fruits& vegetables
will be arrivingweekly!
ALWAYSLOOKINGFORNEWVENDORS&VOLUNTEERS
ContactMaryMargaret Ripley - 297-2441
October 15
th
& 22
nd
SunshineVisitsRoanok
AppleFarm!
SunshineNurserySchool'snursery classhasbeen learning
all about apples. A field trip to Roanoke Apple Farmwas
the perfect way to end the apple unit.Many thanks toMs.
Linda for the fun tour!
The last 2weeks for theFarmer'sMarket
will beOctober 15andOctober 22
Advertise•Classifieds•News•HelpWanted•CommunityCalendar
1ChurchSt., LeRoy, NY14482
Heating •AC • Plumbing • Electrical
GAS, FUELOIL, FORCEDAIR&
HOTWATERHEATING SYSTEMS
24Hour Service • FreeEstimates • Fully Insured
Residential, Commercial
MobileHomes
585-297-0724
30Years Experience