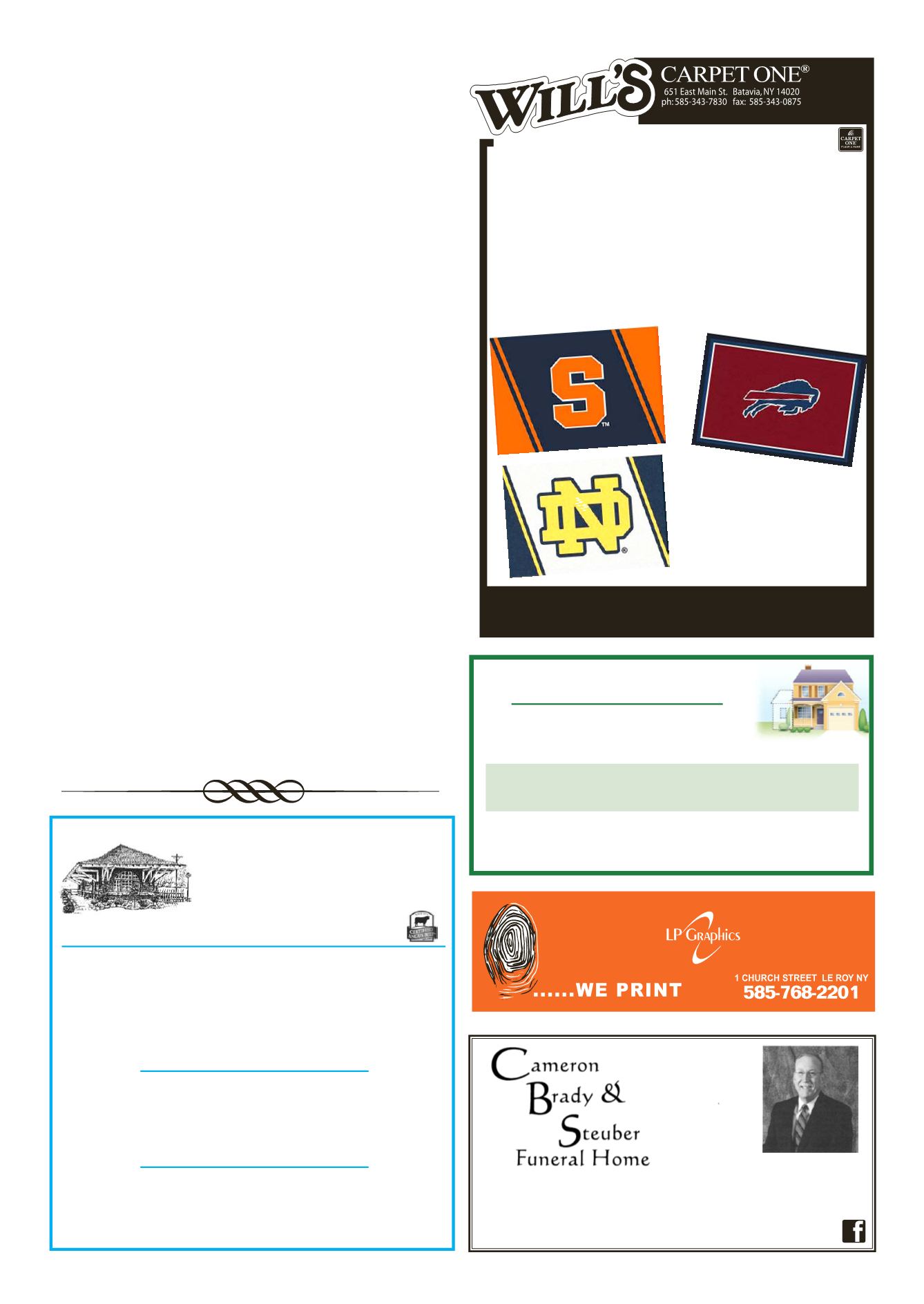 LEROYPENNYSAVER&NEWS -OCTOBER 9, 2016
COLLEGETEAMS
Basketball • Football
PROFESSIONALTEAMS
NFLFootball • NHLHockey
$
69
95
lpgraphics.net
October SundayDinnerSpecials
Sunday, Oct. 9thMonday, Oct.10thColumbusDayWeekend
BEERBATTERFRIEDCHICKEN
servedwith soup or salad,mashedpotatoes,
chocolate creme pie
$17.99
SEAFOODPAELLADINNER
full of shrimp, crab, chicken, chorizo and vegetables
withhomemadeRaspberryFlan for dessert
$19.99
TheDepotwill serve regular hoursColumbusDayweekend
OPENEveryday from 7 am - 9pm
ServingBreakfast from 7 am - 11 am
ServingLunch orDinner from 11 am - 9pm
LakeSt. (Rt. 19), LeRoy•768-6270
... AGreatAmericanBrasserie
OpenForBreakfast, Lunch&Dinner
Sun.-Thurs. 7-7, Fri. &Sat. 7-9
&
Providing full funeral and cremationservices.
111Wolcott Street, LeRoy, NY 14482
Wee III Team kicked off their
season with a home opener
4-3win vs.Monroe County on
Saturday,9.24.16!TheRamparts
started out strong with a 1st
periodgoalbyThomasReardon
assisted by Zack Eschberger.
Batavia added 2 goals in the
second period one netted early
in the period by Nate Tilley
(unassisted), and a goal with
33 seconds left in theperiodby
Zack Eschberger, assisted by
Mason Cook. Monroe County
scored a fast goal to start the
3rd period answered quickly
bya MasonCookgoal assisted
Reardon. Batavia held on to
PeeWee III Team travelled to
Lockport Sunday, October 2nd
andsufferedan8-3 loss.Batavia
had ahard timepenetrating the
Lockport Defense. Lockport
scoredahandfulofunanswered
goals before Batavias' Zack
Eschberger put a puck past the
Lockport goalie, assisted by
AlexBartz (freshly back to the
iceafter an injury that kept him
on thebench for thefirst game),
with just 49 seconds left in the
2nd period. Batavia scored two
more times in the3rdperiod,but
it wasn't enough to overcome
the early deficit. Batavias third
period scoringwas providedby
Alex Johnson (unassisted) ad
AndrewKasmarekwith assists
busy weekend coming up as
they hit the road to face Olean
Wee III squad isMasonCookof
Oakfield, William Eschberger
reserve and is anticipated to
return next weekend) Zachary
Eschberger& JacobMarcello -
all from LeRoy, Noah Hudson
of Pavilion, Ryan Hamilton,
Kasmarek, Tanner Mountain,
Thomas Reardon, Alex Bartz
and Nathan Tilley of Batavia,
SchumofAlexander andCarter
Prinzi of Bergen. Coached by
Joe Eschberger or LeRoy with
assistants Chad Valyear, Dan
Hudson, Gary Schum and Jon
BataviaRamparts
PeeWee IIITeam
TheONE store for your perfect floor.
FLOOR
&HOME
Hrs:Mon-Wed8:30-5:30Thurs-Fri 8:30-7:30Sat 8:30-3pm
"CompleteCarpentry Service"
M
ILLER
B
ROTHERS
B
UILDERS
CustomHomes •Remodeling•Additions
Roofing• Siding
DANIEL
MICHAEL