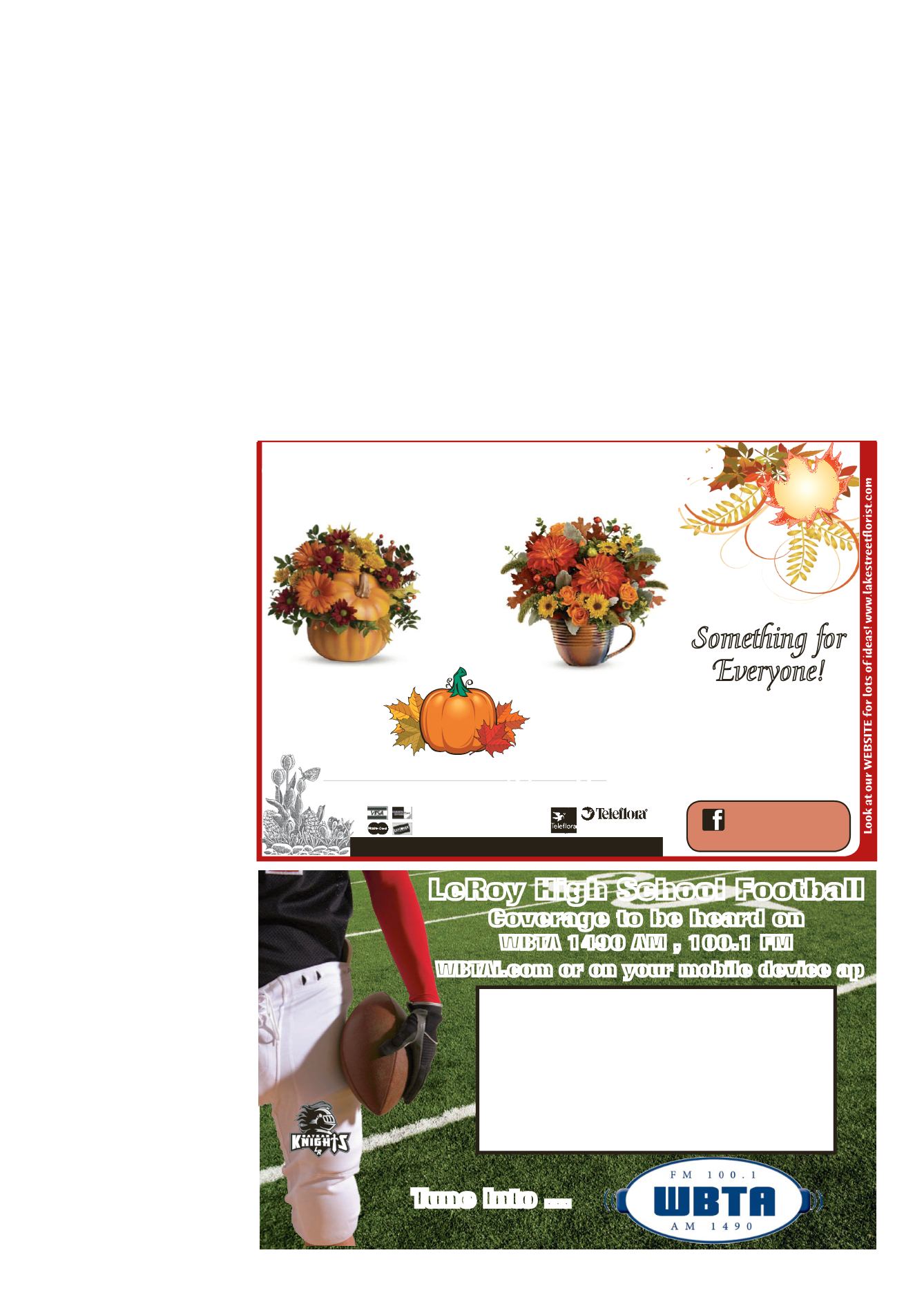 LEROYPENNYSAVER&NEWS -OCTOBER 9, 2016
LeRoy High School Football
Coverage to be heard on
WBTA 1490 AM , 100.1 FM
WBTAi.com or on yourmobile device ap
Wewill cover LeRoy
Knights Game on
Tune Into ...
Hear theGameAGAIN–go toWBTAi.com
clickonSports ,GameRe-play
LeRoycompletedasecondcon-
secutivedivisionalshutout inarain
soakedand lightningdelayedgame
in York. The Senior squad now
stands at 5-0, tied forfirst place in
LeRoy's defense started out the
game on the field and delivered.
On just the 4th play from scrim-
mage, theX-Man, XavienWalker
recovered a fumble to give the
Knights the ball at the York 30.
On their very first offensive play,
LeRoy scoredon a30yard runby
DrewStrollo. Jackson Fixwould
punch in the 2 point conversion,
giving the Knights an early 8-0
In what seemed like an instant
replay, Ayden Riggi recovered a
fumble on the very next play for
the Knights, giving LeRoy the
ball again. However the York
defense stood stall forcing aquick
turnoverondowns. York'soffense
began tomove theballon their3rd
possession, however in a déjà vu
moment,RileyWilliamsrecovered
afumble togiveLeRoy thefootball
Two plays later, Drew Strollo
broke freeagain, this time fora54
yard TD down the sideline. The
2 point conversion failed, leaving
thescoreat14-0LeRoy. York'sof-
fenseagainbegan tomove theball
down the field, gaining a couple
firstdowns. Thisdrivewouldstall
howeverwhenJacksonFix jumped
a route andmade an excellent in-
terception. Fixweaved in andout
of York defenders on the return,
improvingLeRoy'sfieldposition.
Riley Williams and Jackson
Fix would run hard starting the
Knightsnextoffensivepossession.
Tommy Condidorio would then
find Ryan Higgins with a perfect
pass in stride, andHigginswould
take the pass for a 48 yard gain
inside theYork10yard line. After
LeRoy runnerswere held to short
gains on 1st and 2nd down, Drew
Strollowould jukehisway into the
end zone for a 6 yard TD. Tony
Piazza cut into the end zone for
the 2 point conversion extending
the lead to22-0 at thehalf.
LeRoy recoveredanonsidekick
to begin the second half. The of-
fense stalled, failing togain afirst
down on their initial possession.
TheOatkanKnightsdefensewould
stand tall againhowever, this time
when Tony Piazza recovered a
fumble. LeRoy's offense started
to move the football, however a
couple of penalties would force a
4th and long. The resulting punt
wouldbeblocked,givingYork the
ball ingreatfieldposition. After a
coupleof tacklesbyXavienWalker
andAntonioMartinez,LeRoyshut
theYorkoffensedown topreserve
LeRoywould then take theball
for the rest of the 4th quarter and
move the ball down the fieldme-
thodically. Highlighted by long
runs byDrewStrollo and Jackson
Fix, the drive eventually resulted
in a Fix TD, ending the scoring
dorio led a balanced offensive
attack, hitting4out of5passes for
75yards. DrewStrollo continued
toeludedefenders, runningfor136
yards and3TDs,while alsogain-
ing8 receivingyards. JacksonFix
providedphysicalrunning,gaining
71 yards including aTD and con-
version. Fix also caught a pass
for 11yards. RyanHiggins had2
catchesfor56yards,alsoproviding
excellent blocking. Bruising full-
backTonyPiazza cleared theway
withpunishingblows,alsorunning
for9yards includingaconversion.
RileyWilliams added11yardson
the ground while Landen Saeva
TonyPiazza (5 tackles),Xavien
LeRoySeniorFootball LeRoy 28 York 0
Walker (4 tackles), Ayden Riggi
(2 tackles), andRileyWilliams (2
tackles) all recovered fumbles for
the tough LeRoy defense. Drew
Strollomade10 tackleson theday,
while Hunter Beverly controlled
the lineof scrimmagewith4 tack-
les of his own. AntonioMartinez
made 7 tackles, while providing
excellent passing defense, along
with Jackson Fix who had an in-
terception. ConnorMcGeeadded
two stops, while other Knights
making tackles includedRyanHig-
gins, Connor Hegeman, Tommy
Condidorio, andWilliamBogan.
LeRoy hosts the 4-1 Genesee
Valley Bills on Sunday October
9th inanotherdivisionalmatchup.
WeDeliver To: LEROY, Byron, Bergen, Caledonia,Mumford, Pavilion,Wyoming, Stafford&Batavia
TelefloraWireServiceForFamily&FriendsOut of Town
768-7720
110LakeSt., LeRoy
HOURS:
M-T9-5:30
F 9-6:00
Sat. 9-4:00
COOK'S LANDSCAPING - 330-3819
Staringat $25+up
CountryPumpkin
$
44.95
AutumnSunriseBouquet
$
44.95
Lakestreet Florist&Gift Shoppe