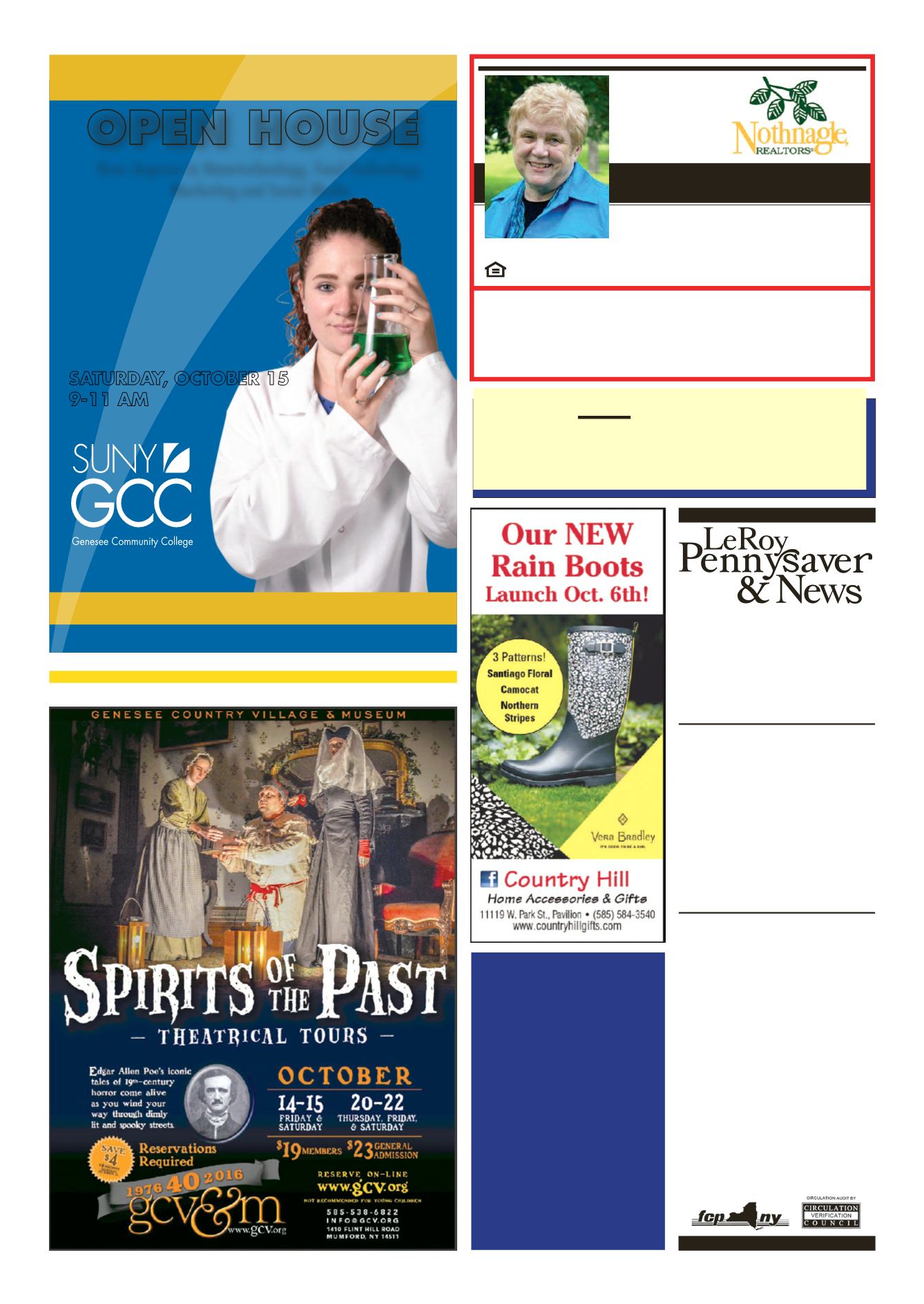 LEROYPENNYSAVER&NEWS -OCTOBER 9, 2016
NANCYCROCKER
LicensedReal Estate Salesperson, REALTOR
CONGRATULATIONS FLORENCECONDIDORIO
PaoloBusti 2016Outstanding Italian-American
MOSTDESERVINGLADY
570EastMainStreet •Batavia, NewYork14020
Office: 585.409.2115 • Fax 585.343.8502
Multi-MillionDollar
Producer
Platinum Sales Award Winner
•Website:www.nothnagle.com
Explorecutting-edgecareers...
OPEN HOUSE
• 125 +Online Courses
• Transferable SUNY Credits
• Affordable Tuition / Financial Aid /
Scholarships
• FREE Application
• FREE Career Counseling
• FREE GCC Student Services / Tutoring
• College Village Student Housing
SATURDAY, OCTOBER 15
9-11AM
genesee.edu/openhouse
GeneseeCommunityCollege is anaffirmativeaction/equal opportunity
New degrees inNanotechnology, Food Technology,
Marketing and Social Media
LeRoy's BestAdvertisingMedium
Le Roy Pennysaver
will not knowingly accept or
publish advertising which is fraudulent or misleading
in nature. The publisher reserves the right to reject or
cancel anyadvertising.The
LeRoyPennysaver
no financial responsibility for typographical errors in
advertisements, but if at fault, will reprint the portion of
the ad in which the error appears. Style, size of type
and locationof advertisement are left to thediscretionof
the publisher. The opinions expressed in this publication
are not necessarily those of the publisher. We cannot
guarantee the returnof photographs.
LeRoyPennysaver
Le RoyPennysaver•768-2201
Hours:Monday thru Friday8:00 to 5:00p.m.
Le Roy
Pennysaver