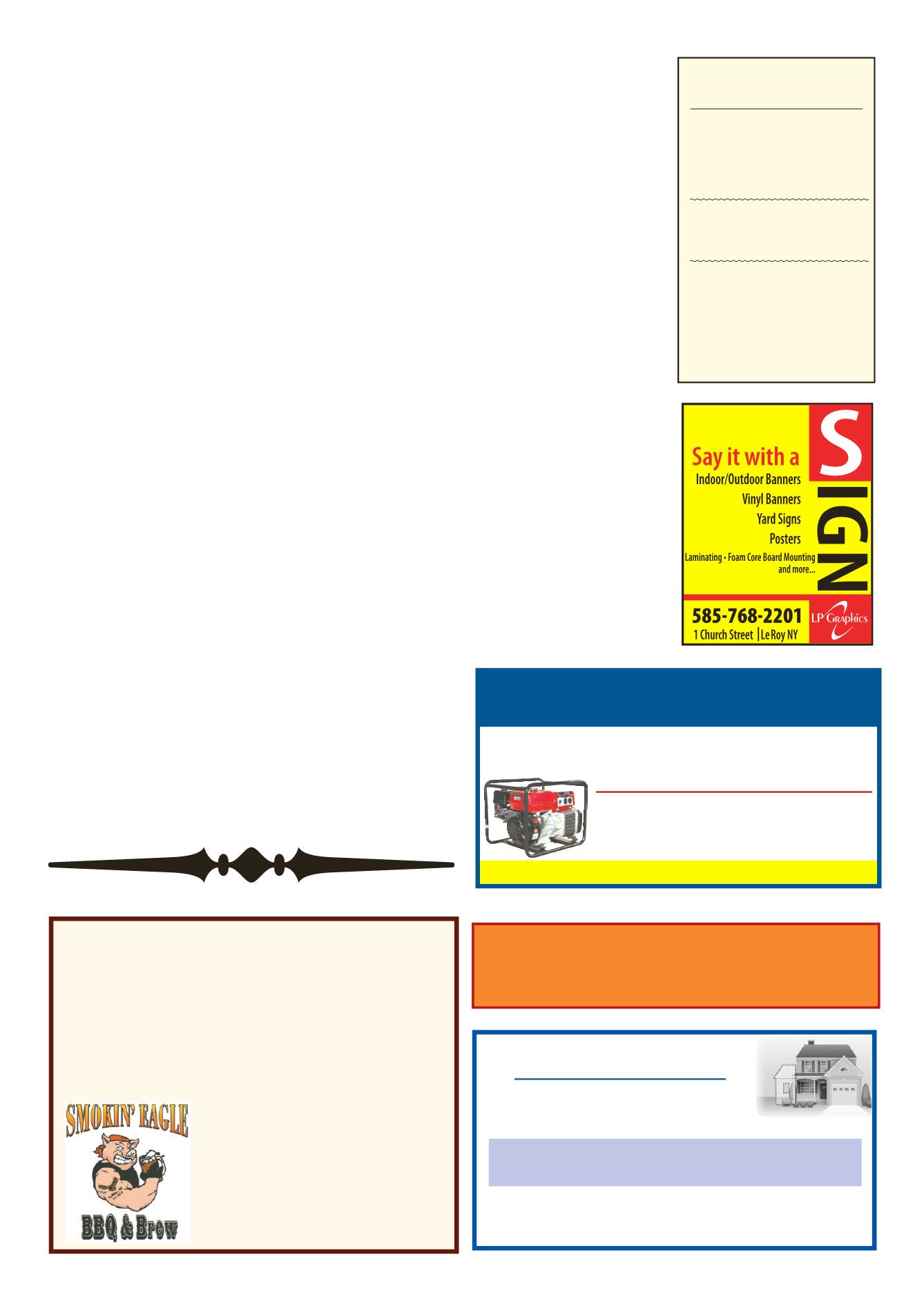 LEROYPENNYSAVER&NEWS - SEPTEMBER 18, 2016
lpgraphics.net
SUPPORTYOUR LOCALADVERTISERS!
They help sponsor the local news section of the Le Roy Pennysaver.
THANKS FORYOUR SUPPORT!
ATV's • Snowmobiles •Generators • Snowblowers
Tuesday-Friday, 10 am to 4 pm, OtherTimesByAppt.
8525Rt. 237, Stafford, NY
Service&Repairs -ALLMAKES&MODELS
PickUp&DeliveryAvailable
AllMajorCredit CardsAccepted
TheLeRoyflag football teams
traveled to Warsaw on Sunday
September 11th for their first
away game of the season. The
WarsawTigerscomingoffasec-
ond place showing in their host
tournament on Saturday looked
to continue their success against
theLeRoyKnights. The young
Knights set the tone early and
did not flinch against the older
bigger team. The stagewas set
as it was about to be a long day
was anchored by solid Quar-
terback play from Ryder Stiles.
Stiles connected on short quick
passes tohis favorite targetDon-
ovanGaillard. Gaillard's early
touchdown and blazing speed
garnered double team attention
the restof theday from theTigers
which opened up running lanes
for KadeOlovante andAndreas
Conadorio. Olovante found
room to run off the right side
followingprecise blocking from
JacobKeller. Conadorioshowed
great running instincts following
blocks from Chandler Hall and
CarsonStiles. Conadoriowould
score on long runs 3 times as he
was explosive and fast on the
artificial turf inWarsaw.
well as a unit as every player
had at least 1 flag pull. Jacob
Kamanskiwhodidnot get aflag
grab in the first half was visibly
upset and highly motivated for
the thesecondhalfwherehewas
inon,oraround thestoponevery
down. Kamanski,CarsonStiles
andRyderStiles lockeddown the
right side all morning. Ryder
Stilesmade a touchdown saving
defensiveplayonacollisionwith
Warsaw's runningback,Thomp-
sonat theendof thehalfsecuring
the lead. In the middle of the
defenseChandlerHall andKade
Olovante switched positions as
Hall played agreat game atmid-
dle linebacker, while Olavonti
called the defensive lineups at
nose tackle and looked comfort-
able in doing so, as he pulled
flagsfromWarsawbacksmultiple
times. JacobKellerwas toughall
day as he was outsized but not
out-dueled at left defensive end
where he pulled several flags.
team was anchored by Peyton
Privitera who started his first
gameatquarterback. Privitera 's
returnallowedstandoutdefensive
end Jude Christ to return to his
wing back position after Christ
started at quarterback for the
homeopener. Priviterawassolid
alldayconnecting toChristonan
earlypassandsettingup running
lanes for LeRoy running backs.
Brayden Wilson scored on a
nice run that was set up behind
text book blocks from Caleb
Schutt and JonathanBogan.
"CompleteCarpentry Service"
M
ILLER
B
ROTHERS
B
UILDERS
CustomHomes •Remodeling•Additions
Roofing• Siding
DANIEL
MICHAEL
LeRoyFlagFootball
Marin Kemp found herself in
the end zone again as her effort
and aggressive running style
left the Tigers defense running
away from her to avoid contact.
Kemp's throwbackstyleofnorth-
south runningbrings backmem-
ories of old school smashmouth
football to the coaches and fans
runs and showed an early burst
to set up nice field position for
was anchored byChrist. Christ
had several flag pulls and forced
the Tigers out of their comfort
zone. Brennan Weber played
great on defense as his hard
work in practice is showing on
Sunday's. Weber forced Tiger
backs to theoutsidewhereCam-
eronDunawaywould send them
outofbounds. Kemp,Boganand
Privitera all contributed on the
defensive side of the ball.
TheFlag teams travel toAvon
thisSunday. Game time is10:30
Saturday,October 1
st
4-9PM
PULLED PORK DINNER&
LIVE BENEFIT AUCTION
$20
Ticket Donation
Includes:2DomesticDrinkTokens,
1 Pulled PorkDinner, 1BidCard
&1RaffleTicket forDoorPrizes!
Tickets canbe bought pre-sale at
The Smokin' Eagle BBQ&Brew
SAVAGECABBAGE
ALL PROCEEDSGO TO
THEAMERICANCANCER SOCIETY
DETERMINATION PROGRAM
LiveAuctionBy
WilliamKent Inc
5:30PM
7PM
FEATURINGSMOKIN' EAGLERIBS&WINGS
BEFORETHEBILLSVS. PATRIOTSAWAYGAME
PICK-UPONLYFROMEAGLEBACKDECK
Tickets are available from any republican
committeemember or by contacting:
JimFarnholz (585) 409-7842
ShellyStein (585) 233-8372
or stop by theSmokin' Eagle