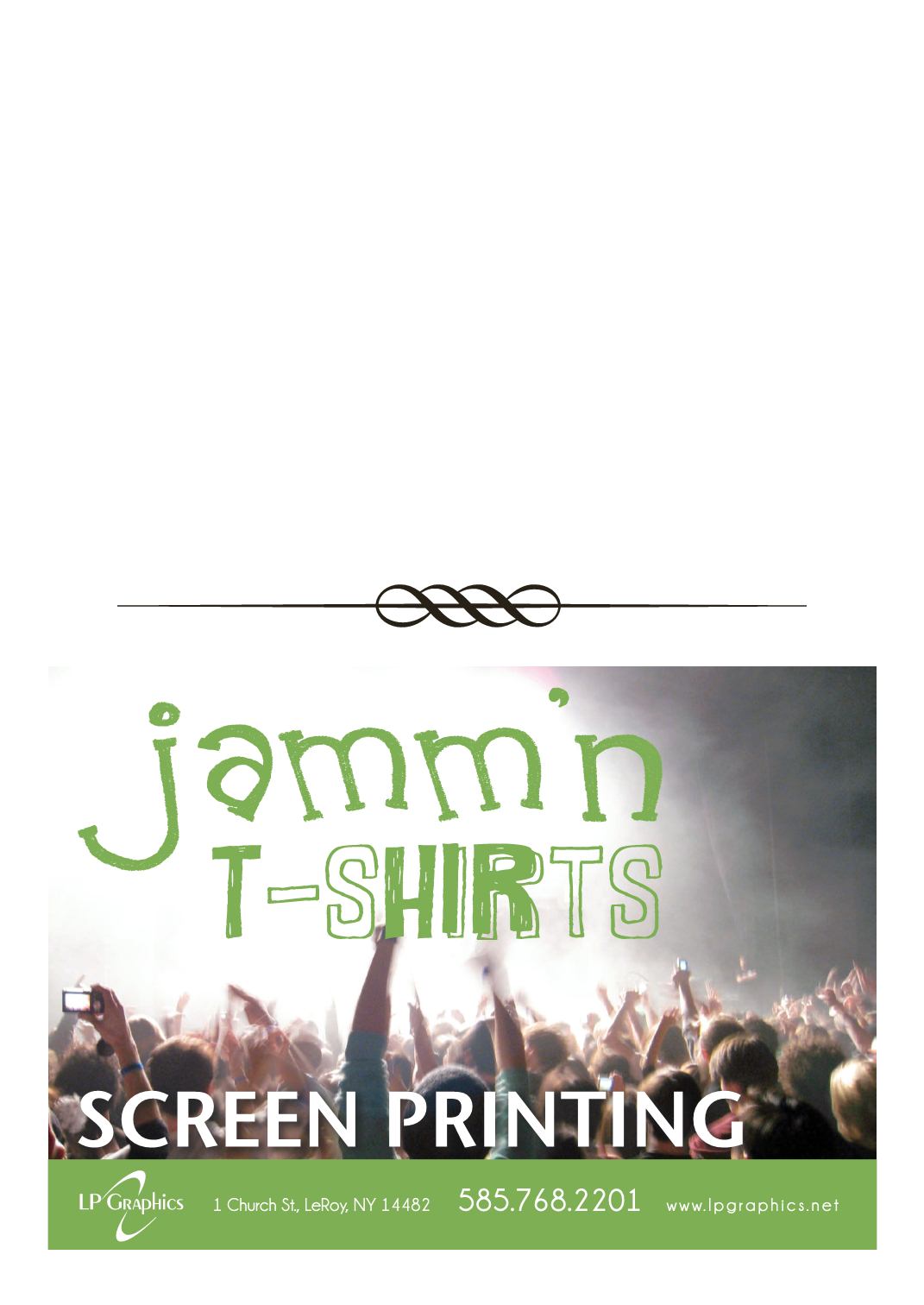 LEROYPENNYSAVER&NEWS - SEPTEMBER 18, 2016
The LeRoy Seniors Knights
dominated the Warsaw Tigers
onSunday, shutting them out by
ascoreof38-0. LeRoy'sdefense
wassmotheringallday, allowing
negativeyardsandnofirstdowns
Warsaw started thegamewith
theballandquicklywas forced to
punt. Three plays later, Jackson
Fixsprinted in from20yardsout
for the TD. Tommy Condidorio
then hit Ryan Higgins with a 3
yard pass to tack on the 2-point
conversion, giving the Knights
resulted in a turnover after abad
snap to the punter on 4th down.
LeRoy cashed in on the very
next pay when Condidorio hit
a streaking Drew Strollo for a
16 yard TD, extending the lead
to 14-0. After another Warsaw
punt, LeRoy started another
drive. On thefirstplayof the2nd
quarter, Riley Williams darted
48 yards for the TD, giving the
Knights a 20-0 edge eventually
LeRoy started with the foot-
ball in thesecondhalf. After long
runs by Tony Piazza (45 yards)
andDrewStrollo (20 yards), the
table was set for Ayden Riggi.
Riggi would take advantage of
his opportunity, scoring from 2
yards out for his first career TD.
Warsawwouldgive theball right
back toLeRoywhenAidenDavis
recovered a football. This time,
speedsterLandenSaeva took the
rock 24 yards for theTD, giving
Warsawwasunable toconvert
a 4th and 1 on their next posses-
sion due to a thundering tackle
byXavienWalker. Only2plays
later, Zachary Tooley cashed in
onhisfirst careerTD, cuttinghis
LeRoySeniorFootball, LeRoy 38 -Warsaw 0
way through the defenders for a
44yardTD,finishingup thescor-
ing givingLeRoy the 38-0win.
LeRoy's defense swarmed to
the ball all day, punishingWar-
saw ball carriers. Drew Strollo
led the teamwith 8 tackles, the
majority for losses, and recovered
a fumble. The X-Man, Xavien
Walker, was also all over the
field,making7 tackles. Antonio
Martinez (4), Bryce Lathan (4),
JoshHorner (3), JackLathan (2),
and Ryan Higgins (2) all made
multiple tackles, with many for
loss as well. Also contributing
with tackles were Tristen Jones,
Ayden Riggi, Landen Saeva,
Hunter Beverly, Tony Piazza,
Aiden Davis (fumble recovery),
Offensively, quarterbackTom-
my Condidorio was lights out
early, completing 3 out of 3
passes for 34 yards, with a TD
and a 2-point conversion. Tony
Piazza rumbled for 56 yards,
whileJacksonFixadded20yards
and a TD. Drew Strollo added
20 yards on the ground and 31
yards receiving, including a TD.
Landen Saeva ran for 40 yards
and a TD, and Riley Williams
also scored aTD, rushing for 48
yards. AydenRiggi tacked on 2
yards and a TD, while Zachary
Tooleyadded44yardsandaTD.
Ryan Higgins ran the ball and
also scored a 2-point conversion
ona3yardcatch.NewcomerJosh
Horner also ran the ball for the
Knights. Bryce Lathan helped
LeRoy keep theWarsaw offense
deep in their own territory with
3 punts, averaging over 25 yards
Sunday the 18th to face the
defendingCYFLSeniorDivision