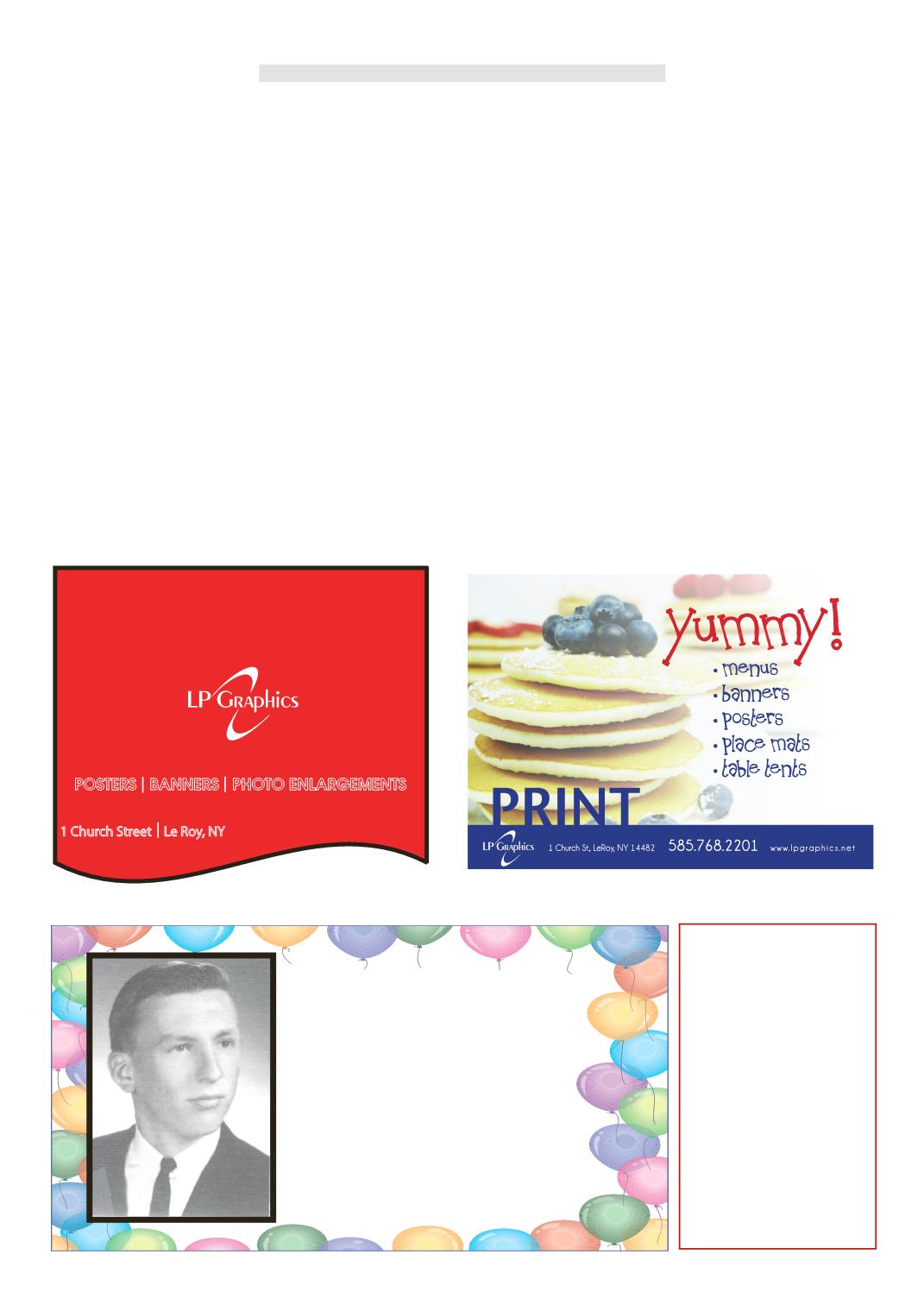 LEROYPENNYSAVER&NEWS - SEPTEMBER 18, 2016
POSTERS BANNERS PHOTO ENLARGEMENTS
lpgraphics.net
LeRoyUnitedMethodist Church
ANNUALHARVESTROASTBEEF
DINNERANDBASKETAUCTION
Saturday, Oct. 1st 3:30 pm to
6:30 pm. Adults $11, Children
6-12 $6.50, Children 5 & under
eat FREE! Roast Beef, Mashed
Potatoes, Gravy, Squash, Salad
Bar,Breads,Desserts&Beverages.
Handicapped accessible. Home
delivery within the Village is
availableby calling768-8980and
leavingaphonenumber. Pre-Sale
ticketsareavailableat TheHobby
Horse,VintageandVogue, orThe
Divine Tree, alsowill be available
at the door the day of the dinner.
byKimCox
Superintendent of Schools
The second week of school
has passed and there has been
great progress on our RITE
Project. We hope that you can
GrandOpening
of Hartwood Park
for Friday, September 23rd at
7:00 p.m. before the football
game. We will begin with some
introductions and highlights of
the new facility, followed by the
first game against Hornell with
the Halftime Show provided by
the Marching Knights! Come a
bit earlier and you can see our
outstanding volleyball teams
playLetchworth - JuniorVarsity
begins at 4:00 p.m., followed by
theVarsitymatch at 5:30 p.m.
Inaddition to theGrandOpen-
HOMECOMING!
After the game, students are
Home-
comingDance
OnSaturday, September 24th,
from 8:00 - 10:00 a.m., come
and tourHartwoodPark and the
Jr./Sr. High School to see all of
the exciting changes that have
happened. After your tour, plan
on attending an array of events:
• 9:00a.m.Soccer:Boys/Girls
• 9:30a.m.Volleyball:Modified
• 10:15a.m.XC:Mod/JV/Varsi-
• 1:00 p.m. Soccer:Girls JV
• 3:00 p.m. Soccer: Boys JV
• 5:00p.m.Soccer:GirlsVarsity
• 7:30p.m.Soccer:BoysVarsity
It's going to be a great week-
In addition, we are currently
in the process of scheduling the
WSS Fitness
Center
tentatively planning for training
sessions tobegin theweekofOc-
tober1st.TheFitnessCenterwill
mornings from6:00a.m. to8:00
a.m. and Tuesday and Thursday
evenings from 5:00 p.m. to 8:00
p.m.Watch formore information
Finally, onabittersweetnote, I
will be retiring from the district
effective March 1st. This has
truly been a difficult decision,
but it is time to begin the next
chapter that lifehas tooffer.That
being said, I love my work, the
people Iworkwithand,most im-
portantly, the students. We have
such great kids! There aremany
important things todo in thenext
six months. I am committed to
following throughonour district
goals and to see the completion
The district is in a great place.
While there is always work to
be done, I am proud to say that
everything from academics, to
facilities, to cultural, and staff
have been elevated to reflect the
district's mission and vision of
offering a world class learning
environment, where all learners
This has been a huge
team effort!
to be a part of this dynamic or-
This is truly an outstanding
districtwith averybright future.
Thankyou for theopportunity to
serveas theSuperintendentof the
LeRoyCentralSchoolDistrict. It
has beenmy greatest honor.