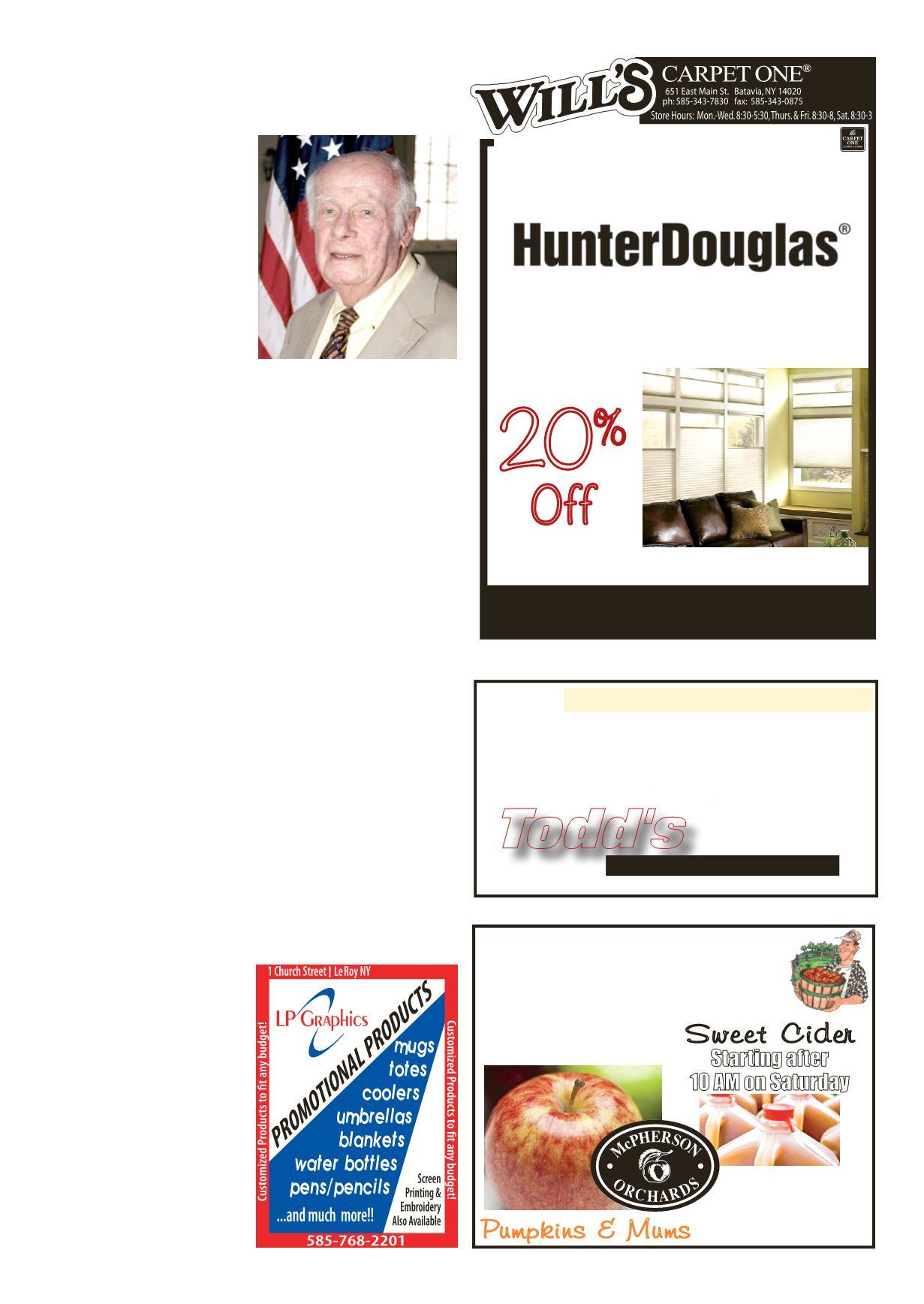 LEROYPENNYSAVER&NEWS - SEPTEMBER 18, 2016
TheONE store for your perfect floor.
FLOOR
&HOME
NewHomes •Additions •Garages •PoleBarns
ToddCarli • Phone 703-0964
Todd's
Decks •Windows •Doors
Kitchens •Baths
CeramicTile
Basement Finishing
CustomShelves/Built-Ins
Siding •Remodeling
Roofing • SnowPlowing
FULLY INSURED
•Professional InstallationAvailable • FreeEstimates
•FinancingAvailable forQualifiedCustomers
Sale!
"Applause"
HoneycombShades
Botts-FioritoPost#576,Amer-
ican Legion, LeRoy takes great
prideandpleasure inannouncing
FranklinDavis as their selection
for the201648th"LeRoyanof the
The community has benefit-
ted in countless ways from his
85-year-long residence inLeRoy,
and Frank has loved and been
proud of his hometown always.
Although Frank was not an
active serviceman, both of his
parentsaswell asall threebroth-
ers were. He did serve in the
National Guard prior to college.
Asa result,Frankhasalwaysheld
our country in highest esteem.
Friends point out that he usually
has 2 flags flying in his yard on
Frank startedout after college
with a florist business in LeRoy,
and then went on to work for
Jones Chemicals, eventually as
Director of Sales. Frank's fam-
ily consists of his wife Martha,
and five children Selby, Benson,
He is a lifelong member of
the First Presbyterian Church,
havingservedonnumerouscom-
mittees, currentlyon theChurch
Maintenance Committee. He is
an 'over-50-year'memberofThe
LeRoyFireDepartment, aswell
as the Olive Branch Lodge #39
F&AM. Frank is also amember
of the Oatka Hose Company
as an active firefighter recently
honored for over 50 years of
Frank has served on commit-
tees devoted to making LeRoy
a better place to live, including
the Planning Committee, a life
member of the LeRoyHistorical
Society and the LeRoy Business
Council. Frank served as Presi-
dent of the MacPelah Cemetery
Board, and also served as the
Disaster Chairmen of the Local
Chapter of the American Red
Cross. He was active in the
RepublicanCommittee foryears.
Frank was a member of the Le-
There are two personal qual-
ities that Frank possesses which
standout andmakehimaunique
and exceptionally qualified per-
son in terms of qualifying for
The first is his outstanding
ability to be helpful in times of
need or difficulty. Whether a
friendhasaneed, or thecommu-
nity, an organization he belongs
to or not, a family member, or
In addition, is his best quality
is his friendship. Frank makes
friends and leaves a good im-
pression wherever he goes. His
cheerful demeanormakesothers
comfortable andhe is thefirst to
askothershowTHEYaredoing.
Hehasmany lifelong friendsand
The bottom line is that Frank
Davis will be there for you, and
hewillbe thebest friendyouhave
ever had. (as long as you don't
mind his cigar once in awhile)
on Saturday, October 8th, 2016.
Social hour begins at 6:00PM,
with dinner at 6:45PM at the
AmericanLegion, 53WestMain
Tickets for this year's Award
Dinnerareavailableat theAmer-
ican Legion. Cost is $20.00 per
2016 "LeRoyan
of theYear"Award
Apples
OatkaTrail
OPENDAILY
9am to6pm