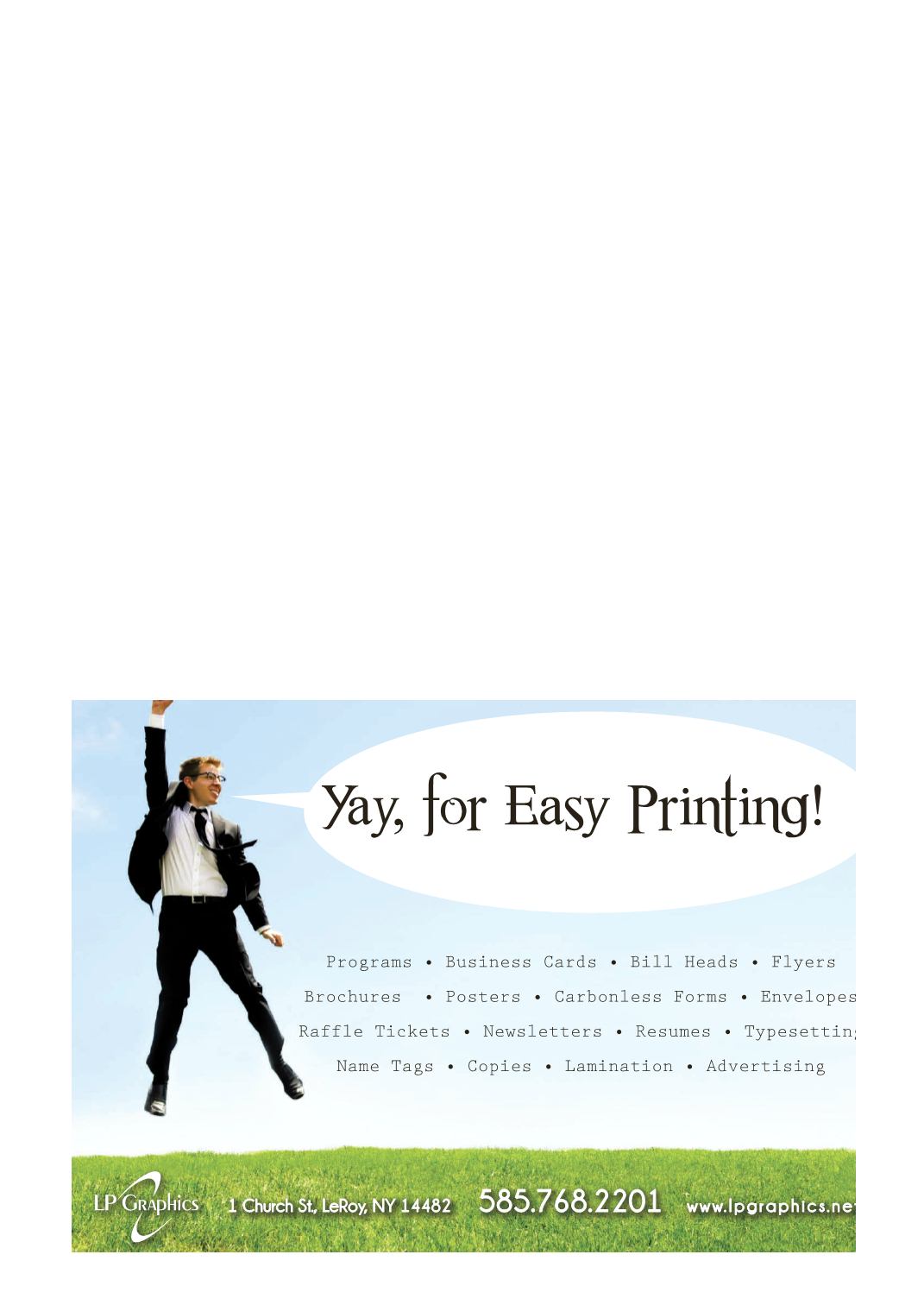 LEROYPENNYSAVER&NEWS - SEPTEMBER 18, 2016
The Junior Knights started
game twowith theballafterWar-
sawwon the tossandchose tode-
fer to the secondhalf. Aneutral
zone infractionby theTigersgave
LeRoy 1 and 5 at their 40 yard
line. Just like week one, it took
onlyonecarryforAdam"Bucha"
Woodworth to light up the score
board as heburst through ahuge
hole on the right side to sprint
60yards for a touchdown. Luke
Lathan converted the PAT with
a run off the left side behind the
blocks of Aaric Luce and Jayce
Warsaw's first possession be-
ganwithaLukeLathan tackle for
nogain followedbyan incomplete
pass. On thirddown, JackEgeling
rushed the QB causing a fumble
that was recovered by Warsaw
setting up fourth and long.
After a Warsaw punt, LeRoy
started their next possession at
the Warsaw 46 yard line. On
the first play the offensive line
again opened a huge hole, this
timeon the left sidebehindJayce
Jedrewski, Aric Luce and Peter
Clark, allowing Jake Higgins
to sprint 45 yards down to the 1
yard line. On the very next play
Jake Higgins, again untouched,
crossed thegoal line for a touch-
downmaking the score 14-0.
Warsaw'snext chancewith the
football beganwithAndrewDa-
vissmothering theballcarrier for
a 4 yard loss. On 2nd and long,
Aaric Luce hustled to recover a
fumble in the backfield giving
LeRoy the ball at Warsaw's 23
Both teams traded defensive
stops for the next 5 possessions
whenWarsaw took over the ball
on their own 2 yard line. Three
plays in, Warsaw broke lose off
the left side for 84 yards down to
the LeRoy 10 yard line. On 3rd
andgoal,Warsawagaingot loose
on the left side scoring from 12
yardsout. A failedextrapoint at-
temptmade thescore14 -6LeRoy.
LeRoy wasted no time in an-
swering. One thefirst play, Jude
Sherman broke free behind the
blocking of Wyatt Draper, DJ
O'Geen and Grady Gilligan for
a 65 yard touchdown. Halftime
Warsaw's first possession of
the second half started with a
spirited 10 yard run. However,
after JacobBowman andAvante
Walker combinedon a tackle for
an 8 yard loss, Alex Spezzano
picked off a pass for his second
interception in as many games
giving LeRoy the ball at the
worth moved the ball down to
the3yard line.After twounsuc-
cessful attempts topunch it inby
LeRoy's offense, AlexSpezzano
scoredaround the right end from
6 yards out behind great blocks
byhisbackfield teammates,Luke
Lathan, JakeHiggins andAdam
Woodworth. Thiswould stretch
the score to 26 – 6LeRoy.
downonWarsaw'snext threepos-
sessions which featured a forced
fumble by Wyatt Draper, tackle
foran18yard lossbyAaricLuce,
afumblerecoverybyJackEgeling
and two crushing hits byHolden
Following Egeling's fumble
recovery, Jude Sherman capped
off the scoring with a 21 yard
scamper around the left end
making the final score LeRoy
LeRoy's offensewaswell bal-
anced with 9 different Knights
LeRoy JuniorKnights –LeRoy 32 -Warsaw 6
carrying the football. Theywere
led by AdamWoodworth - 105
yardson4carriesandaTD, Jude
Sherman - 3 carries for 87 yards
and2TD's, JakeHiggins - 4car-
ries for 37yards and aTD,Noah
Kaczanowski – 6 carries for 35
yards,ConnorElmore–5carries
for 24 yards, Joey Reschke – 4
carries for 10 yards, Alex Spez-
zano - 2 carries for 6 yards and
a TD, Luke Lathan - 2 carries
including a PAT andCole Tonzi
carried the ball 2 times.
Itwasa teameffortonDefense
aswell. JackEgeling recorded5
tackles, 2 for a loss including a
forced fumbleandalso recovered
a fumble. AdamWoodworth 5
tackles, 2 for a loss. AaricLuce
andHoldenSullivanhad3 tackles
each.AaricLucealso recovereda
fumble. JacobBowman,Andrew
Davis, Noah Kaczanowski and
Jude Sherman all had 2 tackles.
Carson Caton, Liam Grayson,
Jay Lathan, Luke Lathan, Zach
Samis, Drake Schwab, Alex
Spezzano,ColeTonziandAvante
Woodworthall chipped inwitha