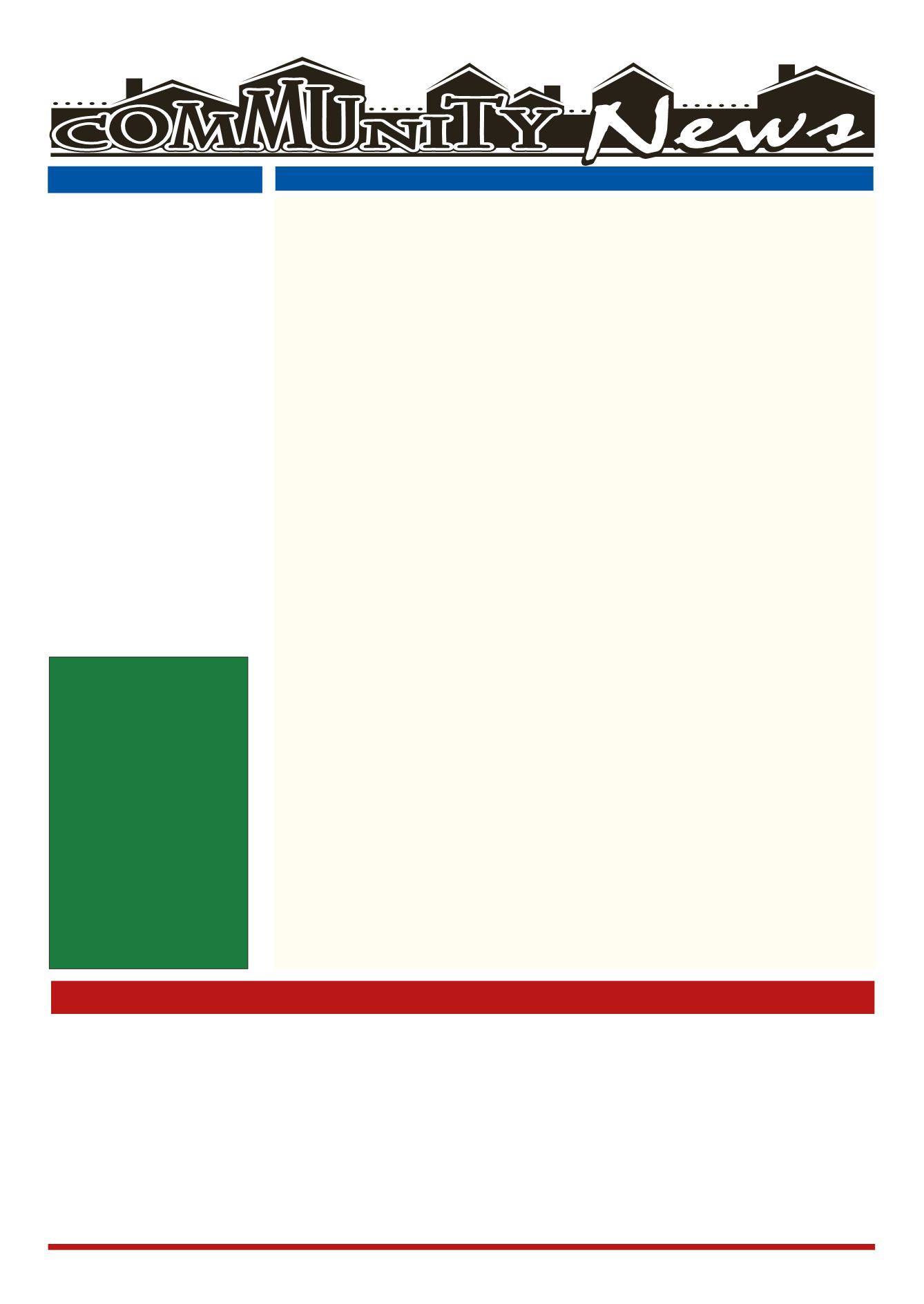 LEROYPENNYSAVER&NEWS - SEPTEMBER 18, 2016
Le Roy
Pennysaver
All GeneseeCounty residents, 60andolder, can takepart in thisweek'sactivitiesat theBataviaSenior Center, 2BankSt., Batavia. Formore information, call 343-1611.
SENIORCITIZENSACTIVITIES (September 19th - September 23rd)
WEEKLYEVENTS
OBITUARIES
ArthritisExercise
is scheduled tobeginat 9:30a.m.;
Bridge
is scheduled tobeginat 11:30a.m;
Tai Chi
Medicare101Program
is scheduled tobeginat6:00p.m.
NewsletterAssembly
is scheduled tobeginat8:45a.m.;
Cribbage
is scheduled tobeginat1:00p.m.
Quilter'sGroup
is scheduled tobeginat9:00a.m.;
Euchre
is scheduled tobeginat1:00p.m.
TaiChi
isscheduledtobeginat9:30a.m.;
GentleFitness
isscheduledtobeginat10:30a.m.;
Cribbage
Bridge
isscheduled tobeginat1:00p.m.
ArtClass
is scheduled tobeginat 10:00a.m.;
LineDancing
is scheduled tobeginat 10:00a.m.;
Euchre
SUNDAY, SEPTEMBER18
MONDAY, SEPTEMBER19
TOPS (TakeOffPoundsSensibly)
meetsMondayeveningsat theLeRoy
PresbyterianChurch, cornerofClay&MainStreets.Doorsopenat6:00pmand
meeting is from6:30-7:15pm.Visitorsarealwayswelcome. Call 585-768-7103
TheBataviaPhotoClub
,servingmembers fromGeneseeCounty,andthecoun-
ties surrounding it, will begin its 30th year. Themeetingwill be held at 7:00 in
theRichmondMemorial Libraryat19RossStreet inBatavia,with informal photo
critiques beginning at 6:30. If youhave an interest inphotography andperhaps
want to take that interest to thenext level, comeand seewhatweareall about.
All arewelcome toattend, even if you thinkyouwon'twant to join.
TUESDAY, SEPTEMBER 20
Preschool Storytime :
EveryTuesdayat11am featuring stories, craft and
songsatPavilionPublicLibrary, 5WoodrowDr., Pavilion. For info: 584-8843.
GRACE'S CLOSET: A clothinggiveawayprogram
MethodistChurch,10TrigonPark, LeRoy,9:30am to11:30ameveryThursday.We
haveclothing forallages.Weare inneedofboy'sclothingsizes0-3T.Donationscan
bedroppedoffat thehousenext to the church. Pleaseput all bags INSIDEon the
backporch. NOELECTRONICS, COMPUTERS,DISHES, etc.
OpenTuesdays5-6:30
pm.
Anyquestions call theoffice768-8980.
TownofLeRoyPlanningBoardMeeting
(ASNECESSARY)7:30PMat theTown
Hall, 48MainStreet. For further information call 768-6910, Ext. 223
Boys in school grades 1 through 5 and their parents are invited to attend an
InformationNight about LeRoy's CubScoutPack
evening, from6:30 to7:30 in theOurLadyofMercyParishCentergymnasium.
Find out about our programs and activities. This will also be the first pack
meeting for the season. The Pack 23 Facebook page is at
WEDNESDAY, SEPTEMBER21
The Genesee Valley Civil War Roundtable
presents Mike Eula on "Emory
Upton - The Formation of ModernAmerica", at 7:00 pm. Themeetingwill take
placeat LeRoyUnitedMethodistChurch, 3rddooron rightendof long sidewalk,
10TrigonPark, LeRoy,NY. Discussionperiodwill followprogram.Newmembers
VillageofLeRoyBoardMeeting
,7PMattheVillageHall,3WestMainStreet.
FirstBaptistChurchofPavilion
isbeginning theirWednesdaynight youth
JOYCLUB
beginsat6:30PM-8:00PM. Fun timeofBiblestories,Bible
memory, gym and refreshment time. The teen group is also beginning 7:00
PM - 8:00PM. Anyquestions call 585-584-3179, ext #12 leave your number
and the secretarywill call youback.
THURSDAY, SEPTEMBER22
Town of LeRoy BoardMeeting
, 7 PM at the Town Hall Board Room, 48
FRIDAY, SEPTEMBER23
PenuelChristianFellowship,
OneSteptoFreedomaddictionsministry,aChrist
CenteredAddictions program, aweeklymeeting every Friday at 7pm. Call the
Church formore informationat768-6901or594-9575.
PenuelChristianFellowship
isorganizingayoungadult fellowshipandBible
study. Ages: 12andup, Time: Fridays from7-9pm, Study: thebookof Romans
(a16week course), taughtby JosiahGariboldi. Place: 7115WestMainStreet.
SATURDAY, SEPTEMBER24
St.Mark'sEpiscopal Church
, 1EastMainSt in LeRoywill hold it's
Second
Annual Takeout Roast Pork Dinner
, on Saturday, September 24th from
11am til sold out. Pre-sale tickets are recommended and can be purchased
fromanyparishioneror thechurchoffice.St.Paul'sEpiscopalChurch,Stafford,
willbeofferingwholeorbytheslice fruitpies forsaleduringthepickuphours.
Please call StMark'swithanyquestions; 768-7200.
UPCOMINGEVENTS
TheSeniorCitizensofLeRoyandStafford
meet the thirdWednesdayof
themonth fromMarch throughDecember fordinnerandaplannedprogram.
Wemeet in the Knights of Columbus Hall behind Save-A-Lot onWestMain
Street. Eachpersonattendingbringsagenerousdishtopassorpays$4.00each
foranicebuffetmeal and social. Bringyourownplace settingandbeverage.
Coffee,teaanddessertareprovided.Dinner isservedat6:00pm followedbya
program.Please joinusforanenjoyableevening. Anyquestions,pleasecontact
JudyRidley,Director@768-2001, or SharonFrost@768-6846.
Foodlink FreeMobile FoodPantry:
MorganvilleUnited Church of Christ
is partneringwith Foodlink of Rochester to host a freemobile food pantry,
Tuesday, Sept 27, 3:30-5:30pmatMorganvilleUnitedChurchof Christ, 8466
MorganvilleRoad (offRt237, 1milenorthof Stafford). Theexact food items
andquantityavailablearenotknown,butfreshproducewillbeavailable. Must
be18yearsof age, no income requirementor ID required. Mustprovideown
bags/vehicle to transport items toyourhome. Foodprovidedonafirst come,
first servebasiswhile supplies last.
StaffordUnitedMethodist Church,
6134Main Road (Route 5) Stafford.
Chicken&BiscuitDinner,
Thursday,September29,takeoutsavailable 4:30
pm, serving5:00pmuntil soldout.Menu: chicken&biscuitswithgravy, real
mashedpotatoes, baby carrots, cranberry sauce, cabbage salad, homemade
Themonthlymeeting of the Stafford Historical Society
Wednesday, September 28 at 7:00 P.M. at the Town Hall, 8903 Route 237.
Our programwill be: FordBest andScott Clark,well-known local reinactors.
Theywill arrive to themeetingdressed in themilitary uniformofWW ll G.I.
andParatrooper andwill showandexplain theproper equipmentof theera.
TheCovingtonUnitedMethodistChurch
ishavingtheirannualHamDinner
withBazaar andBake-saleonSaturday, October 8th from4-7pm. Themenu
will includeham,rolls,potatoes,squash,beans,applesauce,andseveralkinds
ofhome-madepies. Thechurch is locatedonSimmonsRoad,betweenPavilion
andPerry, inWyomingCounty.
CommunityCalendarSubmissions shouldbe sent to:
MUMFORD ~ Gracia Irene Rich-
ardson Stewart has passed away.
Cardsandcondolencesmaybesent
to: c/o Susan Stewart, 816 Riviera
Drive, Mansfield, TX 76063.
BYRON ~GordonR. Plowe, 85, of
Mitchell, SD, formerly of Byron, NY
diedSunday,August 28, 2016at his
homeunderhospicecaresurround-
ed by family members. In lieu of
flowers,memorial giftsmaybesent
to International RescueCommittee,
122East42ndStreet,NewYork,NY
10168, or help.rescue.org.
BYRON ~ Daniel A. Crawford, 66,
of Byron, passed away on Sunday
(September 11, 2016) at home in
Byron with his loving family by his
side. Memorials may be made to