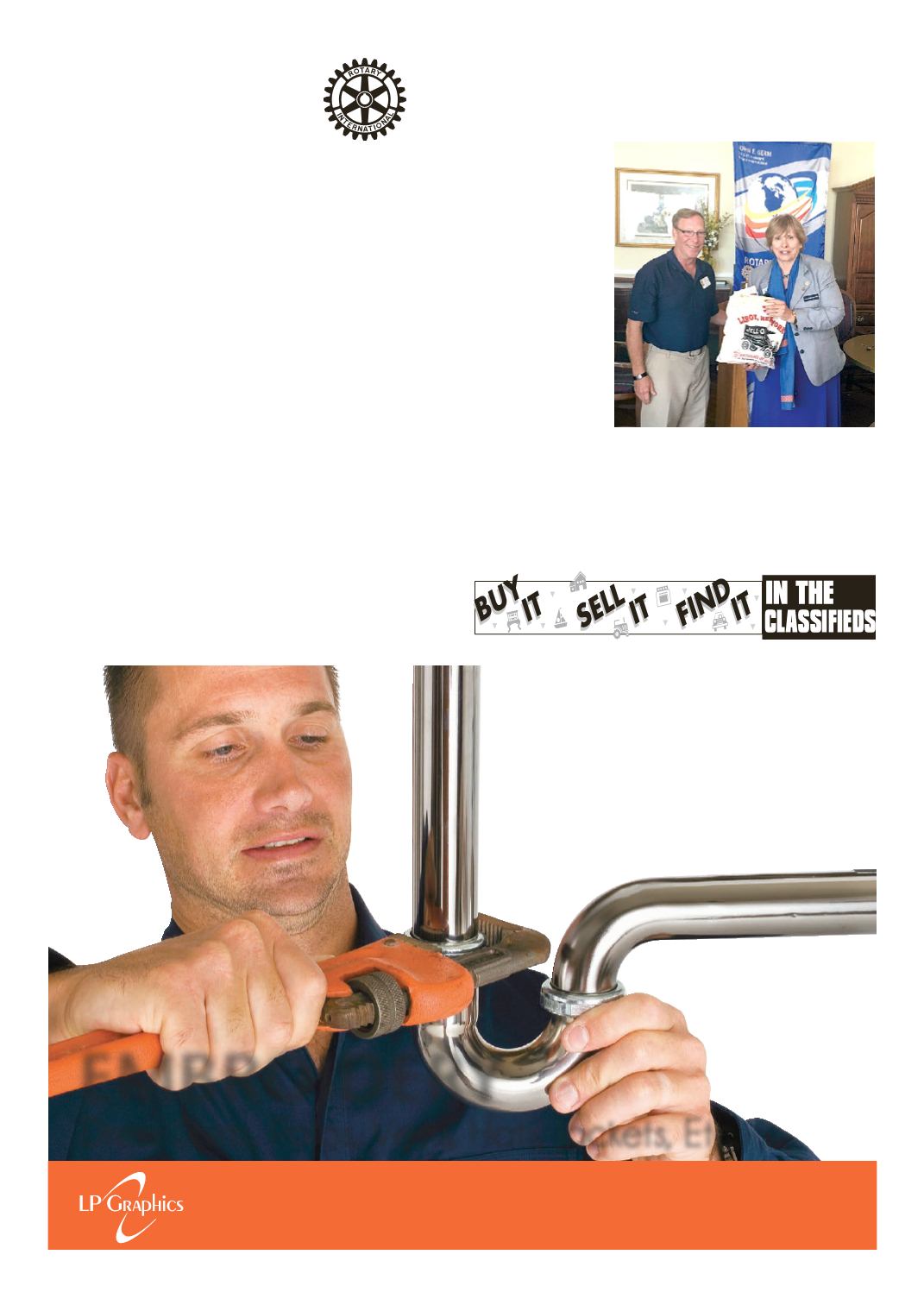 LEROYPENNYSAVER&NEWS - SEPTEMBER 18, 2016
LeRotary
Notes
Itwasabeautiful sunnyday for
ourWednesday lunchmeetingat
theGreensofLeRoyasPresident
DavidGrayson,brought themeet-
Guests today included: Cindy
Hendrickson from the Perry
Club, BillDiehl andMarleeDie-
hl who is our District Governor.
ThePledgeofAllegiance
andFour-WayTestwere given.
about our November 6th Ap-
pliance Raffle being held at the
Legion this year. Tickets have
gone on sale so contact your fa-
voriteRotarian for tickets to this
Missedmeetingsandfineswere
a whirlwind today giving the
note taker a bit of an eye twitch.
You see President Davidwanted
to allow our District Governor a
good bit of time for her program
today, so he crammed as many
missedmeetingsandregularfines
intowhat seemed approximately
aminute and a half as he could.
ChrisBiviano,ScottMcCumis-
key, Dave Frost,MaryMargaret
Ripley and quite a few others
werefined formissedmeetings.
ErikFixwasfined forhis son's
LittleLeagueChampionshippho-
to, LaurenHumphreywas asked
Pokemon Go!
was and was fined for it, Chris-
tine Gephart was fined for her
fabuloussummer,MaryMargaret
Ripleywasfined forher statuson
Facebook about a midnight fox
call and Scott Ripley liking her
melons, Anil Sawhney andTony
Guginowerefined for something
but not sure what, Bruce Baker
and a few others were fined as
well but as mentioned above it
was a swift 30 seconds of back
andforthingandpeoplecoughing
Our program today was pre-
sented by Marlee Diehl who is
our 2016-17 District Governor
and also member of the Albion
own district conference being
held this year at the Batavia
Downs Gaming and Casino and
what funwewill have sharing in
themanymissionbasedprojects
we will be working on this year
at the conference. She closedher
program with letting us know
that there are over 1,200,000
members inRotaryworldwide.
Then the bell rang and our
meetingwasoveruntilnextweek.
Don't forget to"Like"usonFace-
bookat"RotaryClubofLeRoy"!
1ChurchSt., LeRoy, NY14482
585.768.2201
raphics.net
Dress Shirts, Polos, Vests, Hats, Jackets, Etc.