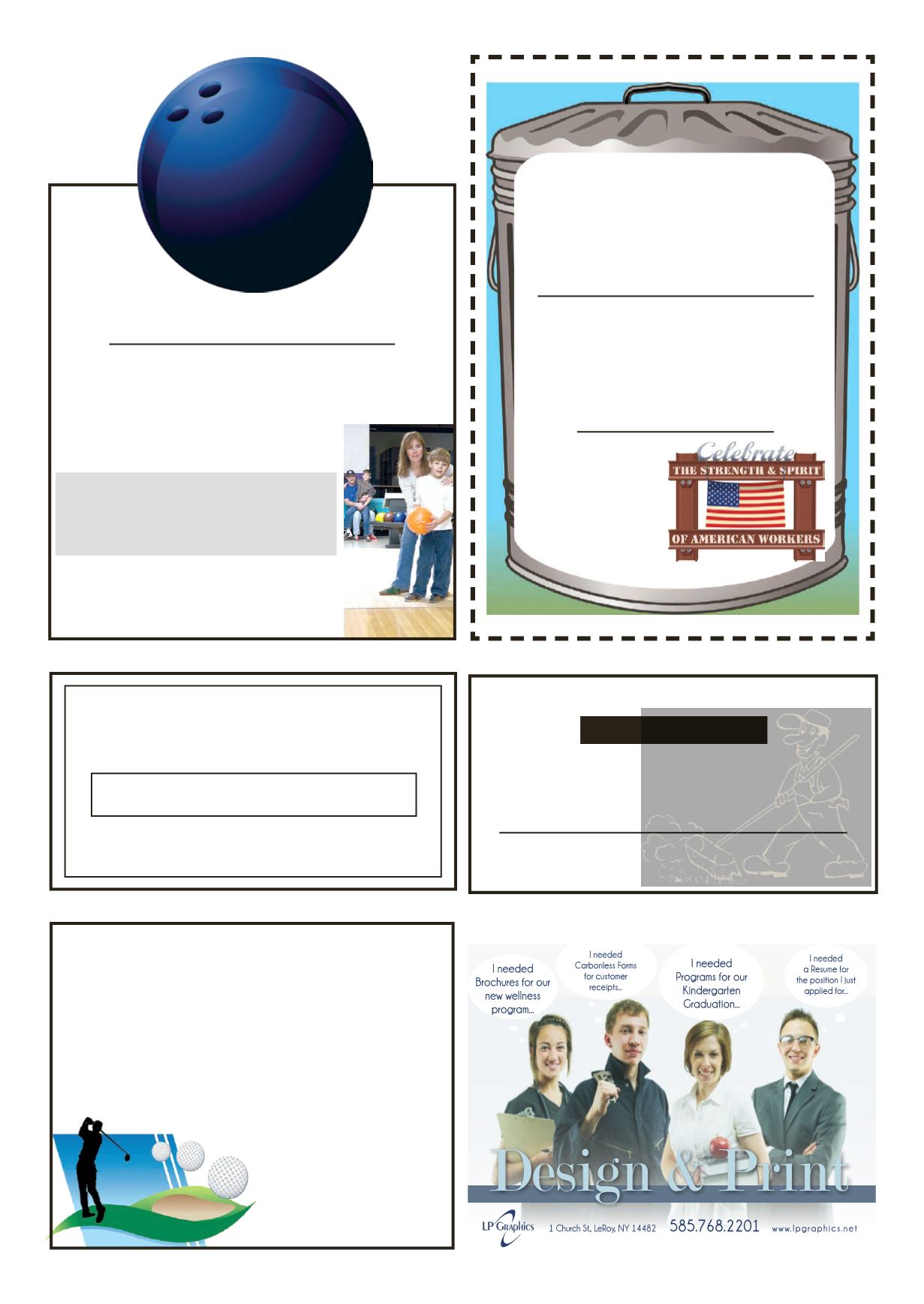 LEROYPENNYSAVER&NEWS -AUGUST 28, 2016
Plumbing • Heating
Installation&Repair Service
For All Residential &Commercial Work
CleaningService
•Carpet &UpholsteryCleaning
•Spot Cleaning&Odor Removal
•Tile&WoodFloor Cleaning&Waxing
•Complete Janitorial Services
Clip andSave
Clip andSave
Residents of LeRoy
who are customers of
WasteManagement
NOTICE
LaborDayHoliday (Sept. 5th),
collectionof all residential trash
delayedoneday for theweekof
September5th-September10th.
Have aSafe and
EnjoyableHoliday.
GodBlessAmerica
and
GodBlessOur
MilitaryVeterans.
2
016DonaldWoodwardMemorialGolfLeague
Congrats to the 2016Champions -Bubba'sLandscape
(DougCecere, RodAllen, Bubba and JerryBlair)
Iwould like to thank the following sponsorswho have showed their
continuing support of theTuesdayNightMen'sGolf League:
THANKS
for his help, effort and support in
making this a great league.
We look forward to another
SIGN-UPS
LeaguesNowForming!
INDIVIDUALS andTEAMSWANTED
MondayNight Ladies - 4PersonTeam
TuesdayNight 4Man,Women orMixed
WednesdayNight 5Man,Woman orMixed
ThursdayNight 4Man IndividualsNeeded
LeRoy
Legion
Lanes
53WestMainSt.
LeRoy, NY
585-768-8597
Saturday, Sept. 10th
StartingatNoon
$20RegistrationFee (includes SanctionFee&T-shirt