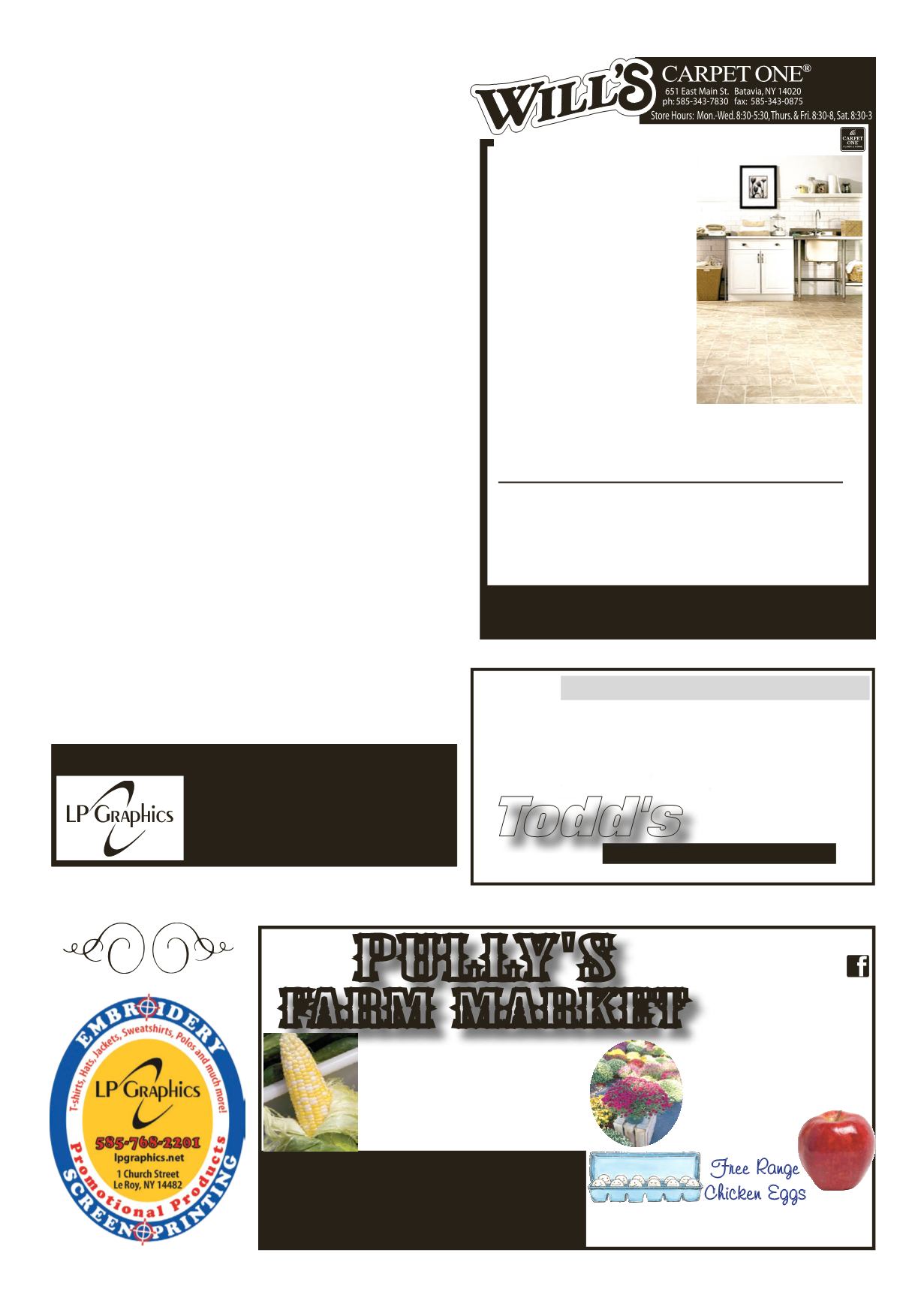 LEROYPENNYSAVER&NEWS -AUGUST 28, 2016
TheONE store for your perfect floor.
FLOOR
&HOME
8160LakeRd. (Rt. 19)
LeRoy, NY
1/2mile south of Thruway
768-2280 • 704-1157
Hours:Mon.-Sat. 9-6, Sunday 9-5
pullysfarmmarket.com
Jams • JellyHoney • Syrup
Gift CertificatesAvailable!
NowAvailable!
Watermelon •Cantaloupe • Peppers
Cherries • Summer Squash •Zucchini
Onions •Tomatoes • Peaches
(PaulaRed)
•Professional InstallationAvailable
•FinancingAvailable forQualified
Sale!
In-Stock
FiberFloor
Vinyls
99
¢
Large&SmallCarpetRems
• Professional BindingAvailable
Members of the Genesee Com-
munity College faculty and staff
have been recognized by State
UniversityofNewYorkChancel-
lorNancyZimpherforoutstanding
contributions to their profession,
the campus and the community.
The Chancellor's Award for Ex-
cellence isgiven in recognitionof
consistently superior professional
achievement and encourages the
ongoing pursuit of excellence.
The GCC faculty and staff
member earned the 2016 award
and was honored at a reception
on the Batavia Campus the past
Thursday, August 18, 2016 at 4
p.m. in theStuartSteinerTheatre.
Award forExcellence
inTeaching
RoxanneM.Holthaus,
tant Professor, Nursing – Rox-
anne joined GCC as a full-time
faculty member in 2009. With
over16yearsof experience, both
as a highly engaged registered
nurse and a family nurse prac-
titioner in a university setting,
Roxanne was promoted by the
College to the rank of Assistant
Professor ofNursing in 2015.
She earned a Bachelor's de-
gree in Biology from SUNY
Binghamton and a Bachelor's
and Master's degree in Nursing
from the University of Roches-
ter School of Nursing. Entirely
dedicated to the success of her
students, Roxanne is the co-
ordinator and point of contact
for the "Nursing Boot Camp"
program, a series of clinical lab
and simulation exercises run for
2-3 nights during the months of
July and/or August, as a means
of helping students maintain
their nursing skill set during the
In the classroom, Roxanne
utilizesmultiple techniques toen-
hance the learning environment
and believes that all students
enrolled in the nursing program
have the right to learn and the
chance to be successful. She
believes that students need to
be reached where and how they
learn best, which means under-
standing that the same approach
will not work for all. Roxanne
2016SUNYChancellor's
AwardWinner
fromGCCFaculty, Staff
1ChurchSt., LeRoy, NY14482
585-768-2201
FAX 585-768-6334
WeDo
NewHomes •Additions •Garages •PoleBarns
ToddCarli • Phone 703-0964
Todd's
Decks •Windows •Doors
Kitchens •Baths
CeramicTile
Basement Finishing
CustomShelves/Built-Ins
Siding •Remodeling
Roofing • SnowPlowing
FULLY INSURED