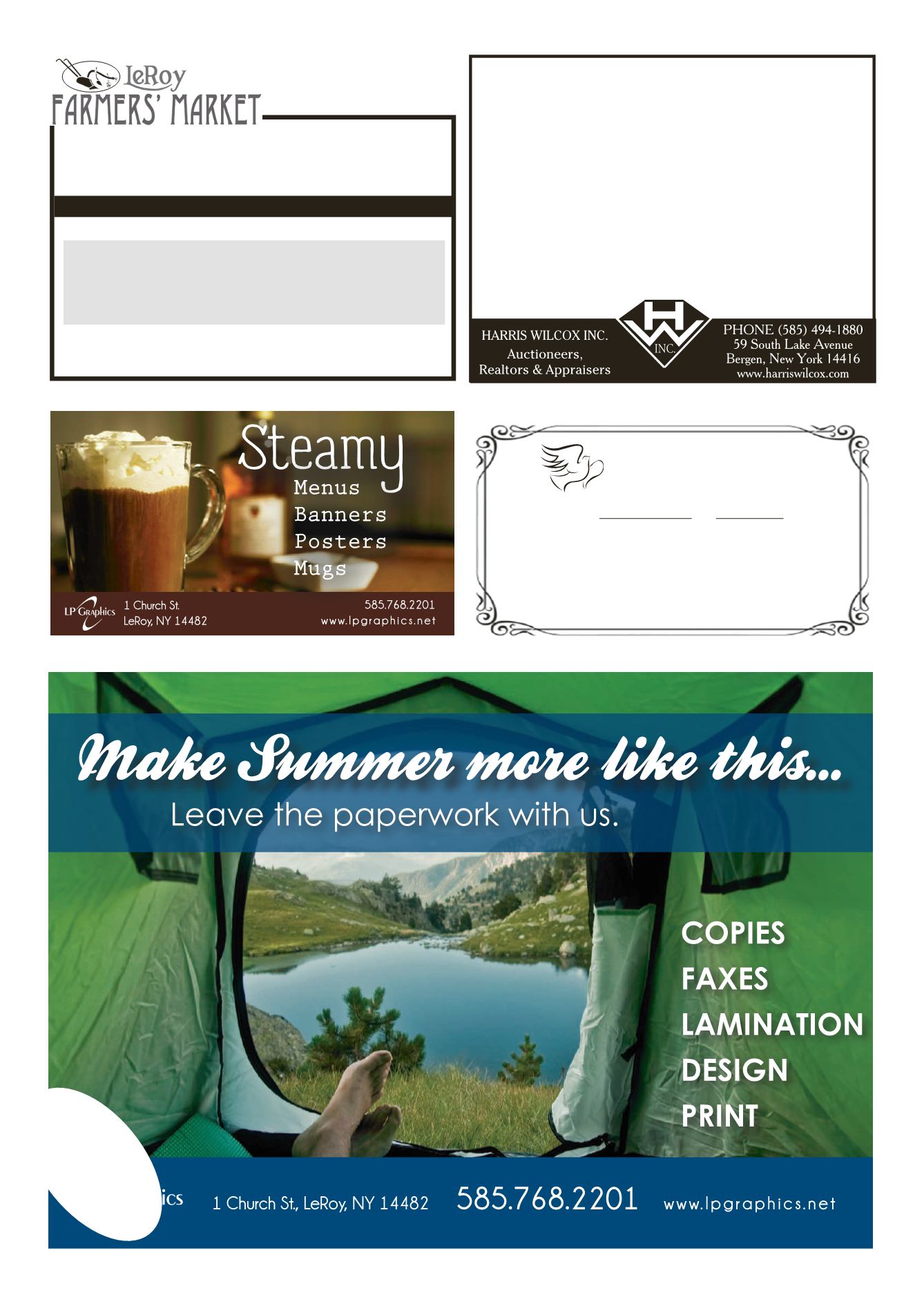 LEROYPENNYSAVER&NEWS -AUGUST28, 2016
eRoyFarmer'sMarket onFacebook
Saturdays ThroughOctober 1st
LOCAL • FRESH•DELICIOUS •NUTRITIOUS
Seasonal Fruits&VegetablesWill BeArrivingWeekly!
ALWAYSLOOKINGFORNEWVENDORS&VOLUNTEERS
ContactMaryMargaret Ripley - 297-2441
Entertainment:
LeRoyTownBand - 8/27
CommunityBooth:
MasterGardeners - 8/27
NoEntertainment orCommunityBooth
For September 3rdMarket
August 27th
&September 3rd
Director /Owner
FuneralDirector
F
ALCONE
F
AMILY
Funeral&Cremation Service, Inc.
Director/Owner
"ALOCALFAMILY
CARINGFORLOCALFAMILIES"
CAROLYN PARTONREAL ESTATE
andHOUSEHOLDAUCTION
TUES., AUG30, 2016• 5:00 PM• LEROY, NY
Auction tobe heldat 64Wolcott Street inVillageof LeRoy,
off Rt. 19, south of Rt. 5.
REAL ESTATE:
beagood, solid2bedroom, 1bathvillagehome inneedof
complete rehab. Assessed at $48,000 and sells for $10,000
orabove. $4,000deposit required tobid.Call ShellyFalcone
for details 683-0995or PenneVincent 303-2325.
OPENHOUSES: Thurs., Aug. 25 from4-5pm
and Tues., Aug. 30 from 4-5pm.
HOUSEHOLD: