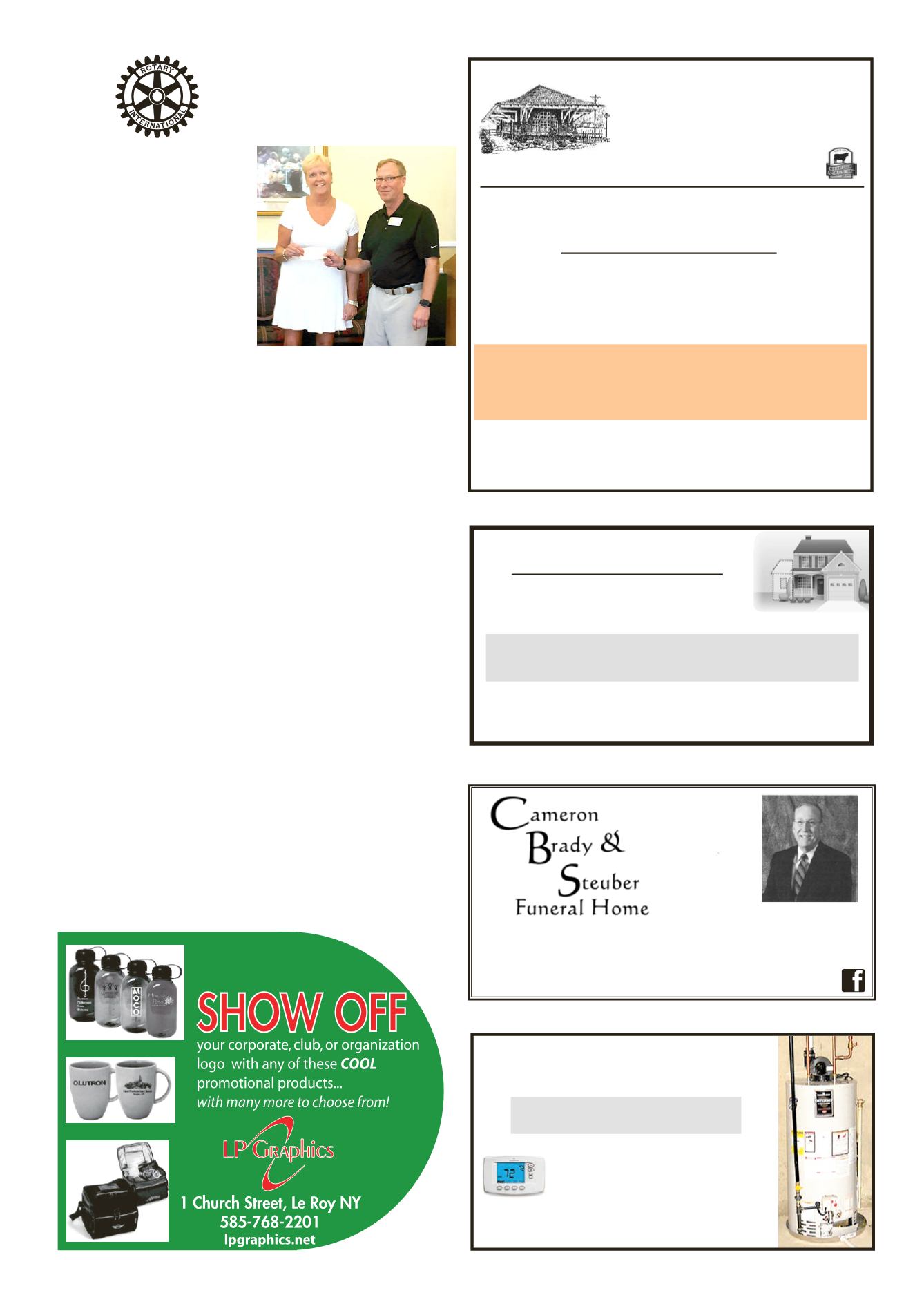 LEROYPENNYSAVER&NEWS -AUGUST 28, 2016
LeRotary
Notes
LakeSt. (Rt. 19), LeRoy• 768-6270
... AGreatAmericanBrasserie
OpenForBreakfast, Lunch&Dinner
Sun.-Thurs. 7-7, Fri. &Sat. 7-9
&
"CompleteCarpentry Service"
M
ILLER
B
ROTHERS
B
UILDERS
CustomHomes •Remodeling•Additions
Roofing• Siding
DANIEL
MICHAEL
Providing full funeral and cremationservices.
111Wolcott Street, LeRoy, NY 14482
RotaryNotes for 8/17/16
PresidentDavidGraysoncalled
themeeting toorderandafter the
openingoblationswehadseveral
OnSeptember 7th theDistrict
Governor will be attending our
meeting.TheannualClubpicnic
will be at Bob Bennett's house
on September 18. This Sunday
is theUnitedWayconcert, under
the stars, featuring the Genesee
SymphonyOrchestra. KimCox,
SamVaggandChristineGephart
are working on developing and
renovating a Cemetery Walk
sponsoredby Interact andEarly-
act onaSaturdayevening inOc-
tober.TheApplianceRafflewill
be November 6th. Rob Murray
shared thathehadseennewsofa
couplenewPoliocases inAfrica
and remindedus thatweneed to
be diligent in Rotary's work to
Gugino and Phil Weise all had
a couple missed meetings and
thesewerecoveredbynumerous
"greencards"andmakeups. Rob
Murray and Jim Elllison also
PresidentDavidpresentedJack-
ieWhitingwith a check for $400
to go to theCommunityPool.
Mike Cassata was fined for
successfully using a Rotary an-
nouncement to help fill an open
position with another Rotarian.
KimCoxwas fine for having to
deal with a runaway truck. Tom
Coxwasagainfined forun-retir-
ing and taking another Interim
Superintendency. Tony Gugino
paid for visiting family while
RobMurray was dinged for the
new uniforms for the Michigan
Football Team. Sam Vagg po-
nied up for a very eventful short
vacation toDCandCooperstown.
PhilWeise took afine for falsely
reporting a tornado! JuneDusen
found that just sitting on a deck
Jackieand focusedon theLeRoy
SummerRecandPoolprograms.
She shared a booklet that is pro-
vided to all K-8 students in June
that outlines all of the possibili-
ties for our kids in the summer.
The programs are supported by
both the Town and the Village
and she indicated how grateful
the community needs to be for
this service for our children.
They are continuing to work to
keep the pool as a viable facility
for thecommunityandhavebeen
verysuccessful.Thissummerwe
have surpassed 7,000 people us-
ing the facility. These programs
employ about 35 students as
counselors and lifeguards, etc.
Thepool has alsohelpedbreathe
SUNDAY, AUGUST 28th -VIRGINIABAKEDHAM
Servedwith soup or salad, potato
and pumpkin ice cream pie $16.99
SUNDAY, SEPTEMBER 4th/MONDAY, SEPTEMBER 5th
BARBECUEDCHICKENn'RIBSdinner
Servedwith Jen's broccoli salad, potato salad
and a banana split for dessert $17.99
TheDepot will beopen regular hours Labor Dayweekend,
servingbreakfast from 7am - 11am
lunchor dinner from 11am - 9pm
Saturday, SundayandMonday
SUNDAY, SEPTEMBER 11th - SHOREDINNER
Includes homemade SeafoodBisque, lobster tail, crab cakes,
broccoli salad, and fresh strawberry pie $23.99
585-297-0724
30Years Experience
Heating •AC • Plumbing • Electrical
GAS, FUELOIL, FORCEDAIR&
HOTWATERHEATING SYSTEMS
24Hour Service • FreeEstimates • Fully Insured
Residential, Commercial
MobileHomes
AllMajorCreditCardsAccepted