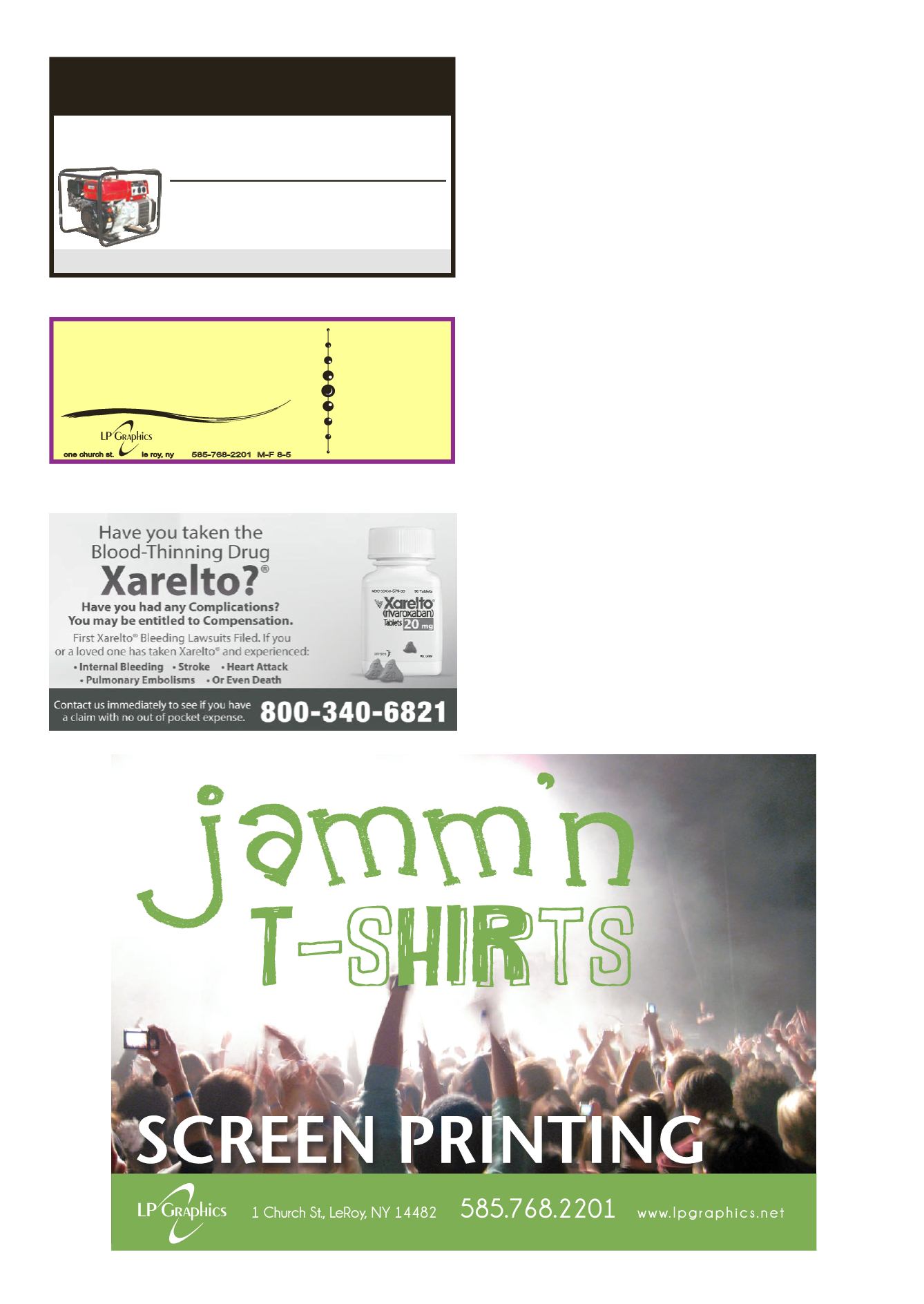 LEROYPENNYSAVER&NEWS -AUGUST28, 2016
8/23/2016 -18yearoldKenishaA.ThomasofDellingerAve,Bata-
viawasarrestedonAugust14,2016by theLeRoyPoliceDepartment.
Thomas was charged with two counts of Criminal Mischief in the
4th degree, a class AMisdemeanor, one count of Petit Larceny, a
classAMisdemeanor, andHarassment in the2nddegree, aviolation.
Thomaswas arrested following a larceny complaint at theBeau-
tiful Kitchen onWestMain Street. Thomas allegedly stole a tip jar
from the counter of the establishmentwhichhad approximately$60
inside.While fleeing the scene Thomas allegedly damaged the exit
door and struck an employee in the face.
Thomaswasarraigned in front of theHonorable JudgeWelshand
is being held at the Genesee County Jail in lieu of $200 cash bail
and $400 bond. Thomas is to return to the LeRoy Town Court on
September 6, 2016 to answer to the charges.
28 year oldNicoleR. Elmore of Erie Street, LeRoywas arrested
onAugust 22, 2016 by the LeRoy Police Department. Elmore was
charged with one count of Endangering theWelfare of a Child, a
Elmorewas arrested after she allegedly allowed a child to be in
the area of numerous items of drug paraphernalia in her residence.
Elmore was arraigned in front of the Honorable Judge Welsh
and was released under supervision of Genesee Justice. Elmore is
to return to theLeRoyTownCourt onSeptember 6, 2016 to answer
30year old JoshuaD.Murphyof Pleasant Street, LeRoywas ar-
restedonAugust23, 2016by theLeRoyPoliceDepartment.Murphy
was chargedwithone count of Endangering theWelfare of aChild,
Murphy was arrested following the investigation of a child who
hadbeen struck in the ribs.Murphy allegedly struck a20monthold
child in the ribs onAugust 13, 2016.
Murphy was issued an appearance ticket on the charge as is to
appear in the LeRoyTownCourt on September 26, 2016 to answer
one church st. le roy, ny
one church st. le roy, ny
ATV's • Snowmobiles •Generators • Snowblowers
Tuesday-Friday, 10 am to 4 pm, OtherTimesByAppt.
8525Rt. 237, Stafford, NY
Service&Repairs -ALLMAKES&MODELS
PickUp&DeliveryAvailable
AllMajorCredit CardsAccepted