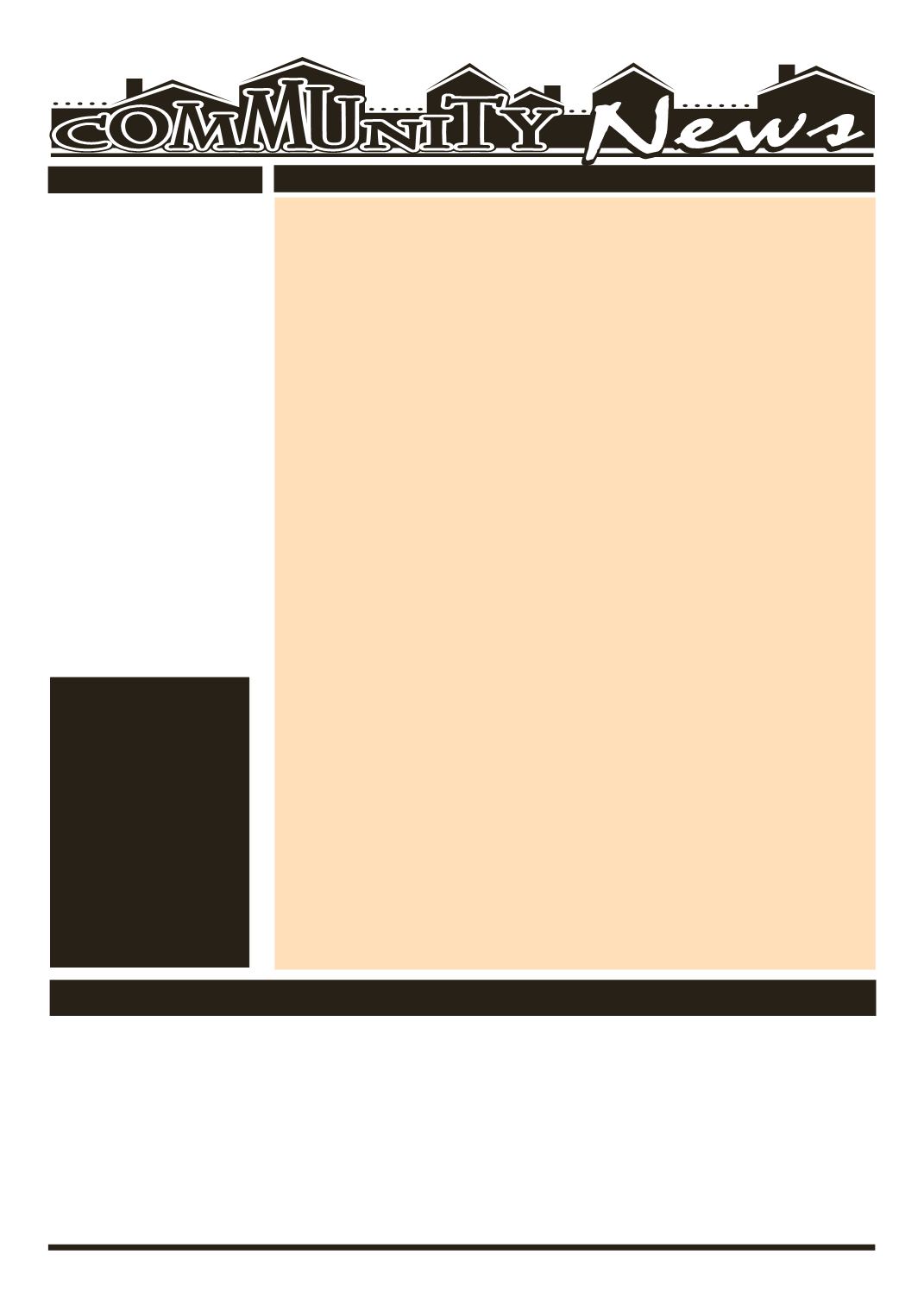 LEROYPENNYSAVER&NEWS -AUGUST28, 2016
Le Roy
Pennysaver
All GeneseeCounty residents, 60andolder, can takepart in thisweek'sactivitiesat theBataviaSenior Center, 2BankSt., Batavia. Formore information, call 343-1611.
SENIORCITIZENSACTIVITIES (August 29th - September 2nd)
WEEKLYEVENTS
OBITUARIES
ArthritisExercise
is scheduled tobeginat9:30a.m.;
Bridge
is scheduled tobeginat11:30a.m.
Cribbage
is scheduled tobeginat1:00p.m.
Quilter'sGroup
isscheduled tobeginat9:00a.m.;
SharingYourWishesWorkshop
isscheduled tobeginat10:00
Euchre
is scheduled tobeginat1:00p.m.
Cribbage
isscheduled tobeginat1:00p.m.;
Bridge
isscheduled tobeginat1:00p.m.
ArtClass
is scheduled tobeginat 10:00a.m.;
LineDancing
is scheduled tobeginat 10:00a.m.;
Euchre
SUNDAY, AUGUST28
MONDAY,AUGUST29
TOPS (Take Off Pounds Sensibly)
evenings at the LeRoy Presbyterian Church, corner of
Clay&MainStreets.Doorsopenat6:00pmandmeet-
ing is from6:30-7:15pm.Visitorsarealwayswelcome.
Call 585-768-7103 formore information.
TUESDAY,AUGUST30
PreschoolStorytime:
EveryTuesdayat11amfeatur-
ingstories,craftandsongsatPavilionPublicLibrary,5
WoodrowDr., Pavilion. For info: 584-8843.
LCCP'sGRACE'SKITCHEN:
day evening, 5-6:30 pm at theMasonic Community
Center on 12 Bank St. Plenty of parking. Takeout &
delivery are available. For more info. contact Selby
GRACE'S CLOSET: A clothing giveaway program
sponsoredby Le RoyUnitedMethodist Church, 10Tri-
gonPark, LeRoy, 9:30am to11:30ameveryThursday.
Wehave clothing for all ages. We are inneedof boy's
clothingsizes0-3T.Donationscanbedroppedoffatthe
housenext to thechurch.Pleaseputallbags INSIDEon
thebackporch. NOELECTRONICS, COMPUTERS,DISHES,
OpenTuesdays5-6:30pm.
WEDNESDAY,AUGUST31
THURSDAY, SEPTEMBER1
FRIDAY, SEPTEMBER2
PenuelChristianFellowship,
addictionsministry,aChristCenteredAddictionspro-
gram,aweeklymeetingeveryFridayat7pm.Call the
Churchformore informationat768-6901or594-9575.
PenuelChristianFellowship
adult fellowship and Bible study. Ages: 12 and up,
Time:Fridaysfrom7-9pm,Study:thebookofRomans
(a16week course), taughtby JosiahGariboldi.Place:
SATURDAY, SEPTEMBER3
The"PavilionClothingCloset"hasmoved
thePavilionHighSchool to thePavilionFirstBaptist
Church,10956LakeRd.(Rt.19),Pavilion.TheClothing
ClosetwillbeopenAugust27andSept.3 from9-12,
andbyappointment. Foranappointment callHope
Speechley at 585-483-1858 or 584-3727. Do Not
Leave amessage just try to call again. To donate
there is a green drop off box at the front door of
UPCOMINGEVENTS
CommunityCalendarSubmissions shouldbe sent to:
PAVILION - Barry L. McKeown, 56
passedawayAugust 17, 2016at his
home. Memorials may be made to
theAmericanDiabetesAssociation
1701 North Beauregard Street
Alexandria, VA 22311 or visit
LEROY ~ Francesco A. "Frank"
Antinoro, age 91, of Lake Street,
went tobewith theLordonThursday
(August18,2016)surroundedbyhis
loving family, at United Memorial
Medical Center. In lieu of flowers,
memorialsaresuggested to theLe-
RoyAmbulanceService, thedonor's
choice or asmass intentions.
FLORIDA/PAVILION - Spencer A.
Fox Jr., 67, passedaway onAugust
17,2016atHospiceofCitrusCounty
in Lecanto, FL. Please in lieu of
flowersmake donations toHospice