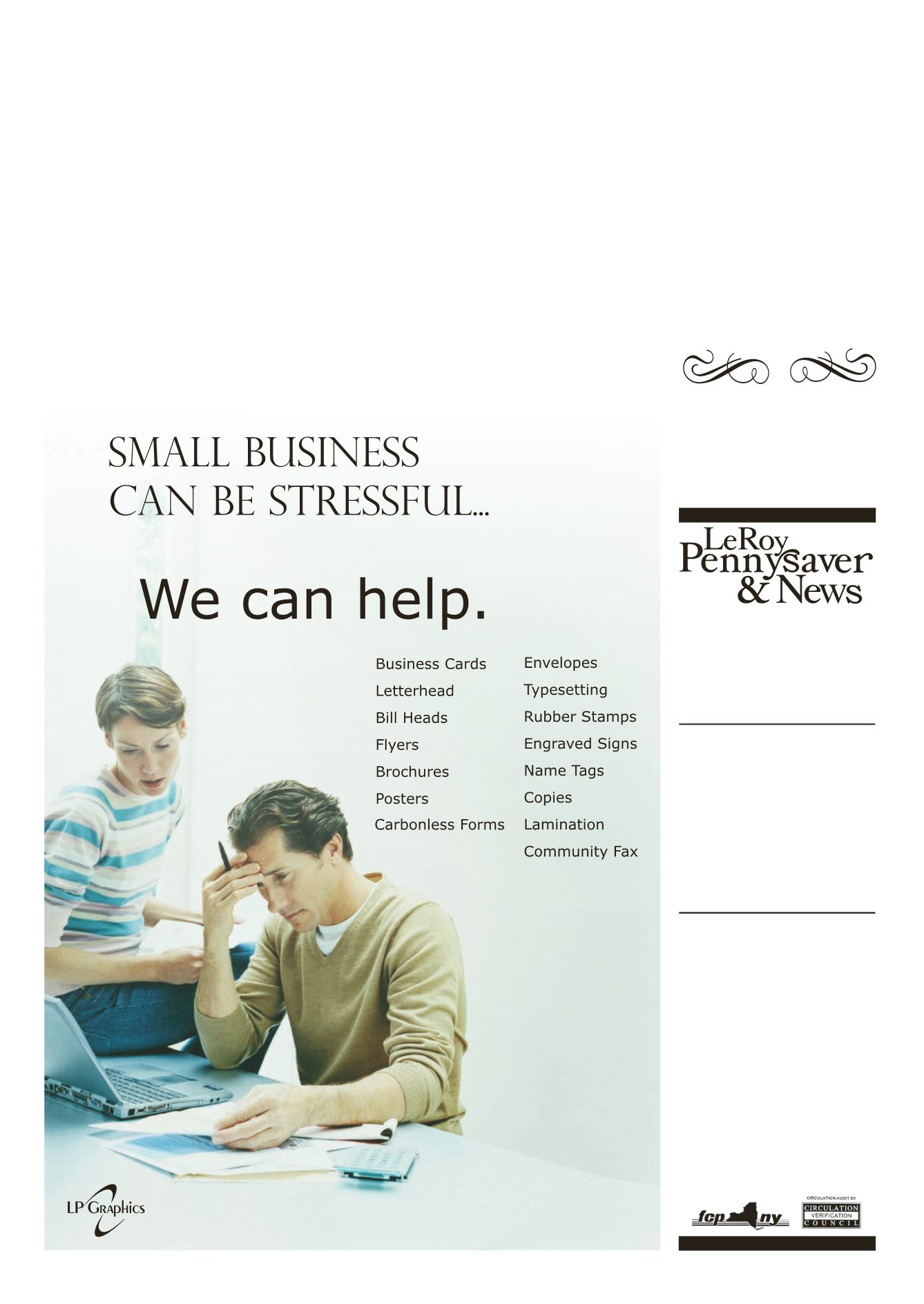 LEROYPENNYSAVER&NEWS - JULY 31, 2016
1ChurchSt., LeRoy, NY14482
585.768.2201
raphics.net
Big Ben's "Silent Minute," as it
has come to be known, is now
traveling nationwide thanks to
the efforts of the faithful living
in Le Roy, NewYork. Research
showsEuropehas reinstated their
own"SilentMinute,"at this time.
TheSilentMinute refers toan invi-
tation toeveryone, nomatterwhat
race, religion,orgender, tostop for
justoneminuteat9:00p.m. topray
for thewellbeingofourcountryup
to the election andbeyond.
The Silent Minute has been
was faced with being overrun
by the German army. Winston
Churchill appealed to Parlia-
ment and to theBritishKing to
pledgeoneminuteof silence (as
indicated by nine commanding
peals when Big Ben struck
Nine O'Clock.) Millions of
people everywhere observed
this powerful nightly ritual. To
their wonderment and delight,
We, too, are at a critical time in
ournation'shistory.Ourheritage,
our values and our security are
at great risk. Many people have
become aware of the need for
a positive universal energy. For
thosewhowould like tostartwith
a prayer, we suggest this:
HeavenlyFather,
We are thankful for all that we
have.Weask thatyouprotect this
nation, this state, andcommuni-
ty.Pleaseshelterandprotectour
homeland and families. We ask
this in the name of Jesus Christ
our Lord. Amen
If you would like to, set your
clocks and join the Village of
Le Roy every night at 9:00 p.m.
for your own Silent Minute of
earnest prayer for thewell being
LeRoyLeads theWay inPrayerwith theBigBe "SilentMinute"
byDianaLapp
Pastors invite all to observe oneminute of silence.
LeRoy's BestAdvertisingMedium
Le Roy Pennysaver
will not knowingly accept or
publish advertising which is fraudulent or misleading
in nature. The publisher reserves the right to reject or
cancel anyadvertising.The
LeRoyPennysaver
no financial responsibility for typographical errors in
advertisements, but if at fault, will reprint the portion of
the ad in which the error appears. Style, size of type
and locationof advertisement are left to thediscretionof
the publisher. The opinions expressed in this publication
are not necessarily those of the publisher. We cannot
guarantee the returnof photographs.
LeRoyPennysaver