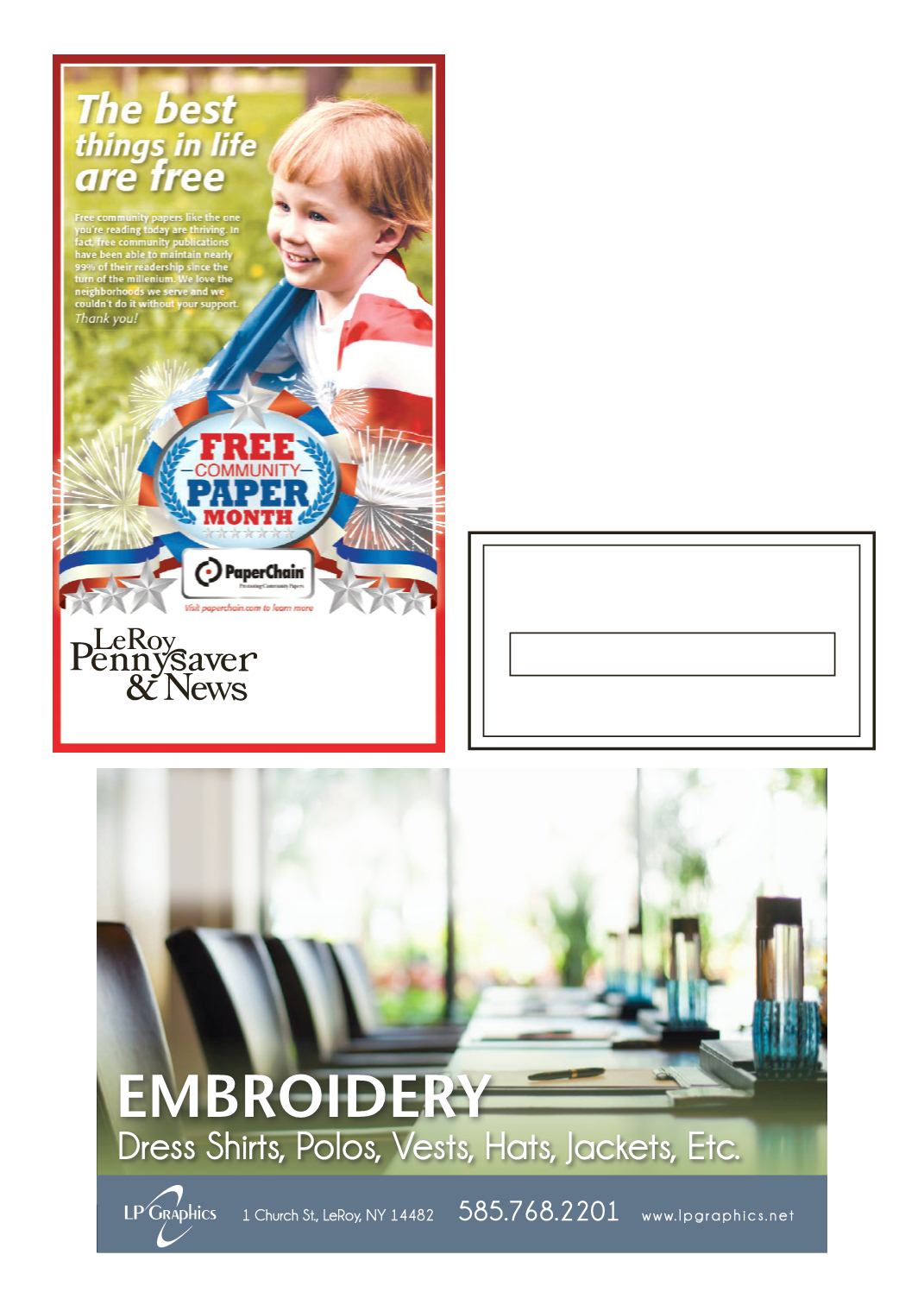 LEROYPENNYSAVER&NEWS - JULY 31, 2016
07/23/2016 -47yearoldRachelA.PalmerofBrittRd,LeRoywas
arrested on July 22, 2016 by theLeRoyPoliceDepartment. Palmer
waschargedwith twocountsofPetitLarceny,aclassAMisdemeanor,
twocountsofIdentityTheft3rd,classAMisdemeanors,andCriminal
Possession of StolenProperty 4th, a classEFelony.
Palmer was arrested following the investigation into the use of a
stolen credit cardwhichwas used in theVillage of LeRoy. Palmer
allegedly used the stolen credit card to purchase merchandise at
DunkinDonutsaswell as theYellowGoose in theamountof$16.07.
Palmer was arraigned in front of theHonorable Judge Sehm and
was releasedundersupervisionofGeneseeJustice.Palmer is to return
to theLeRoyTownCourtonAugust18,2016 toanswer to thecharges.
07/24/2016 -28yearoldMarcusL.ViveretteofElkStreet,Roch-
esterwasarrestedonJuly23,2016by theLeRoyPoliceDepartment.
Viverette was charged with Aggravated Harassment in the 2nd
Degree, a classAMisdemeanor.
Viverette was arrested after allegedly threatening the life of the
victim during a phone call earlier thismonth.
Viverettewasarraigned in frontof theHonorableJudgeSehmand
is being held at theGenesee County Jail in lieu of $1500 cash bail
and$3000bond.Viverette is to return to theLeRoyTownCourt on
August 18, 2016 to answer to the charge.
MissingSomething?
Plumbing • Heating
Installation&Repair Service
For All Residential &Commercial Work