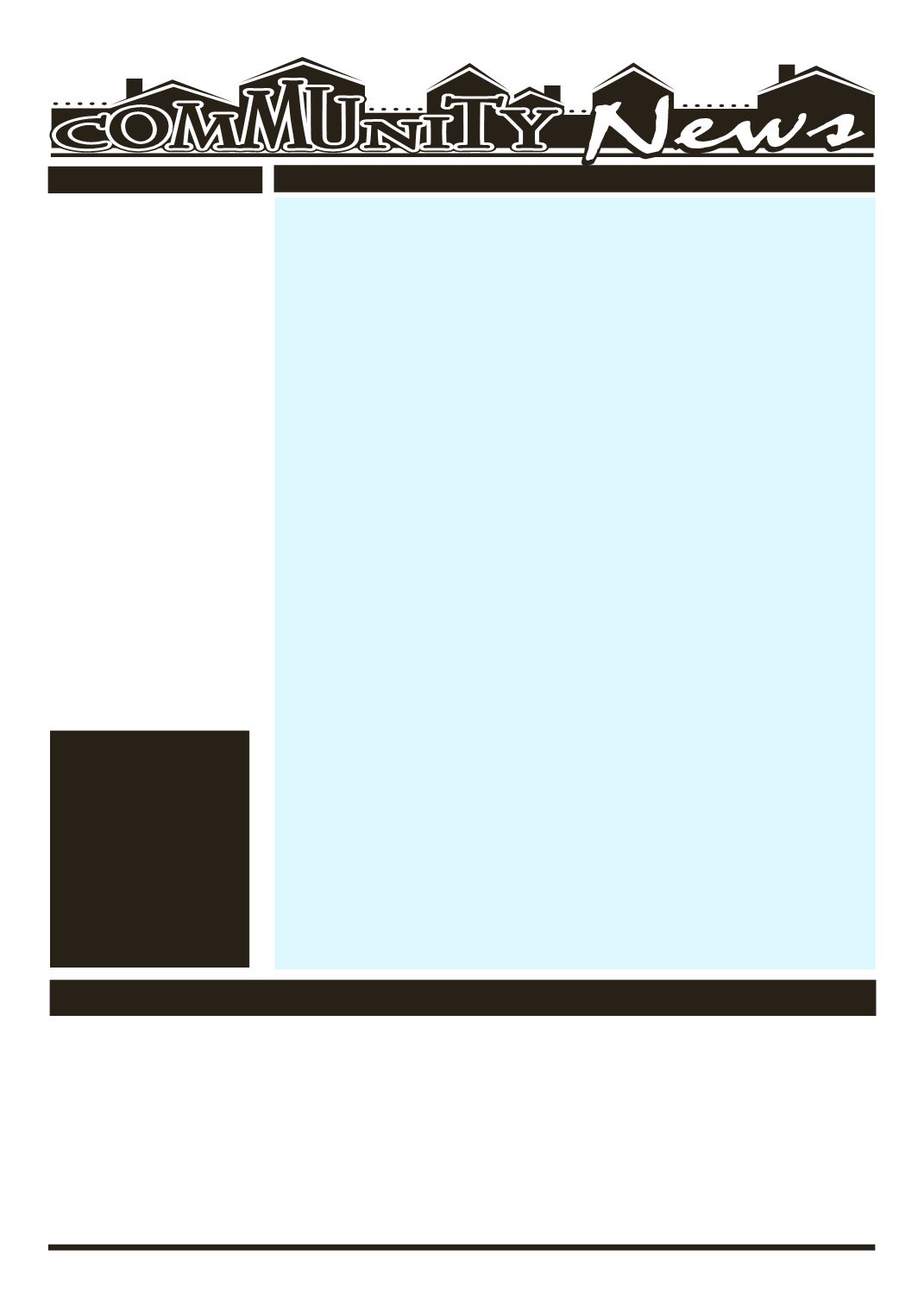 LEROYPENNYSAVER&NEWS - JULY 31, 2016
Le Roy
Pennysaver
All GeneseeCounty residents, 60andolder, can takepart in thisweek'sactivitiesat theBataviaSenior Center, 2BankSt., Batavia. Formore information, call 343-1611.
SENIORCITIZENSACTIVITIES (August 1st -August 5th)
WEEKLYEVENTS
OBITUARIES
ArthritisExercise
is scheduled tobeginat9:30a.m.;
Bridge
is scheduled tobeginat11:30a.m.
Cribbage
is scheduled tobeginat1:00p.m.
AlzheimerAssociationMeeting
is scheduled tobegin at 9:00 a.m.;
Quilter'sGroup
is scheduled tobegin at 9:00 a.m.;
Euchre
is scheduled tobeginat1:00p.m.
Cribbage
isscheduled tobeginat1:00p.m.;
Bridge
isscheduled tobeginat1:00p.m.
ArtClass
is scheduled tobeginat 10:00a.m.;
LineDancing
is scheduled tobeginat 10:00a.m.;
Euchre
SUNDAY, JULY31
MONDAY,AUGUST1
TOPS (Take Off Pounds Sensibly)
at the LeRoy Presbyterian Church, corner of Clay&Main Streets.
Doorsopenat6:00pmandmeeting is from6:30-7:15pm.Visitors
arealwayswelcome. Call 585-768-7103 formore information.
Villageof LeRoyBoardMeeting
-Work session at 7pm, Vil-
TUESDAY,AUGUST2
PreschoolStorytime:
EveryTuesdayat11amfeaturingstories,
craftandsongsatPavilionPublicLibrary,5WoodrowDr.,Pavilion.
LCCP'sGRACE'SKITCHEN:
AFREEdinnereveryTuesdayevening,
5-6:30pmattheMasonicCommunityCenteron12BankSt.Plenty
ofparking.Takeout&deliveryareavailable.Formore info.contact
SelbyDavisat585-738-8882or
GRACE'SCLOSET:Aclothinggiveawayprogram
LeRoyUnitedMethodist Church, 10TrigonPark, LeRoy, 9:30 am
to11:30ameveryThursday.Wehaveclothing forall ages. Weare
inneedofboy's clothing sizes0-3T.Donations canbedroppedoff
at thehousenext to the church. Pleaseput all bags INSIDEon the
back porch. NO ELECTRONICS, COMPUTERS,DISHES, etc.
Open
Tuesdays5-6:30pm.
Anyquestions call theoffice768-8980.
AXISStudentMinistryatLivingWatersChurch
LeRoy. Sundays from6:30 to8:30p.m. for7th to12thgrade.Our
goal is for teens'lives tobe impacted,and radicallychanged. For
more information, checkusoutat:
AmericanFolkToysprogram
forgradesK-2attheWoodward
MemorialLibrary from1-2p.m. Makeaballandcupgameand
awhirligig and seewhat it was like to be a kid in the 1800s.
Registration is required! Call 768-8300 or register online at
WEDNESDAY,AUGUST3
THURSDAY,AUGUST4
OatkaSchool ofGlasspresents"GlassRainbows"
WoodwardMemorial Library from 1 to 2 p.m. for teens and
adults. Create a glass rainbow! All supplies are included.
Registration is required! Call 768-8300 or register online at
FRIDAY,AUGUST5
PenuelChristianFellowship,
OneSteptoFreedomaddictions
ministry,aChristCenteredAddictionsprogram,aweeklymeeting
every Friday at 7 pm. Call the Church for more information at
Penuel Christian Fellowship
is organizing a young adult
fellowshipandBible study. Ages: 12andup,Time: Fridays from
7-9pm, Study: thebookof Romans (a16week course), taught
by JosiahGariboldi.Place: 7115WestMainStreet.
Legos, Games, and aMovie
Library from 12– 2 p.m. for children ingrades Kindergarten
through6. Registration isNOT required.
SATURDAY,AUGUST6
UPCOMINGEVENTS
FirstBaptistChurch
DailyVacation
BibleSchool
during theweekof August 1st - 5th . Itwill be
held at the church at 10956 South Lake Roadwhich is route
#19.The theme thisyear is the"Fruitof theSpirit"andwewill
learnof"The Childrenof theBible". Therewill be crafts, Bible
Stories, aMissionaryStory, andgame timeand refreshments.
Everything is free. Call with any questions 585-584-3179 ext
#12and leaveamessage.The secretarywill call youback .
CommunityCalendarSubmissions shouldbe sent to:
MISSOURI/WYOMING,NY -JeffreyL.
Leith,61, losthisbattle tocanceronFri-
day, July 8, 2016. ACelebrationof Life
will be held on Sunday, July 31, 2016
from2-4pm at theWyomingFireHall.
LEROY ~ Mary C. Leone, age 95,
passed away Thursday evening (July
21, 2016)at theGeneseeCountyNurs-
ing Home in Batavia. The courtesy of
no flowers is requestedwithmemorials
suggested to theAlzheimer'sAssocia-
tion, 435 E. Henrietta Rd., Rochester,
LEROY ~ Nicholas L. Kabala, 63,
passedpeacefullyat homeonMonday,
July25after a9monthbattlewithcan-
cer. Donations in Nick's memory can
bemade to theAmericanBrain Tumor
Association, 8550W. BrynMawr Ave.
LEROY ~ Gerald J. Janiszeski, age
63, of NorthStreet, passedaway early
Monday morning (July 25, 2016) at
StrongMemorialHospital inRochester.
Memorialsmaybemade to the family to
establishaneducation fund forGerald's