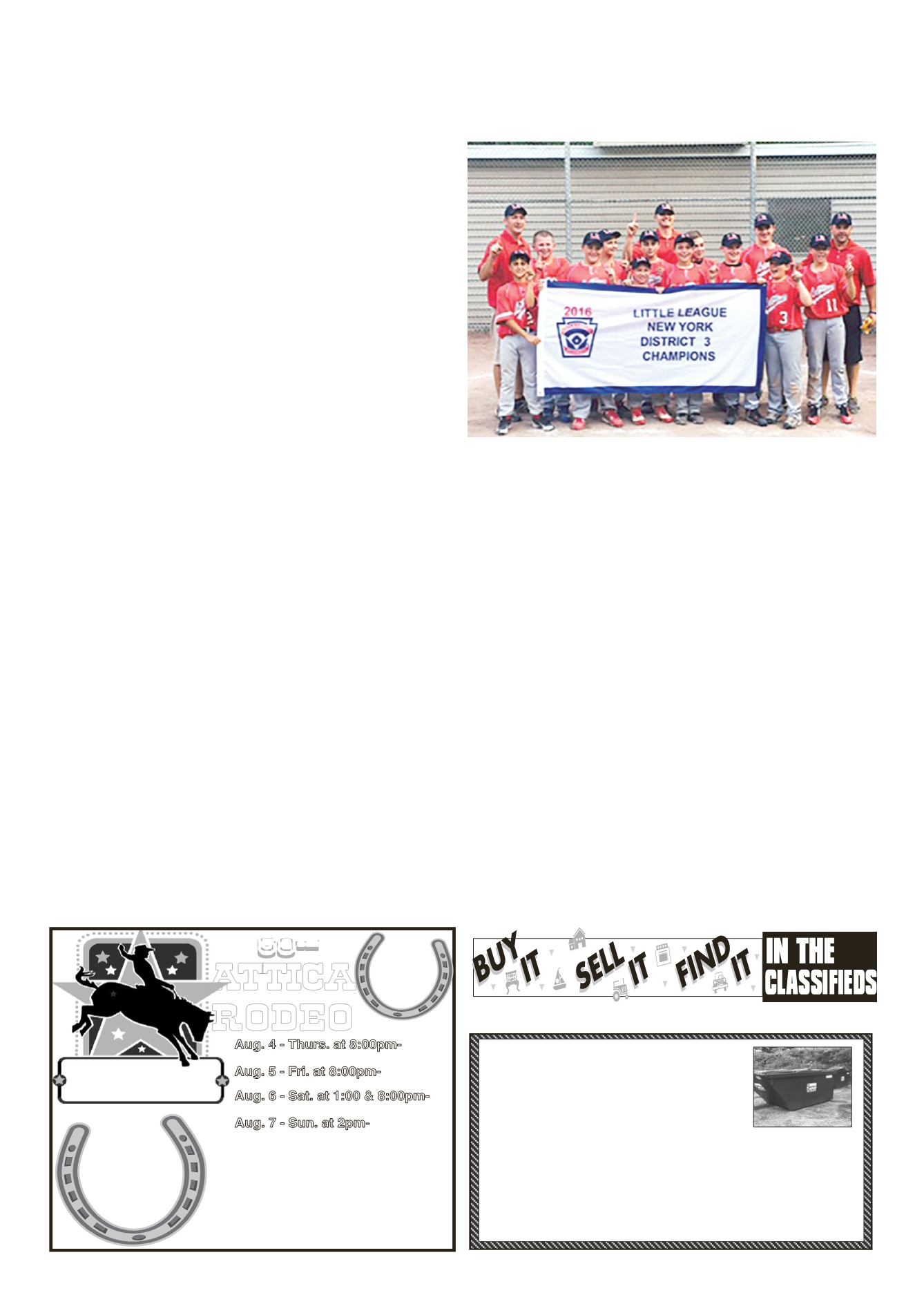 LEROYPENNYSAVER&NEWS - JULY 31, 2016
1st Row –Gianni Ferrara, Kenny Saunders, ZackVanderhoof,
Colin McCulley, Maveric McKenzie, Shawn Morabito, Adam
Risewick, Cole Rauscher, John Panepento, Jim Burns, Tyler
Strollo, Brady Fix. Back Row – Rob Panepento(Coach), Ken
Saunders (Coach)ErikFix (Manager).
All Stars had quite a run this
summer.Followingaperfect4-0
record in round robin play, the
team won an emotional game
against rivalBatavia toclaim the
District 3 title. The teamcontin-
ued on into the Section 1 play-
offs inFredonia, losing to teams
fromPenfieldandSouthwestern.
RoundRobinPlay
LeRoy 7,Oakfield 1
LeRoy opened up All Stars
on the road at Oakfield. Pitch-
ers Kenny Saunders and Colin
McCulley would combine for a
2hitter, strikingout 14Oakfield
batters. ZackVanderhoofwould
lead the offense going 3 for 2
with two runsscored includinga
homerun and twoRBI's. Adam
Risewick and John Panepento
also had 2 runs batted in for
LeRoy 21,Geneseo 0
A19 runfirst inningwouldput
thegameon iceearly forLeRoy.
HomerunsbyColeRauscher, Jim
BurnsandBradyFixwouldpace
the offense. MavericMcKenzie
and Fix and McCulley would
each score runs while Kenny
Saunders would plate 4 LeRoy
teammates.BurnsandMcCulley
wouldcombine for theshutouton
LeRoy 10, Dansville 2
Burnskept theDansvillebatters
at bay long enough for LeRoy
to manufacture some runs in a
game that was closer than the
final score. GianniFerrara,Zack
Vanderhoof and JohnPanepento
would havemultiple hits for Le-
Roy. ShawnMorabito and Tyler
Strollo each reached base safely
inbothof thereatbats tohelp the
LeRoy 5, Batavia 4
(7 innings)
A walk off double by Adam
Risewick would plate Colin
McCulley with the winning run
in the bottom of the 7th to give
LeRoy the win in this exciting
game. Kenny Saunders, Jim
BurnsandColinMcCulleywould
work themound allowing4 runs
on 8 hits, while striking out 7.
Thewinwould set up a rematch
for theDistrict titleoneweek later
DistrictChampionships
LeRoy 5, Batavia 3
A 1-1 game was broken up in
the top of the 4th when Kenny
Saunders and Cole Rauscher
would hit back to back homer-
uns to help LeRoy to a 4-1 lead.
Double plays in the bottom of
the 5th and 6th byLeRoywould
seal the deal and bring the U12
District 3banner back toLeRoy!
Maveric McKenzie would get
things started at the plate for
LeRoy with a double, steal of
third and scoring on a sacrifice
fly by Colin McCulley. Brady
Fix and Zac Vanderhoof would
score theother runs forLeRoy. It
wasMcCulleyandSaunderswho
again combined for the win on
themound, strikingout 7batters
while allowing just 4 hits. The
win sends LeRoy to the Section
Sectional Play-Offs
Penfield 15, LeRoy 5
LeRoy led 3-2 after 2 ½ in-
ningsbeforePenfield'sbatswould
wake up and score 13 runs over
two innings. TylerStrollohadan
RBI double, while Zac Vander-
hoof (3) and Brady Fix would
have the other RBI's for LeRoy.
Jim Burns, Colin McCulley,
VanderhoofandShawnMorabito
wouldpitch forLeRoy in the loss.
Penfieldwould go on towin the
LeRoyLittleLeagueU12All StarsWin
District 3Title, Lose inSectional Play
tournamentand representSection
1 in theNYS championships.
Southwestern 10, LeRoy 7
A back and forth battlewould
ultimatelyend inaLeRoydefeat,
endingamagical run for theboys
of summer. Kenny Saunders led
the offense going 2 for 4 with a
solo homerun. BradyFix, Adam
Risewick and John Panepen-
to chipped in with two hits a
piece, while Gianni Ferrara had
a2RBI double. Saunders,Colin
McCulley and Zac Vanderhoof
combined to strike out 9 South-
western batter s in the loss.
Rain
or
Shine
Live
Bands
Thurs., Fri.,
& Sat. night
after each
performance
Aug. 6 - Sat. at 1:00& 8:00pm-
Aug. 7 - Sun. at 2pm
Sundayperformance admission
freewithmilitary I.D.
AfternoonPerformances
KidsareFREEwithPaidAdult
• Children 6-12 yrs. $8.00
• Children 5 andunder Free
~All Major Credit CardsAccepted~
Aug. 4 - Thurs. at 8:00pm-
Aug. 5 - Fri. at 8:00pm-
• 2, 4, 6& 8 cu. yd. sizes available
•Weekly pickup • Simple&easy to read billing
SCOFIELD'S
ISNOWOFFERING
Prices you'll behappywith!
GiveUsACall,We'll TalkALittleTrash
585-343-8383