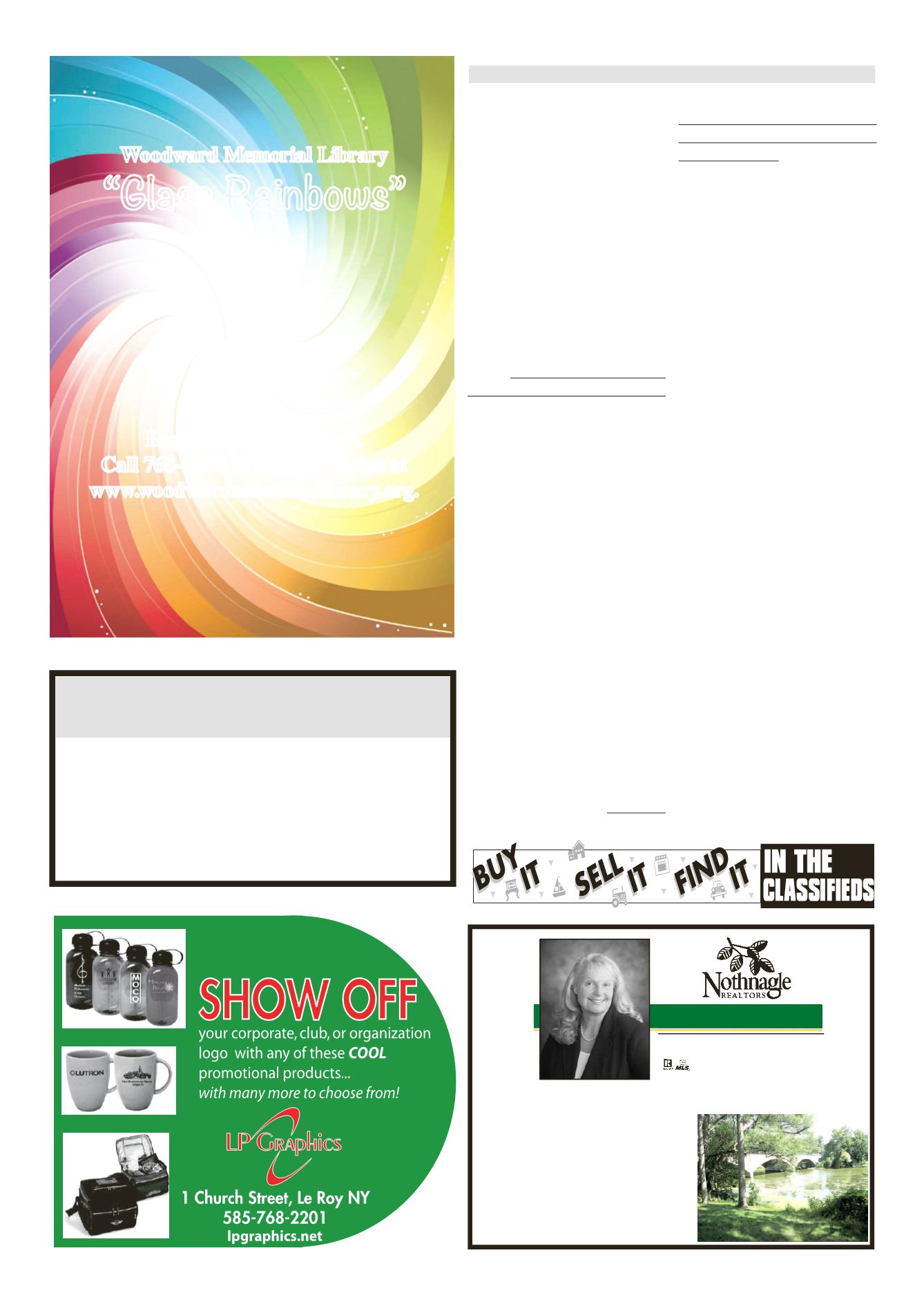 LEROYPENNYSAVER&NEWS - JULY 31, 2016
ALLWORKMANSHIP GUARANTEED • INSURED
297-9097 • 768-7737
• InteriorPainting
• Plaster/LathRestoration
•Drywall&DrywallRepair
•TextureRemoval
• Floors Stripped
&Refinished
•OldCeilings&Walls
MadeLikeNew!
MikeDarby'sPatch&Paint
WoodwardMemorial Library
"GlassRainbows"
program ledby
OatkaSchool ofGlass.
Thursday, August 4
1 - 2p.m.
Grades 6-12 andAdults
beautiful rainbow to look at
Registration is required.
Call 768-8300 or register online at
This program ismade possiblewithReachGrant Funds,
aDecentralizationRegrant Program
of theGenesee-OrleansRegional ArtsCouncil (GOART!)
byKimCox, Superintendent
LeRoyCentral School
While ithasbeengreatweather
for our project progress, it was
nice toreceivesomemuchneeded
rain earlier this week. This was
especially important for the new
sod that went down on the prac-
This is the first of several no-
tices about an important change
regarding school tax collection.
When you read your tax bill this
year, pleasepay careful attention
to theways that youcanpayyour
Taxes will now be col-
lected throughFiveStarBank.
There are twoways that you can
In person payment:
people like to pay their taxes in
person directly. Youmay still do
this,howeverpaymentsshouldgo
Five Star Bank
Office.
This isactuallygreat tim-
ing, as bringing payments to the
school will be very difficult this
yearwith the construction that is
currentlygoingon.Weencourage
you to takeyourpaymentsdirect-
FiveStarBankbranch
Mail in payment:
maybemailed into the following
LeRoyCentral School District
POBox 417
Warsaw, NY 14569
Please note, you are not mail-
ing these to the school district
FiveStar
Bank. All checks should be
madepayabletoLeRoyCentral
SchoolDistrict.
**If your taxes are paid di-
rectly through your mortgage,
your mortgage company will be
notified directly and you do not
need todoanythingdifferently.**
New to the District?
call us as soon as possible to
register your children for school
sowecanplan for a smooth tran-
sition to our school district.
Returning to the District?
Don't forget to complete your
transportation forms for pick-
upanddelivery
Routes are alreadybeing created
Help!:
note. The construction project is
in full swing. We ask that there
be no use of any of the facilities
at Hartwood Park, including
the track, or the playground at
Wolcott Street School. While
these spaces may appear to be
completed, they are not. Many
componentsof theproject require
cure time, special inspections,
and are still adjacent to active
construction. It is not safe to be
at these sites at this time.
Thank you for your patience
andunderstanding.Verysoonwe
willbebackonlinewithbeautiful
new spaces for all to enjoy.
30ClayStreet, LeRoyVillage • $28,000
Scenicviews andagreat loca-
tion.Thishalf acreVillage lot
is within walking distance to
village shopping, restaurants
andschools. Beautifulviewas
the landbacksup to theOatka
BataviaOffice: 570EastMainSt., Batavia
Direct Line: (585) 409-2112
CAROLDIFRANCISCO
LicensedSalesperson, REALTOR