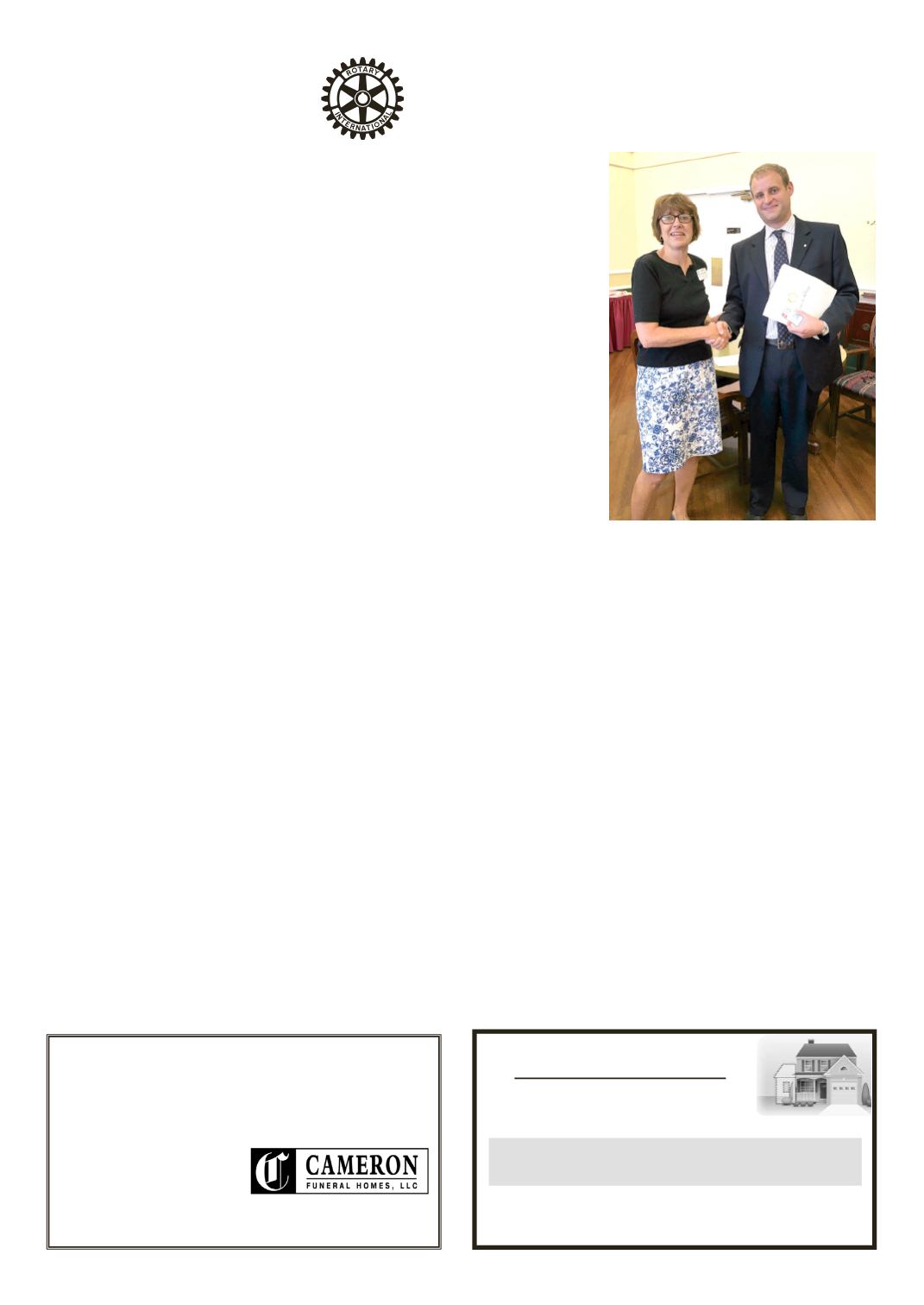 LEROYPENNYSAVER&NEWS - JULY 31, 2016
LeRotary
Notes
HelpingFamiliesCelebrateaLifeLived
"Our FamilyServingYours Since 1907"
Trusted•Honest •Proven
Cameron, Brady&Steuber
FuneralHome
111Wolcott Street
LeRoy,NY 14482
(585) 768-6800 •
Likeus onFacebook
"CompleteCarpentry Service"
M
ILLER
B
ROTHERS
B
UILDERS
CustomHomes •Remodeling•Additions
Roofing• Siding
DANIEL
MICHAEL
GreensofLeRoy forourmeeting
today. Following the Pledge,
Prayer, & FourWay Test, it was
time to welcome our newest
Rotarian. Jake Whiting, a local
attorney& lifelongLeRoyanwas
inducted into theRotaryClubof
Announcements included: The
7090District Conference is Oc-
tober 21-23rd at BataviaDowns.
The Oatka Festival Hot Dog
standbrought in justover$2,000.
Lynne Belluscio informed the
group ifyouarestill interested in
"Strengthen theArmofLiberty"
t-shirts; please contact the His-
toricalSocietyasoonaspossible.
The United Way of Genesee
County is hosting a "Summer
Serenade" at Mercy Grove on
August 21st. This event will
feature the Genesee Symphony,
and tickets will sell out quickly.
PleasecontactSamVaggorErik
Nanette Chulli, Rob Murray,
were all called on for missed
meetings, and all hadmakeups.
both called on for missing the
Installation Banquet, and both
Lynne Belluscio, Christine Ge-
phart, Scott McCumiskey and
Bob Sullivan all were fined for
their part of a very successful
Oatka Festival. Mike Cassata
paidup foranemploymentadver-
tisement forCopart. Kim&Tom
Cox, andDavidGraysonpaidup
for theirperformanceat theLady
Liberty's Dedication Ceremony.
JuneDusen paid up for having a
tight lipped daughter. RobMur-
ray was fined for his first Oatka
Festival attendance, and Jake
Whitingpaid a "WelcomeFine".
Lauren Humphrey presented
an award to the Rotary Club of
LeRoy for their continued sup-
port over the last 28years. Over
40% of the Club's membership
was deeply involved in ensuring
the festival ran smoothly this
year, soLaurenalsopresented in-
dividual recognition tomembers
whohave invested their timeand
BobBoyce
of band-aids for the LeRoyAm-
bulance's stellar service over the
LynneBelluscio
witharetroLeRoycoffeemug for
Bob Bennett
baggie of gummyworms for an-
other stellarfishingderby. Itwas
alsonoted that Bobhas his hand
in many aspects of the festival,
including set-up& the regatta!
•Lauren searchedall over for a
barricade of some sort for
Kim
Cox
, but nonewere to be found,
TomCox
a set of patriotic lei's to add to
their Lady Liberty performance
Christine Gephart
presented with a Lady Liberty
rubber duck for her role in the
DavidGrayson
ient of a gently used (empty) ink
cartridge forallofhisadvertising
Scott
McCumiskey
Tom McGinnis
BobSullivan
it could be improved upon - the
Sam Vagg
always helpful arm "floaties" for
her next trip out on the mighty
Randy Vink
bucket inhonorofRotary's"Beat
theBucket"game thatwill return
to the festival next year.
MaryYoung-Murraypresented
on the upcoming Relay for Life
on August 6th from 7pm-7am.
The event will take place in
Bergen thisyeardue toconstruc-
tion. In May 1985, Dr. Gordy
Klatt walked and ran for 24
hours around a track inTacoma,
Washington, ultimately raising
$27,000 to help the American
Cancer Societyfight the nation's
biggest health concern cancer.
A year later, 340 supporters
joined theovernight event. Since
those first steps, the Relay For
Lifemovement has grown into a
worldwide phenomenon, raising
nearly $5 billion tofight cancer.
The event now runs all night
andconsistsof:Organized, over-
night community fundraising
walk, teams of people camp out
around a track,members of each
team take turns walking around
the track, food, games, and ac-
tivities provide entertainment
and build camaraderie. This is a
family-friendly environment for
the entire community. Because
it's a team event, individual
participants are not required to
be there the entire time. But it's
so much fun, you'll find it hard
to leave. For more information
Please like theRotaryClub of