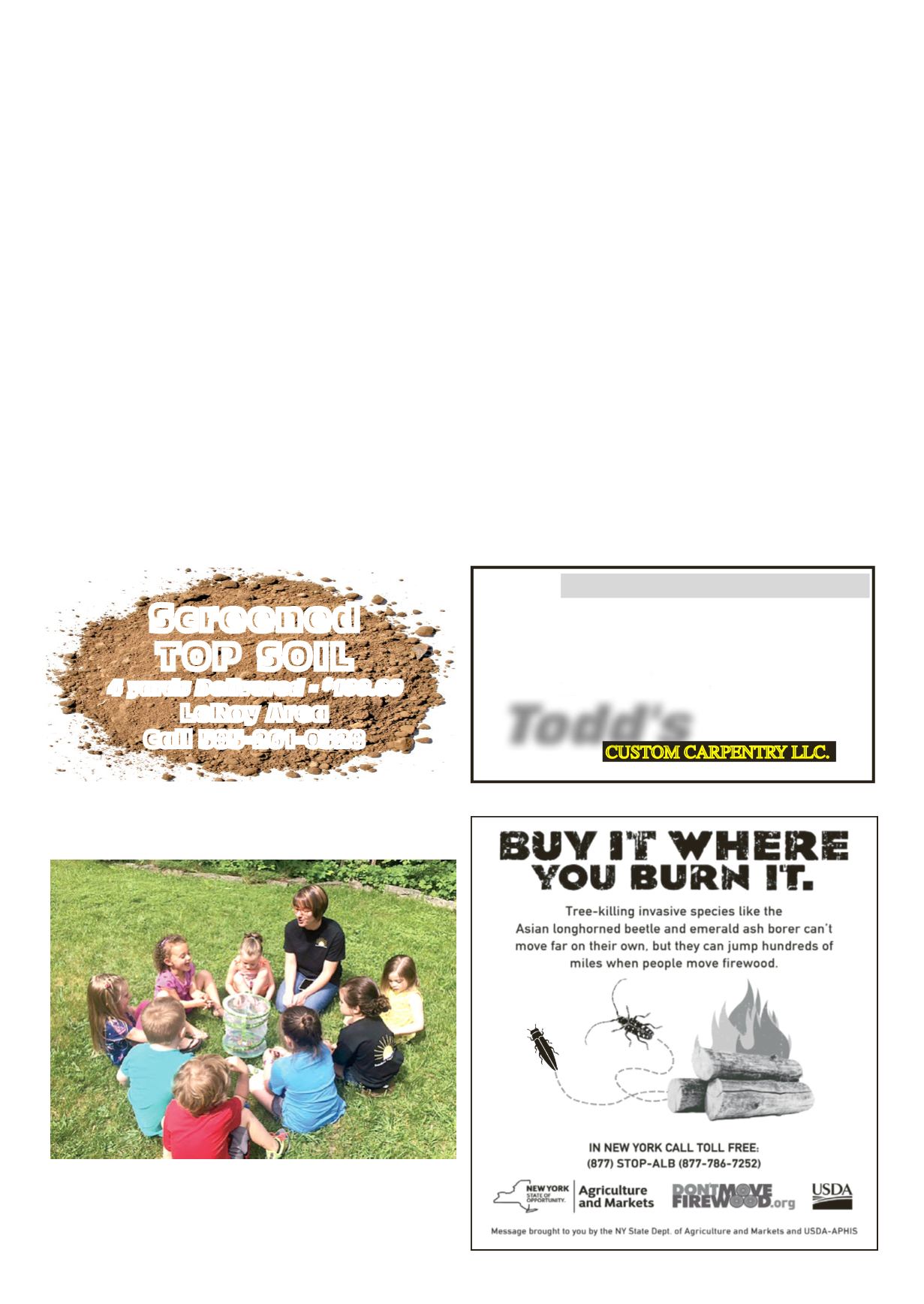 LEROYPENNYSAVER&NEWS - JUNE 12, 2016
NewHomes •Additions •Garages •PoleBarns
ToddCarli • Phone 703-0964
Todd's
Decks •Windows •Doors
Kitchens •Baths
CeramicTile
Basement Finishing
CustomShelves/Built-Ins
Siding •Remodeling
Roofing • SnowPlowing
FULLY INSURED
Every year, millions of con-
sumers fallvictim tocybercrime.
According to the FBI's Internet
CrimeComplaintCenter, in2014,
consumers lost more than $800
million from scams initiated
through the web. In recognition
of InternetSafetyMonth inJune,
Tompkins Bank of Castile is
highlighting seven tips to help
consumers protect themselves
"The Internet has become one
of themost popular toolsused to
commit fraud by criminals who
arebecomingmoreandmoreso-
phisticated,"saidJohnMcKenna,
President andCEO. "As a result,
it's extremely important for con-
sumers to secure their wireless
networksandfilter theamountof
personal information theychoose
recommends the following tips
Keep your computers and
mobiledevicesup todate.
ing the latest security software,
web browser, and operating sys-
tem are thebest defenses against
viruses, malware, and other
online threats.Turnonautomatic
updatessoyou receive thenewest
fixes as they become available.
Set strong passwords.
strong password is at least eight
characters in lengthand includes
a mix of upper and lowercase
letters, numbers, and special
Watch out for phishing
scams.
fraudulent emails and websites
to trick users into disclosing
private account or login infor-
mation. Do not click on links or
open any attachments or pop-up
screens from sourcesyouarenot
Forwardphishingemails
the Federal Trade Commission
to the company, bank, or organi-
zation impersonated in theemail.
Keep personal information
personal.
media profiles to figure out your
passwords and answer those se-
curity questions in the password
reset tools. Lock down your pri-
vacy settings and avoid posting
things like birthdays, addresses,
mother's maiden name, etc. Be
waryof requests toconnect from
TompkinsBank ofCastile
Offers 7TipsToAvoidOnlineFraud
Secure your internet con-
nection.
home wireless network with a
password. When connecting to
public Wi-Fi networks, be cau-
tiousaboutwhat informationyou
Shopsafely.
online, make sure the website
uses secure technology. When
you are at the checkout screen,
verify that the web address be-
ginswithhttps.Also,check tosee
if a tiny locked padlock symbol
Read the site's privacy pol-
icies.
privacy policies tell you how the
siteprotects thepersonal informa-
tion it collects. If youdon't see or
understand a site's privacypolicy,
considerdoingbusinesselsewhere.
Sunshine Nursery School's Pre-K class has spent the last few
weeks learning about the life cycle of a butterfly. The students
enjoyedwatching the caterpillars grow, turn into chrysalis and
emerge as beautiful butterflies. Theywere able tohold the but-
terflies before theyflew off to theirnext adventure!
SNSReleasesButterflies