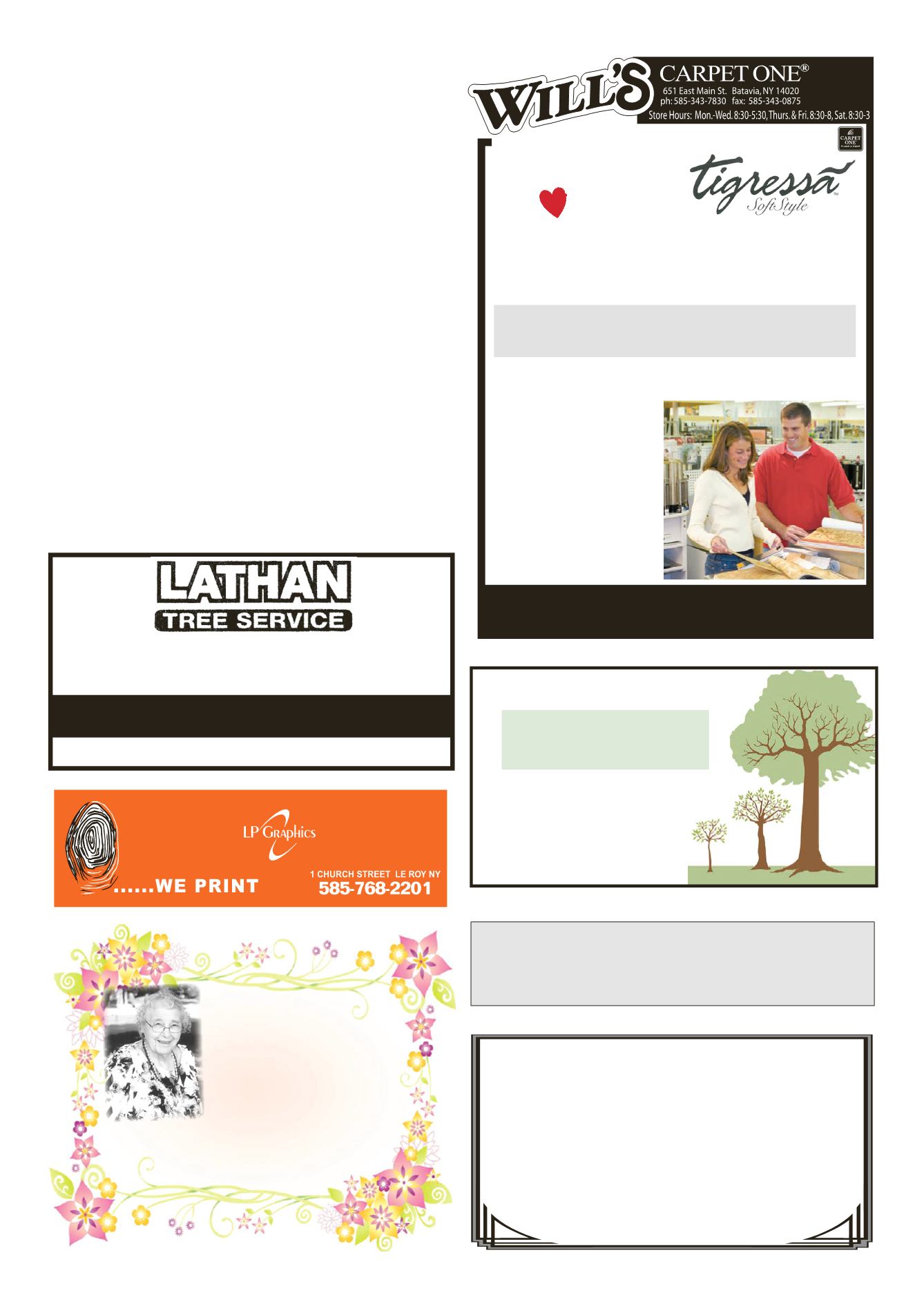 LEROYPENNYSAVER&NEWS - JUNE 12, 2016
FLOOR
&HOME
TheONE store for your perfect floor.
• FreeEstimates • Professional Installation
• FinancingAvailableForQualifiedCustomers
Carpeting
OnSale!
IncludingTigressaH2OWaterproof Carpet
SUPPORTYOUR LOCALADVERTISERS!
They help sponsor the local news section of the Le Roy Pennysaver.
THANKS FORYOUR SUPPORT!
Wallpaper and
Borders
The Batavia Rotary Club has
announced that its 2016 Fly-In
Breakfast will be held Sunday,
June 19 (Father's Day) at the
Genesee County Airport, 4701
Saile Drive, Batavia, from 7:00
a.m. to 12:00 noon. Rotarians
willcookbreakfast formore than
1,500guests, aswellasdozensof
pilotswhowillfly theiraircraft to
theBataviaairport thatmorning.
Ticketsare$8 foradults;$5 for
childrenages4 to12;and free for
children under the age of 4.
Residents throughoutWestern
New York are invited to enjoy
breakfast, meet the pilots, and
view their aircraft. The Fly-In
Breakfast menu will feature
sausage, eggs, pancakes, and
beverages. Over the years, the
volunteer Rotarian-cooks have
become known for their "any-
way-you-want-them" omelets,
which will once again be avail-
able. Tickets for the event may
be obtained from any member
of theBataviaRotaryClub or at
SaileDrive is located justnorth
of theCityofBataviaand theBat-
avia exit of the NewYork State
All proceeds from the event
benefit theBataviaRotaryClub's
programs for youth and com-
munity programs. Last year,
the Club donated more than
$100,000 to charitable causes.
Fly-In Breakfast Co-Chairs
Edmund Leising said that the
airport'sexpanded facilitiesmay
attract more guests this year.
"We'll have a record number of
volunteers hosting and cooking
themorningof the19th,"hesaid.
"Guests will have the chance
to talk with pilots, view their
aircraft, and see all the changes
made at the county airport."
RotaryClubFly-InBreakfast
SadlyMissed...ButNot Forgotten
The Family of
ThomasE. Steen, Sr.
would like to extend their
sincere appreciation for all the acts of kindness shown
to them during this time of sorrow.
Kathleen (Pudge) Steen&Family
all thosewho sent cards, flowers,
gifts and for themanyblessings
she receivedon the celebration
Many thanks to all thosewho
attendedher birthday celebration, itwas aday
filledwith love and laughs.
585-768-2278
LeRoy, NY
Since 1971 .... ExperienceCounts
PROFESSIONALTREESERVICE
TREETRIMMING • TREEREMOVAL • STUMPREMOVAL
FreeEstimates • Fully Insured
AcceptingAll Major Credit Cards
lpgraphics.net
Flooring
InBusiness Since 1985
Contact Info:
Steve Smudzin
585-813-9629
Light Trimming To
Complete TreeRemoval
StumpGrinding
Fully Insured• Free Estimates
24Hour Emergency Service