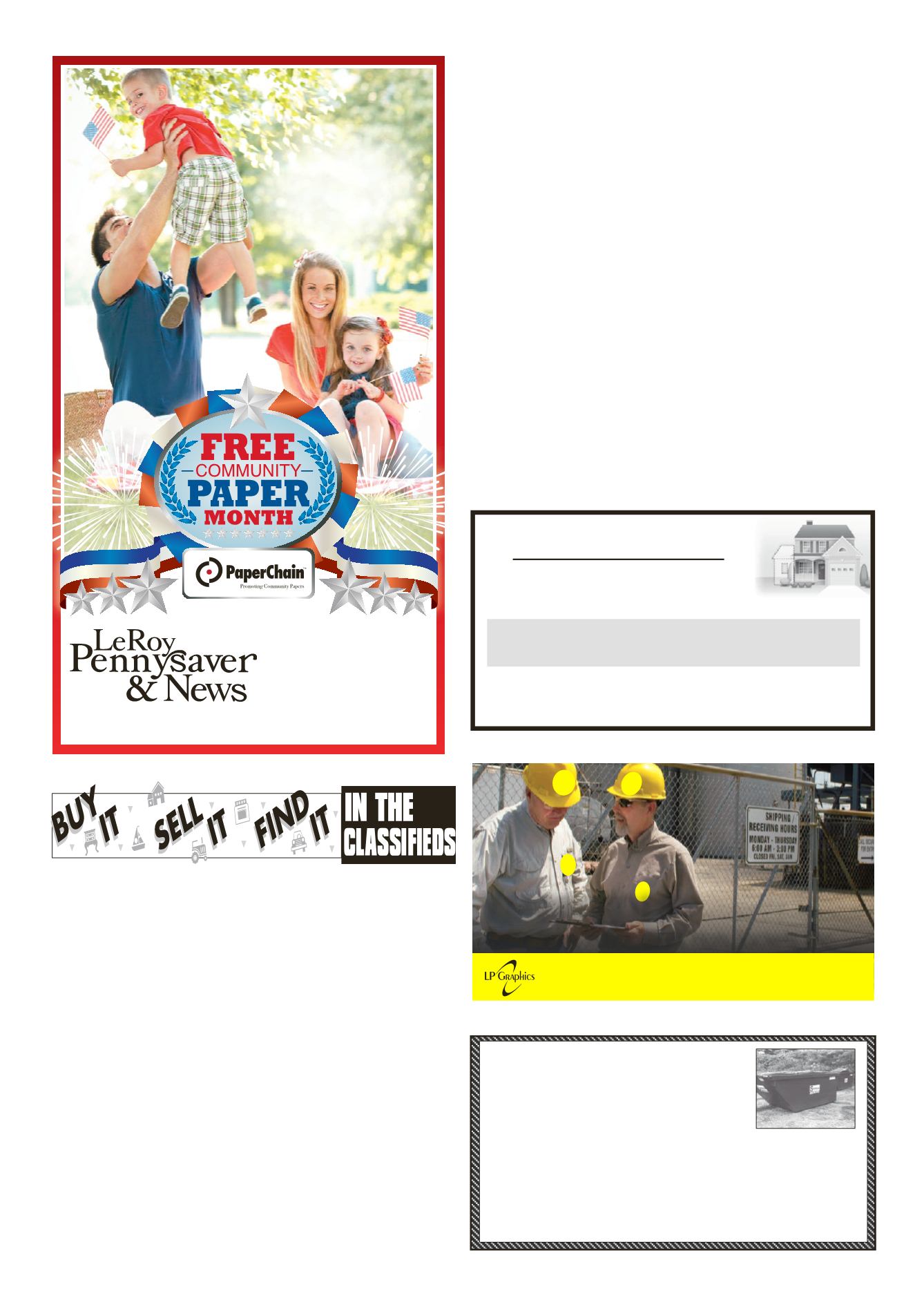 LEROYPENNYSAVER&NEWS - JUNE 12, 2016
LeRoyGirlsYouthSoftball
"CompleteCarpentry Service"
M
ILLER
B
ROTHERS
B
UILDERS
CustomHomes •Remodeling•Additions
Roofing• Siding
DANIEL
MICHAEL
06/06/2016 - 27 year oldChase J. Francis-Whipset of Caledonia
was arrested on June 4, 2016 by the LeRoy PoliceDepartment and
chargedwithonecount ofCriminal Possessionof aControlledSub-
stance in the5thDegreewith the intent tosell, aClassDFelony,Ag-
gravatedUnlicensedOperationofaMotorVehicle in the1stDegree,
a Class E Felony, Unlawful Possession of Marihuana, a Violation,
Speed in Zone, a Violation, UnlicensedOperator, a Violation, and
DriversViewObstructed, aViolation.
Francis-Whipsetwas stoppedby theLeRoyPoliceafter allegedly
operatingamotorvehicleonEastMainStreet speeding.Afterabrief
investigation it was found that Francis-Whipset had a suspended
driver's license. Further investigation revealed that Francis-Whipset
allegedly possessed a quantity of cocaine, marihuana, and drug
Francis-Whipset was arraigned in the Town of LeRoy Court by
the Hon. Michael Welsh. Francis-Whipset was remanded to the
Genesee County Jail in lieu of $3,000.00 cash or $6,000.00 bond.
Francis-Whipset is to appear in court on June 8, 2016 at 10:00 am.
Free community papers like the one
you're reading today are thriving. In
fact, free community publications
have been able tomaintain nearly
99% of their readership since the
turn of themillenium. We love the
neighborhoodswe serve andwe
couldn't do it without your support.
Thank you!
The best
things
in life
are free
CIRCULATION VERIFICATIONCOUNCIL DATAMEASURINGPAPERSAUDITED INBOTH 1999 AND 2013.
Visit paperchain.com to learnmore
[MEMBER PUBLICATION LOGO&CONTACT INFO]
• 2, 4, 6& 8 cu. yd. sizes available
•Weekly pickup • Simple& easy to readbilling
SCOFIELD'S
ISNOWOFFERING
Prices you'll behappywith!
GiveUsACall,We'll TalkALittleTrash
585-343-8383
GameSunday, June 5
U12LeRoyGirlsYouthSoftball:
Tompkins Bank of Castile-
LeRoy 1 beats Perry 2 22-2.
Jamie Staba was 3 for 4 with a
triple and 3 runs scored. Riley
Wood and Hailey Johnson also
added three hits. Kailyn Tresco,
Amara Condidorio, and Anna
Rose Winters each pitched two
U12LeRoyGirlsYouthSoftball:
Tompkins-Bank of Castile-
LeRoy 1 beats Perry 1 23-15.
Jamie Staba was 3 for 3 with a
HOMERUN, 5RBI, and 2 runs
scored. Every girl for LeRoy
picked up at least a hit and run
scored. Ellie Dambra, Kailyn
Tresco, and Amara Condidorio
had a combined pitching outing
that led to striking out 8 Perry
GameMonday, June 6
U10LeRoyGirlsYouthSoftball:
Bubba's Landscape-LeRoy 1
beats S&SLimousines-LeRoy
2. AbbyAllen andMarisRoides
went 3 for 3with 2 doubles, and
Madison Spink added three hits
to lead LeRoy 1. Dana Reschke,
LeahWolfhanger, Kenna McK-
enzie, Lilly Herrick, Paityn and
Zoe Condidorio, each had two
hits for LeRoy 1. Jaclyn Torrey
was 2 for 2 with a double for
Dress Shirts, Polos, Vests, Hats, Jackets, Etc.
1ChurchSt.
LeRoy, NY14482
585.768.2201