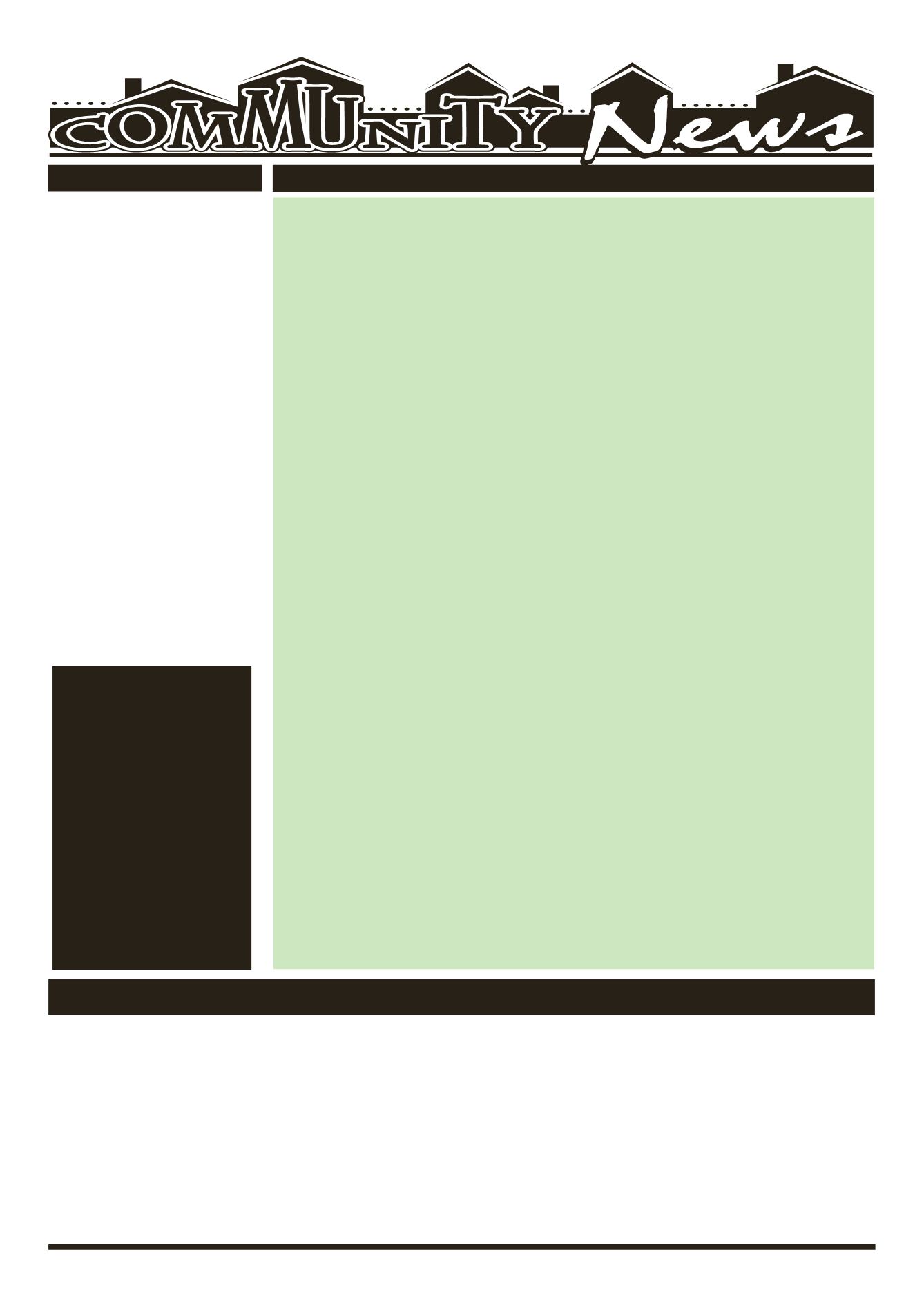 LEROYPENNYSAVER&NEWS - JUNE 12, 2016
All GeneseeCounty residents, 60andolder, can takepart in thisweek'sactivitiesat theBataviaSenior Center, 2BankSt., Batavia. Formore information, call 343-1611.
SENIORCITIZENSACTIVITIES (June 13th - June 17th)
WEEKLYEVENTS
OBITUARIES
ArthritisExercise
isscheduled tobeginat9:30a.m.;
Bridge
isscheduledtobeginat11:30a.m.;
TaiChi
isscheduledtobeginat1:30p.m.;
Medicare101Seminar
is scheduled tobeginat6:00p.m.
Cribbage
is scheduled tobeginat1:00p.m.
Quilter'sGroup
is scheduled tobeginat9:00a.m.;
Euchre
is scheduled tobeginat1:00p.m.
TaiChi
isscheduled tobeginat9:30a.m.;
GentleFitness
isscheduled tobeginat10:30a.m.;
Cribbage
isscheduled tobeginat1:00p.m.;
Bridge
isscheduled tobeginat1:00p.m.
IndependentHealth InsuranceRepresentative
is scheduled tobeavailablebetween9:30a.m. to11:30a.m.;
ArtClass
LineDancing
is scheduled tobeginat10:00a.m.;
Euchre
is scheduled tobeginat1:00p.m.
SUNDAY, JUNE12
MONDAY, JUNE13
TOPS (TakeOffPounds Sensibly)
meetsMonday evenings at the LeRoy
Presbyterian Church, corner of Clay&Main Streets. Doors open at 6:00 pm
andmeeting is from 6:30-7:15 pm. Visitors are always welcome. Call 585-
768-7103 formore information.
TUESDAY, JUNE14
Preschool Storytime :
EveryTuesdayat11am featuring stories, craft and
songsatPavilionPublicLibrary,5WoodrowDr.,Pavilion.For info:584-8843.
LCCP'sGRACE'SKITCHEN:
AFREEdinnereveryTuesdayevening,5-6:30pm
at theMasonicCommunityCenteron12BankSt.Plentyofparking.Takeout
&deliveryareavailable. Formore info. contactSelbyDavisat585-738-8882
GRACE'SCLOSET:Aclothinggiveawayprogram
MethodistChurch,10TrigonPark,LeRoy,9:30amto11:30ameveryThursday.
Wehaveclothingforallages.Weneedbeddingofallkindsespeciallyblankets.
Donations canbedroppedoffat thehousenext to the church. Pleaseput all
bags INSIDE on the back porch. NO ELECTRONICS, COMPUTERS,DISHES, etc.
OpenTuesdays5-6:30pm.
Anyquestions call theoffice768-8980.
AXIS Student Ministry at LivingWaters Church
Sundays from6:30 to8:30p.m. for 7th to12thgrade. Our goal is for teens'
lives tobe impacted,and radicallychanged. Formore information, checkus
Zootopia -MovieShowingat theWoodwardMemorial Library
children in grades K-6, from 3:30 – 5 p.m. Registration is appreciated!
Call 768-8300or registeronlineatwww.woodwardmemoriallibrary.org.
WEDNESDAY, JUNE15
TheGeneseeValley CivilWar Roundtable
presents Dennis P. Bielewiez
on"Heroes in the Attic", at 7:00 pm. Themeetingwill take place at LeRoy
UnitedMethodist Church, 3rddoor on right endof long sidewalk, 10Trigon
Park, LeRoy, NY. Discussion periodwill follow program. Newmembers are
VillageofLeRoyBoardMeeting,
7pmat theVillageHall,3WestMainSt.
TheSeniorCitizensofLeRoyandStafford
of themonth fromMarch through December for dinner and a planned
program.Wemeet in the Knights of Columbus Hall behind Save-A-Lot
onWest Main Street. Each person attending brings a generous dish to
passorpays$4.00each for anicebuffetmeal and social. Bringyourown
place settingandbeverage. Coffee, teaanddessert areprovided. Dinner
is served at 6:00 pm followed by a program. The entertainment for the
Junedinnerwill be theLeRoyTownBand. Please joinus for anenjoyable
evening. Anyquestions,pleasecontact JudyRidley,Director@768-2001,
Paper Block Program at theWoodwardMemorial Library
children ingrades K-2, from3:20–4:15p.m. Build amazing structures
usingpaper. Registration is required! Call 768-8300or registeronlineat
THURSDAY, JUNE16
CatapultsandExplodingBoomerangsattheWoodwardMemorial
Library
forchildren ingrades3-6 ,from3:20–4:15p.m.Createacatapult
andputtogetheraboomerang!Registration isrequired! Call768-8300or
registeronlineatwww.woodwardmemoriallibrary.org.
FRIDAY, JUNE17
PenuelChristianFellowship,
OneSteptoFreedomaddictionsministry,a
ChristCenteredAddictionsprogram,aweeklymeetingeveryFridayat7pm.
Call theChurch formore informationat768-6901or594-9575.
Penuel ChristianFellowship
isorganizingayoungadult fellowshipand
Bible study. Ages: 12 and up, Time: Fridays from 7-9 pm, Study: the book
ofRomans (a16weekcourse), taughtby JosiahGariboldi.Place:7115West
SATURDAY, JUNE18
Free Food outreach brought to you by Foodlink
in theMill Street parking
lot. Every3rdSaturdayof themonth. 11-1pm. CallPenuel ChristianFellowshipat
585-768-6901withanyquestions.
UPCOMINGEVENTS
TheprogramfortheStaffordHistoricalSociety's,Wednesday,June
22,2016,
monthlymeetingwillbeapresentationbyJoyceThompson-Ho-
vy, a re-enactor andeducator of theCivilWar. Shewill bepresent in full
regalia ofwhat awoman soldierwouldhaveworn at that time andher
presentationwillbe"WOMENSOLDIERSOFTHECIVILWAR". Theprogram
will be in theCourtRoomof theStaffordTownHall, 8903Rt. 237at7:00
P.M. Thepublic iswelcome toattend.
FoodlinkFreeMobileFoodPantry:
MorganvilleUnitedChurchofChrist
ispartneringwithFoodlinkofRochestertohosta freemobilefoodpantry,
Tuesday, June 28, 4:00-6:00 pm atMorganvilleUnited Church of Christ,
8466MorganvilleRoad (offRt 237, 1milenorthof Stafford). The exact
food itemsandquantityavailablearenotknown,butfreshproducewillbe
available. Mustbe18yearsofage,no incomerequirementor IDrequired.
Must provide own bags/vehicle to transport items to your home. Food
providedonafirst come, first servebasiswhile supplies last.
Le Roy High School's Class of 1961 is planning a 55th Reunion
brunch
onSunday, July17that theLeRoyCountryClub. Brunchwill be
servedat 11:00amat aper person cost of $20.00. Please contact Lynda
Taylorat585-768-8024,e-mailrtaylo7@rochester.rr.com,orSharonFrost
and to confirmyour attendance.
CommunityCalendarSubmissions shouldbe sent to:
LEROY -LarryBrandonFerrell,32,ofLathrop
Ave., LeRoydiedunexpectedlyMay31, 2016
at home. He is survived by his wife, Lauren
Amiss Ferrell, twin children, Zoe & Darby;
parentsLarry&PatFerrell;sisterJennyFerrell
ofRaleigh,NC;Laura&BarrettAmiss,mother
in lawand father in lawof LeRoy&brother in
lawBauett Amiss of Rochester, NY. Services
will be inRaleigh, NC at a later date.
LE ROY ~ Eric Hillard Hanson, age 62, of
SouthSt. Rd., passedawayonMay31, 2016
inBelmont,NY.Ericwasanavidoutdoorsman
so, in lieu of flowers, donations can bemade
to theHumphreyNatureCenterat Letchworth
State Park, c/o Natural Heritage Trust, 625
Broadway,Albany,NY, 12207, 518-474-2997.
LEROY ~ Catherine Rose Lapp, age 100,
passedawayThursdayevening (June2,2016)
at theLeRoyVillageGreenNursingHome. In
lieu of flowers, memorials may be made to
Our Lady of Mercy Parish, 44 Lake Street,
BERGEN - Warren Joseph Hunt, Sr., 76, of
Bergen, a cement truck driver for 35 years
at Manitou Construction in Rochester, died
Friday, June 3, 2016 at his home, in Bergen.
In lieu of flowers, memorials may be made
to Hospice Of Orleans, Inc., P.O. Box 489,
Le Roy
Pennysaver