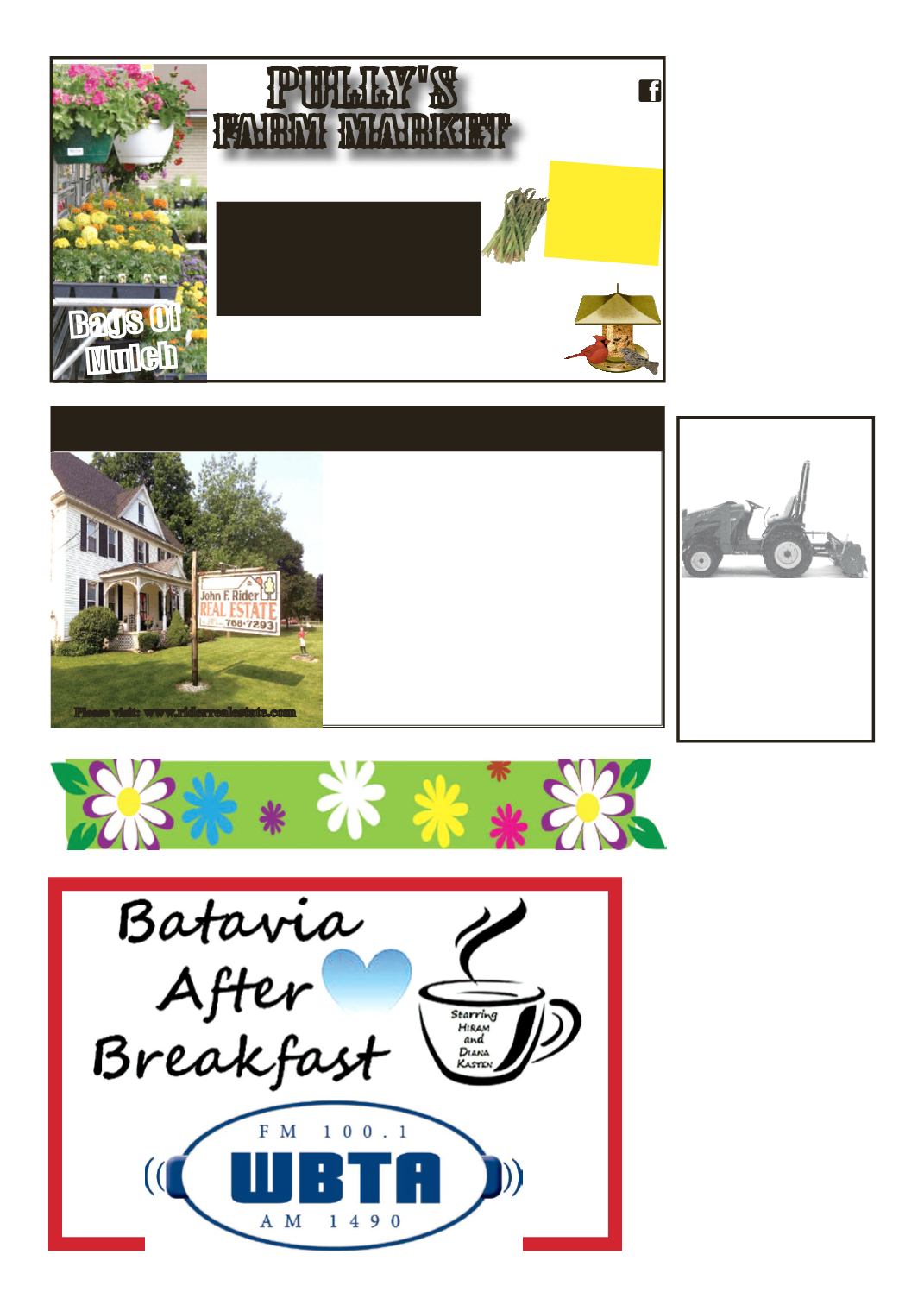 LEROYPENNYSAVER&NEWS -MAY 29, 2016
Not the biggest, just the best.
WEARE INNEEDOFYOURLISTINGS!
"We havemany clients looking for their perfect home,
call us today!"
JohnF. Rider, LicensedReal EstateBroker
SteveF. Rider, LicensedReal EstateBroker
JoAnnSnyder&GregRogers,
Assoc. Brokers
8130E. Main StreetRoad, LeRoy
Please visit:
8160LakeRd. (Rt. 19)
LeRoy, NY
1/2mile southof Thruway
768-2280 • 704-1157
Hours:Mon.-Sat. 9-6, Sunday 9-5
pullysfarmmarket.com
PottingSoil&TopSoil
HANGINGBASKETS
ANNUALS • PERENNIALS
VEGETABLEPLANTS
COMBOPLANTERS
HERBS
Jams • Jelly • Seed
Honey • Syrup
Fresh
Asparagus
PickedDaily
FromOur Farm
Gift CertificatesAvailable!
Bird
Seed&
Feeders
NoTexting
Either new or
existinggardens
rototilled.
48" rototiller.
Call Don
At 356-4089
LEROYPENNYSAVER -OCTOBER 24, 2005
Olivia Vincent
been named to the Dean's List
at Paul Smith's College for the
spring 2016 semester. Vincent,
who is majoring in baking arts
and servicemanagement, earned
asemesteraverageof3.3orhigh-
er to receive this distinction.
NazarethCollege undergradu-
ate students earned their bache-
lor's degrees at the 89thAnnual
Commencement ceremony that
took place at the Blue Cross
Arena inRochester,NY, onMay
Courtney Taylor
graduated Magna Cum Laude
with a bachelor's degree inBiol-
Alexandra Walker
graduated Summa Cum Laude
withabachelor'sdegree inCom-
municationScience&Disorders .
TuesdayNight
GolfLeague
DonaldWoodwardMemorial
Golf League
Results fromweek 4:
LowGross -
LowNet -
Standings afterweek 4:
6th -Cameron, Brady, Steuber