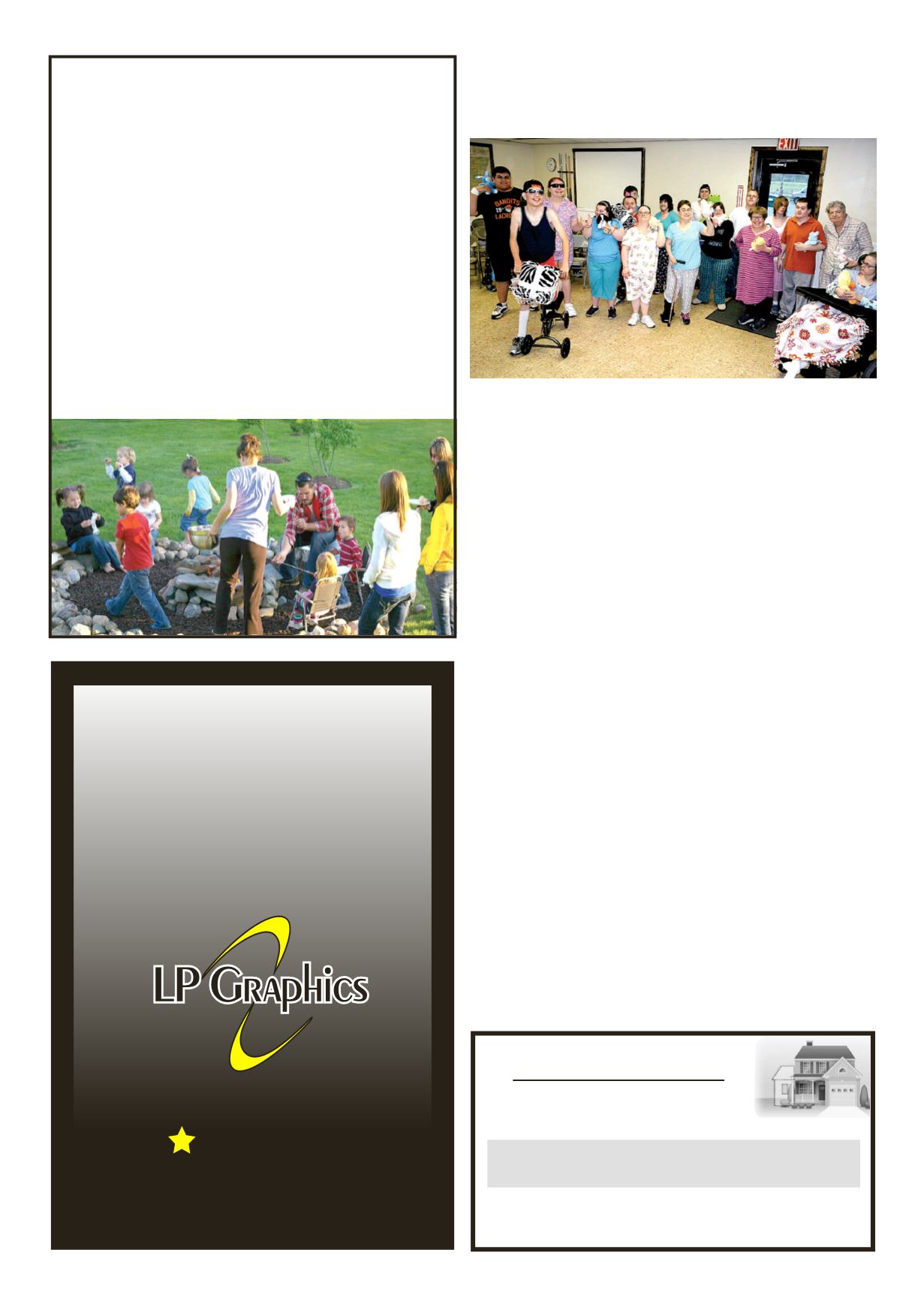 LEROYPENNYSAVER&NEWS -MAY 29, 2016
"CompleteCarpentry Service"
M
ILLER
B
ROTHERS
B
UILDERS
CustomHomes •Remodeling•Additions
Roofing• Siding
DANIEL
MICHAEL
AmeriCorpsMembersNeededFor
LCCPSummerDayCamp
GeneseeCountyAmeriCorps is looking for twomembers toserve
asdaycamp leaderswith theLeRoyChristianCommunityProject.
This isachance tobecreative, helpkidshaveagreat summer and
get valuablework experience!
Candidatesshouldhave theeducational and/oremploymentback-
ground to lead the day camp program. Members must complete
300 service hours from June –August. Theywill earn a $2,000
living allowance, distributed biweekly, and a $1,212 education
award grant that can be used to pay for future college costs or to
Contact theGeneseeCountyYouthBureau
*585-344-3960or
About 70dancers attended the
PJ Dance for Genesee County's
AdultswithDevelopmentalDis-
abilitiesonThursday,April12th,
at theByron FireHall. As usual
most folkswore their robesorPJs
and some even wore their slip-
pers. As a special treat, assorted
stuffed animals in many colors
andsizesaswellas fuzzypillows
with matching throws were raf-
fled off. Many of them became
dancepartners!Theusualmusic
playedonasDJTomkept thehits
and requests coming. The circle
danceswereperformedand those
celebratingApril birthdayswere
acknowledged.Volunteersserved
up refreshmentsandmanyof the
dancershung in there till thevery
The final dance will be the
very popular Halloween Dance
onThursday,October 20th.This
last dancenot only ends our sea-
son but also an era. The dances
were started by Pat Iamon and
were originally held at the Gil-
liam-Grant Community Center
during her internship there; but
for the last 12 years the dances
have beenheld at theByronFire
Hall and were sponsored by the
ByronLadiesAuxiliaryofwhich
she is a member. According to
Iamon there have been nearly
100 dances over the years with
an average attendance of 60-70
dancers plus their family mem-
Iamon said, "There have been
somanypeople that have helped
make thesedancespossible."She
wenton tosay, that shewould like
to thank everyone who pitched
inwith donations over the years.
Iamon said that this successful
community event couldnot have
continued these12+yearswere it
not for thededicationof somany.
Iamon said, "I am very happy
to report that there is currently
a committee consisting mostly
of parents that are working on
continuing these dances into
the future. It has been a labor
of love for me. The Byron Fire
Department, my family and
friends, have all had a hand in
helpingme over the years. I feel
very comfortable stepping down
and allowing thenew committee
to continuemy visionwith their
The dances are open to all
individuals with developmental
disabilities living in Genesee
Countyages13andup. Formore
information, call Pat Iamon245-
2918 or LauraPlatt 548-2245.
PJDance
AComfy, CuddlyAffair
1CHURCHST, • LEROY, NY • lpgraphics.net
WEHANDLEALLASPECTSOFPRINTING...
PROGRAMS
LETTERHEADS
BILLHEADS
FLYERS
BROCHURES
POSTERS
CARBONLESSFORMS
ENVELOPES
RAFFLETICKETS
NEWSLETTERS
RESUMES
TYPESETTING
RUBBERSTAMPS
ENGRAVEDSIGNS
NAMETAGS
COPIES
LAMINATION
COMMUNITYFAX
NEWSANDPICTURES
ADVERTISING
BUSINESSCARDS
HOURS: Monday thruFriday 8:00 to 5:00