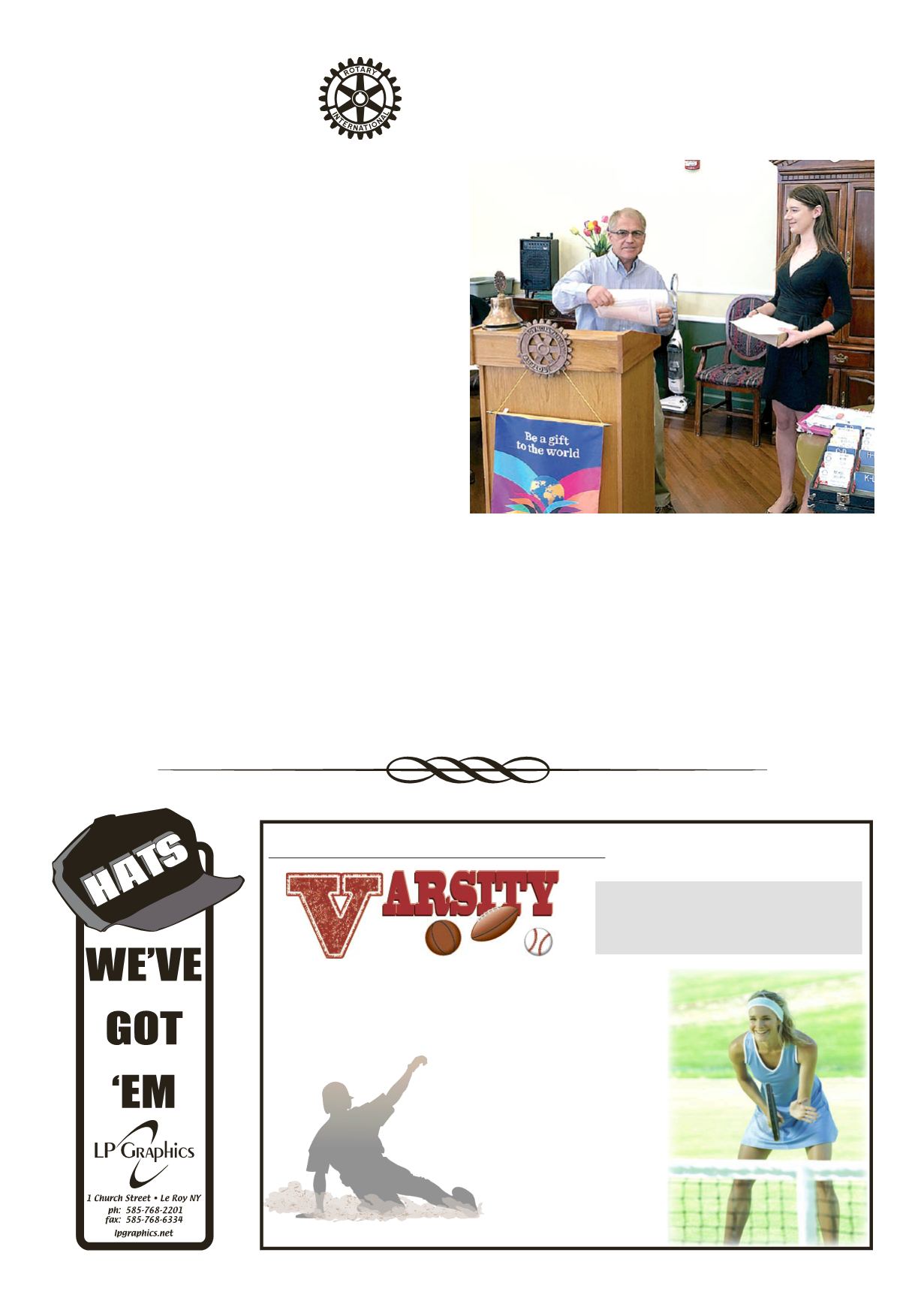 LEROYPENNYSAVER&NEWS -MAY 29, 2016
LeRotary
Notes
Today at the Rotary Club of
Le Roy President Tony Gugino
rang the bell and welcomed
guests Perry Rotarian, Cindy
Henrickson;LeRoyHighSchool
Seniors,MeganWebb, andCar-
ley Fee; YWCA Crisis Hotline
ProgramDirector,HolleyBaxter
After thePledgeOfAllegiance,
Prayer, and Four Way Test, we
sang an enthusiastic round of,
"Homeon theRange tocelebrate
Announcementsweremade:
*REAL (RotaryExcitedabout
Literature) will be held on June
25– ifyouhavebooks todonate,
they can be brought to Martha
Bailey at The Bank of Castile/
Tompkins Insurance inLeRoy.
*Our newestRotary tradition,
Thirsty Third Thursdays, has
been born! Please join us every
thirdThursday for a social hour.
We will alternate locations, so
be sure to read theRotary notes
eachweek and look toour Face-
*The2016InstallationBanquet
will beheld June29–Please see
DavidGraysonwith questions.
Chris Biviano, Ben Deregon
and Carol Wolfe were all cited
To begin our fining session
for the day, Ben was cited for
attending theAvonRotaryFund-
raiser.PresidentTony, Instagram
sleuth, dug up a photo of several
Humphrey's piled on to one
couch–Laurenwas fined$1per
Humphrey, resulting in a hefty
fine!MaryYoungwas reelected
to theLibraryBoardOfDirectors
and, of course, had to pay up for
that.ChristineGephartwasgiven
the opportunity to promote this
year's Duck Derby, at a cost of
Today for our program, Scott
McCumiskey introduced Holly
Baxter and Ashley Hill of the
YWCA. Holly Baxter, recent
recipient of the Constance E.
Miller award, has over 30 year's
experience in theCrisisHotline.
Over4,000crisiscallsweremade
this year at the 24/7 operation.
Thehelplineoffersa livechatand
isdevelopingadownloadableapp.
Theagencyhasa fulldatabaseof
all local resources and not only
provides individual support, but
also encourages businesses and
agencies toutilize their services.
For any questions on what re-
sources canbemadeavailable to
you, your neighbors or your cli-
entsyoucancall 1.844.345.4400
anytime. The helpline is just one
service the YWCA provides.
AshleyHill spokeof the support
groups, safehouseand individual
clients that theYWCA services.
There is also a volunteer run
clothing boutique where women
can come to get attractive busi-
ness attire at a low cost!
For more information on the
Rotary Club of Le Roy please,
"Like" us on Facebook, follow
us on Twitter or check out our
LeRoySportsBoosters presents
BANQUET
Dinnerwill be followedbyawards presentations.
Tickets for athletes andguests areonly $10each.
Due to thegenerosityof the Sports Boosterswhoarepaying
for aportionof everyone's ticket.
Tickets canbepurchasedat thehigh school office.
Pleasepurchase your tickets asap.
Everyone is
Welcome!
Comecelebratewith theathletes
onanamazing
Winter/Spring Sports Seasons.
VOLUNTEERS
ARENEEDED!
June 6th
•5:00pm
Stafford FireHall