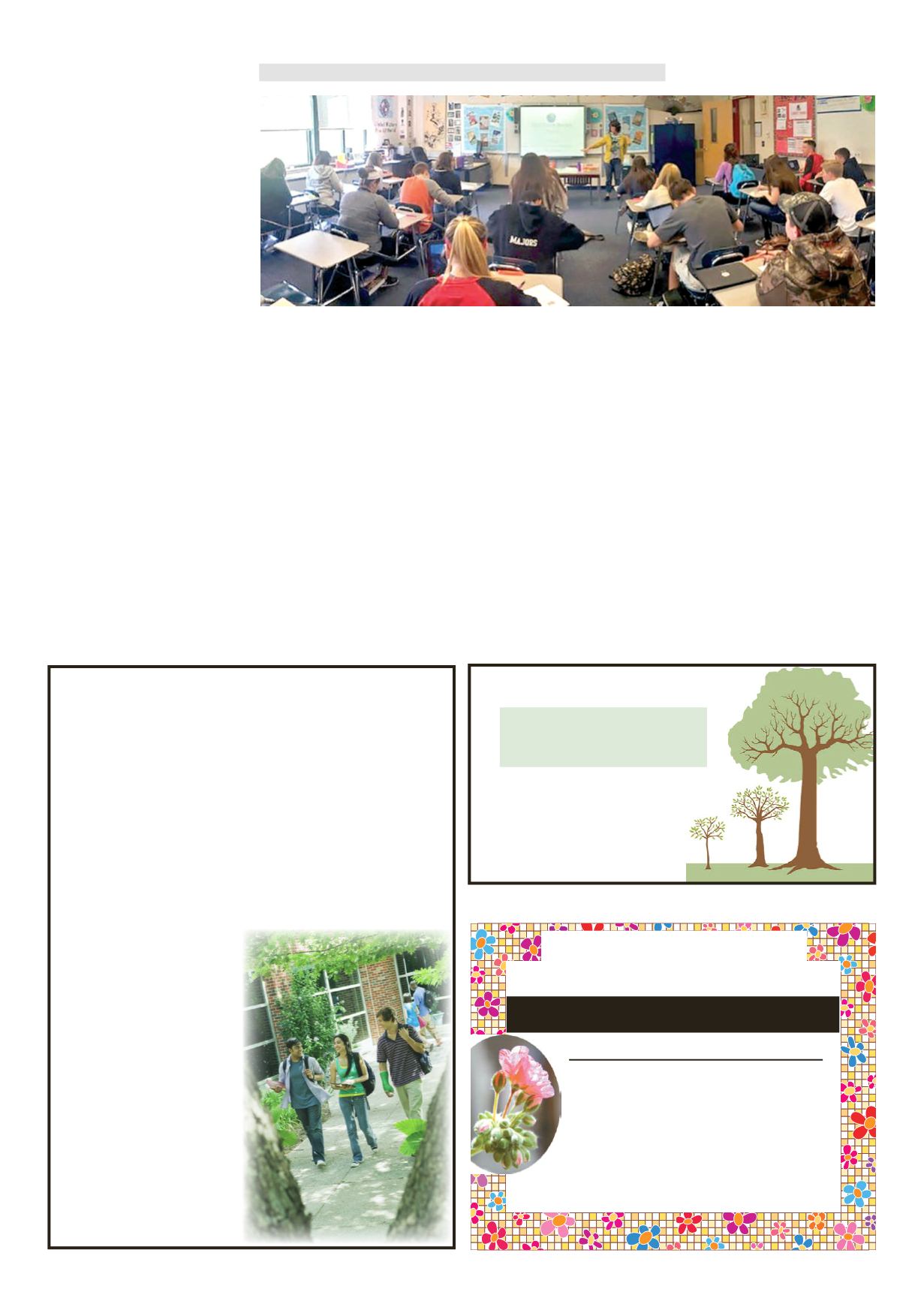 LEROYPENNYSAVER&NEWS -MAY 29, 2016
Fabulous
FREE
Refreshments
THETOWN&COUNTRY
GARDENCLUBOFLEROY
Will be sponsoring a
PLANTAUCTION
Wed., June 8th
at 6:00pm
First PresbyterianChurch
corners ofMain andClayStreets
Houseplants•Perennials&Bulbs
will be available
LeRoy civic beautification.
ThePublic Is InvitedToAttend
OlmstedMemorial Scholarship
The scholarship is being made available by the Olmsted
family in memory of Warren and Maria Olmsted, longtime
members of the First Presbyterian Church. Maria Olmsted,
who passed away in 1992 at the age of 95, had a lifelong
love of learning. She always lamented the fact that she
was never able toattendcollegeherself, andMrs.Olmsted
madecertain that her own threechildren receivedahigher
education. This scholarshipwillassistayoung residentas she/
hepursues a similar dream.
* Active inandcontribute to thecommunity
* Aregraduatingseniorsatanycommunityhighschoolor
msted Scholarship stresses
the recipientwill bebased
on theperson's"significant
byKimCox,
Superintendent of Schools
I am very proud to announce
that the Le Roy Jr.-Sr. High
School was awarded a Silver
Medal in thenational rankingsof
U.S.News&WorldReport,plac-
ing in the top10.9%of schools in
the country. InNewYork State,
the Oatkan Knights ranked 180
out of 1,271 high schools and
areamong225schoolswhowere
awarded either Gold or Silver.
This is the first time since the
rankings came out in 2007 that
our Jr.-Sr. HighSchool has been
Report releases its annual Best
HighSchools rankings awarding
Gold, Silver and Bronze medals
to top performing public schools
atboth thestate levelandnational
level. The 2016 rankings include
data onmore than 21,150 public
high schools across the country.
The report'scriteriaarebasedon
overall performance of students
on state tests, participation and
performance on advancedplace-
mentexamsandgraduation rates.
The goal of these rankings is to
provide an unbiased picture of
the top performing schools and
howwell those schools serve all
of their students. Therewere500
highschoolsor2.5% that received
Gold medals; 2,173 or 10.9% of
schools earned Silver and 3,545
or 17.8% took homeBronze.
Le Roy Jr.-Sr. High School is
proud toofferacoursecatalog that
is diverse and allows all students
many opportunities to be suc-
cessful and challenge themselves
academically.Thecatalog ishigh-
lightedby22college levelcourses
worth72credits that areavailable
for students on campus. This in-
cludeseightAdvancedPlacement
coursesandmanyopportunities in
Thisawardcomeson theheels
of the Music Program being
honored for the 10th time in
the last 11 years by the NAMM
Foundation as one of the 2016
Best Communities for Music
Education in thecountry. In2015,
Le Roy Jr.-Sr. High School was
named to the 5th Annual Ad-
vancedPlacementHonorRoll for
improvedenrollmentandsuccess
The Le Roy Central School
District proudly recognizes the
efforts of every teacher, staff
member, administrator,Boardof
Educationmember, and thecom-
munity-at-large, for their roles
in achieving this honor. These
combined efforts have paved the
way for rigorous expectations
outstanding district; staff,
administrative team, Board of
Education, and the community
of Le Roy! Thank you for your
Thank you to all those who
haveserved thiscountry.Wegive
thanks and honor the veterans,
servicemen, and women, and
their families, forsacrificesmade
InBusiness Since1985
Contact Info:
Steve Smudzin
585-813-9629
Light Trimming To
Complete TreeRemoval
StumpGrinding
Fully Insured• Free Estimates
24Hour Emergency Service