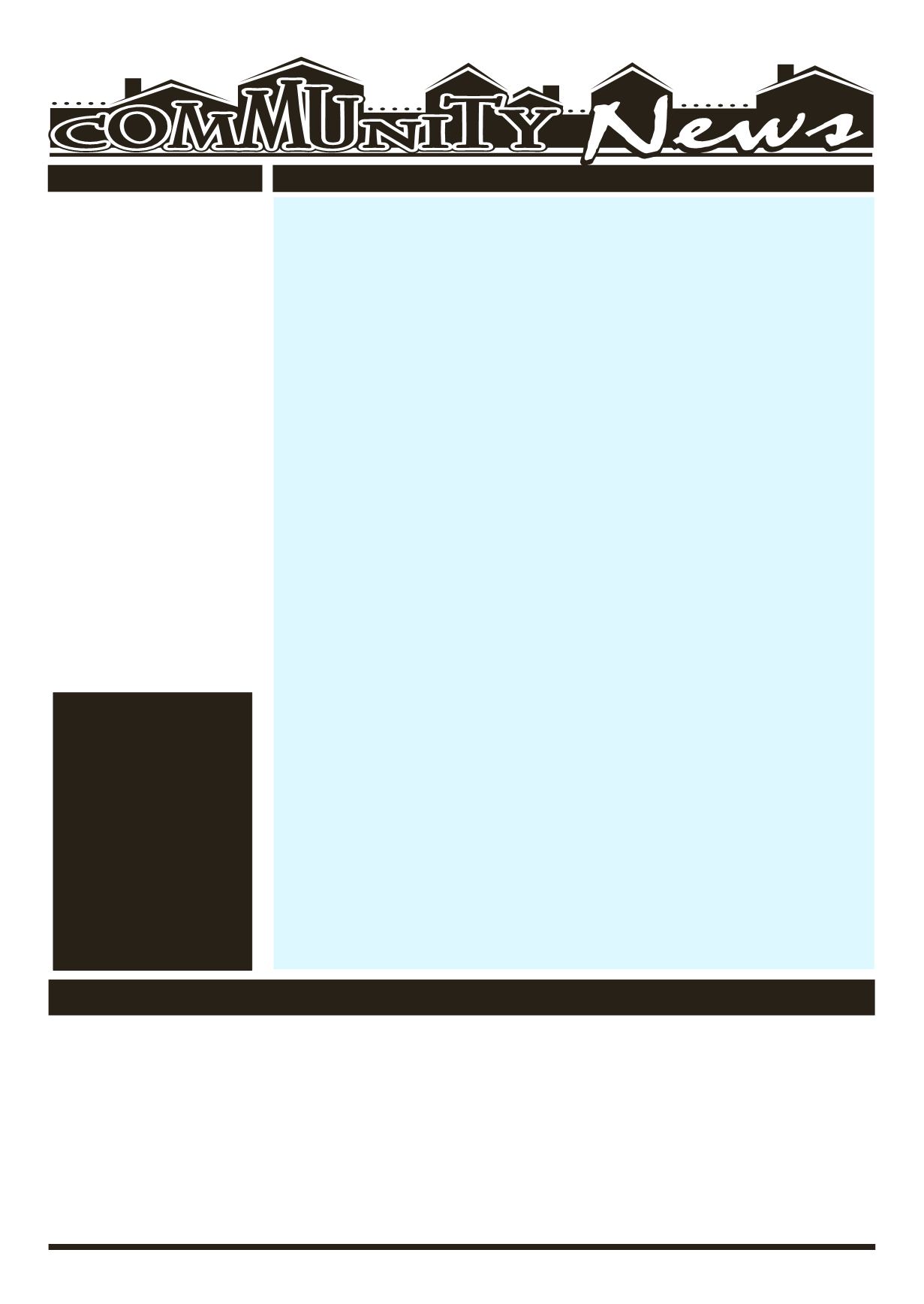 LEROYPENNYSAVER&NEWS -MAY 29, 2016
All GeneseeCounty residents, 60andolder, can takepart in thisweek'sactivitiesat theBataviaSenior Center, 2BankSt., Batavia. Formore information, call 343-1611.
SENIORCITIZENSACTIVITIES (May 30th - June 3rd)
WEEKLYEVENTS
OBITUARIES
MEMORIALDAYHOLIDAY -SENIORCENTERCLOSED
Low IncomeWalk-inDay
is scheduled tobeginat12:00pm ;
Cribbage
is scheduled tobeginat1:00p.m.
Quilter'sGroup
isscheduled tobeginat9:00a.m.;
AlzheimerAssociationMeeting
isscheduled tobeginat9:00a.m.;
Euchre
uled tobegin at 1:00p.m.;
Office for theAgingAdvisoryCouncilMeeting
is scheduled tobegin at 1:00p.m.;
Office for theAging
PublicHearingCommitteeMeeting
is scheduled tobeginat2:30p.m.
TaiChi
isscheduled tobeginat9:30a.m.;
TransportationCoordinatingCommittee
isscheduled tobeginat10:00a.m.;
GentleFitness
isscheduledtobeginat10:30a.m.;
Cribbage
isscheduledtobeginat1:00p.m.;
Bridge
isscheduledtobeginat1:00p.m.;
KalosMeeting
isscheduled tobeginat1:00p.m.
ArtClass
isscheduled tobeginat10:00a.m.;
LineDancing
isscheduled tobeginat10:00a.m.;
Euchre
isscheduled tobeginat1:00p.m.
SUNDAY,MAY29
MONDAY,MAY30
TOPS (TakeOffPoundsSensibly)
meetsMondayevenings at the
LeRoyPresbyterianChurch, cornerofClay&MainStreets.Doorsopen
at 6:00 pm andmeeting is from 6:30-7:15 pm. Visitors are always
welcome. Call 585-768-7103 formore information.
MemorialDayParadeDate:
Paradeformsat9:45amand"steps
off"SHARPLYat10:30amfromtheLegionPostHome,53WestMain
TUESDAY,MAY31
Preschool Storytime :
Every Tuesday at 11 am featuring stories,
craft and songs at PavilionPublic Library, 5WoodrowDr., Pavilion.
LCCP's GRACE'S KITCHEN:
A FREE dinner every Tuesday evening,
5-6:30pmat theMasonicCommunityCenter on12BankSt. Plenty
of parking. Takeout &delivery are available. Formore info. contact
SelbyDavisat585-738-8882or
GRACE'SCLOSET:Aclothinggiveawayprogram
RoyUnitedMethodistChurch,10TrigonPark,LeRoy,9:30amto11:30
ameveryThursday.Wehave clothing for all ages. Weneedbedding
of all kinds especially blankets. Donations canbe dropped off at the
housenexttothechurch.Pleaseputallbags INSIDEonthebackporch.
NOELECTRONICS, COMPUTERS,DISHES, etc.
OpenTuesdays5-6:30
pm.
Anyquestions call theoffice768-8980.
AXIS Student Ministry at LivingWaters Church
LeRoy. Sundays from 6:30 to 8:30 p.m. for 7th to 12th grade. Our
goal is for teens' lives to be impacted, and radically changed. For
more information, check us out at:
FoodlinkFreeMobileFoodPantry:
of Christ is partneringwith Foodlink of Rochester to host a free
mobile foodpantry,4:00-6:00pmatMorganvilleUnitedChurchof
Christ,8466MorganvilleRoad(offRt237,1milenorthofStafford).
The exact food items and quantity available are not known, but
freshproducewillbeavailable. Mustbe18yearsofage,no income
requirement or ID required. Must provide own bags/vehicle to
transport items toyourhome. Foodprovidedonafirst come,first
servebasiswhile supplies last.
WEDNESDAY, JUNE1
THURSDAY, JUNE2
FRIDAY, JUNE3
Penuel Christian Fellowship,
One Step to Freedom addictions
ministry, a Christ CenteredAddictions program, aweeklymeeting
every Fridayat 7pm. Call theChurch formore informationat 768-
PenuelChristianFellowship
isorganizingayoungadult fellow-
ship andBible study. Ages: 12 andup, Time: Fridays from7-9pm,
Study: the book of Romans (a 16week course), taught by Josiah
Gariboldi.Place: 7115WestMainStreet.
SATURDAY, JUNE4
FirstBaptistChurchofPavilion is celebrating their200th
Anniversary
this year, 2016. Oneof our special eventswill bea
concert,'50YearsOfSacredMusic'presentedbyDanWoodard.The
concert is from6:30pm -8:15pm.All arewelcome. Call 585-584-
3179, ext. #12withanyquestions.
UPCOMINGEVENTS
The Stafford UnitedMethodist Church is having a FREE
giveaway
on June10th from11AM to5PMand June11th from
11AM to2PM.Therewill beassortedclothing, household items,
books,holidaydecorationsandmuchmore.Thechurch is located
at6134MainRd., Stafford. And remember.....all itemsare free!
TheByronBergenPublicwillbehostingtheKelly'sHeroes
MarchingBand
at the Bergen Park Festival on June 11, 2016.
Thebandwillbe intheparadeand intheparkafterward.This free
program ismade possiblewith funds from the Decentralization
program, a regrant program of the New York state Council on
the Artswith support of Governor Andrew Cuomo and theNew
YorkStateLegislatureandadministeredby theGenesee-Orleans
Regional ArtsCouncil (akaGo-Art).
The Genesee Valley Civil War Roundtable
Bielewiez on "Heroes in the Attic", Wednesday, June 15th at 7:00
pm.Themeetingwill takeplaceat LeRoyUnitedMethodist Church,
3rd door on right end of long sidewalk, 10 Trigon Park, LeRoy, NY.
Discussionperiodwill followprogram.Newmembersarewelcome.
CommunityCalendarSubmissions shouldbe sent to:
GEORGIA/LE ROY ~ Peter J. Perma, 69,
formerly of LeRoy passed away on May
17th with his loving wife Rosa at his side.
Heserved5 toursofduty in theVietnamWar
receivingmany accommodations including
thePurpleHeart.Militarymemorial services
will beheld at a later date inGeorgia.
LEROY~DorisM.Cook, age90, a lifelong
resident of LeRoy, entered eternal rest on
Tuesday (May 24, 2016) at the LeRoy Vil-
lage Green Nursing Home. Memorials are
suggested to theActivityFundat theLeRoy
Village Green Nursing Home, 10 Munson
LE ROY ~ Steven L. Lantz, 49, of LeRoy
passed away on Tuesday, May 24, 2016
at theUnitedMemorial Medical Center. He
wasbornonOctober23, 1966 inBatavia to
the lateHarveyLantzandDorothy (Risher)
Tobolski of Oakfield. In lieu of flowers, me-
morialsmaybemade toBataviaHomecare
org/29LibertySt.Ste6,Batavia,NY14020.
CALEDONIA/LEROY ~ Melissa (Powers)
SpathpassedawayonMay22,2016atage
43. Memorials may be made to Genesee
ARC for Autism, 64 Walnut St., Batavia,
Le Roy
Pennysaver