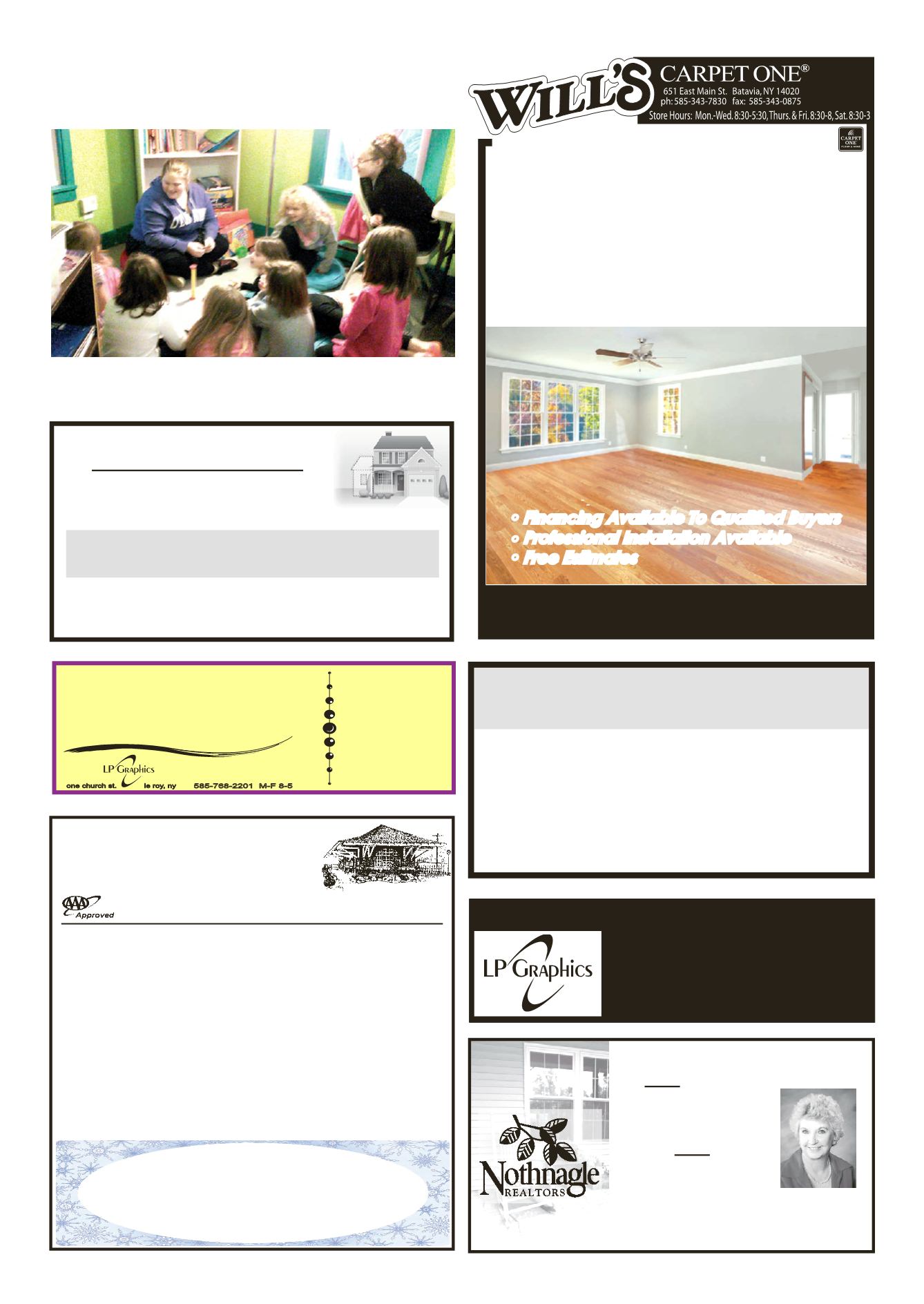 LEROYPENNYSAVER&NEWS - JANUARY 10, 2016
TheONE store for your perfect floor.
FLOOR
&HOME
"CompleteCarpentry Service"
M
ILLER
B
ROTHERS
B
UILDERS
CustomHomes •Remodeling•Additions
Roofing• Siding
DANIEL
MICHAEL
Batavia
585-343-6750
NOW is theBEST time
toBUYwith the interest rates
at their lowest!
Don't wait
toBUY -
call
LindaBeaumont
for all your real
estateneeds.
LindaBeaumont
Home (585) 768-6315
LicensedReal Estate
Salesperson
Multi-MillionDollar Producer
• FinancingAvailable ToQualifiedBuyers
• Professional InstallationAvailable
• Free Estimates
ALLWORKMANSHIP GUARANTEED • INSURED
297-9097 • 768-7737
• InteriorPainting
• Plaster/LathRestoration
•Drywall&Drywall Repair
•TextureRemoval
• Floors Stripped
&Refinished
•OldCeilings&Walls
MadeLikeNew!
MikeDarby'sPatch&Paint
1ChurchSt., LeRoy, NY14482
585-768-2201
FAX 585-768-6334
WeDo
TheweekbeforeChristmas and some of theLCCPAfterSchool
Program group were enjoying a game of 5 Second Rule once
homeworkwas completed.
LCCPPlayingThe
5SecondRule
D&RDepot
63LakeSt. (Rt. 19), LeRoy• 768-6270
Let'sMeetAt The ...
OpenForBreakfast, Lunch&Dinner - Sun.-Thurs. 7-7, Fri. &Sat. 7-9
SUNDAY, JANUARY10th -Old-FashionedDinnerSpecial
STUFFEDPORKCHOP
dinner servedwithhomemade potato
pancakes, soup or salad, and one of Amy's desserts
SUNDAY, JANUARY17th -Old-FashionedDinnerSpecial
BRACIOLLEw/ PASTA
comeswith soup or salad, pasta& homemade red sauce and
chocolate layer cake
SUNDAY, JANUARY24th -Old-FashionedDinnerSpecial
ROASTTURKEY
Servedwith homemade dressing, realmashed potatoes& fresh
homemade pumpkin pie, aswell as soup or salad
OurWinterHours
begin thisweek January 4 –March 13
Wewill be seating from 7 am – 7 pmSunday throughThursday
7 am - 9 pm onFriday andSaturday
Check out our large
hardwood selection!
(materials only)
one church st. le roy, ny
one church st. le roy, ny