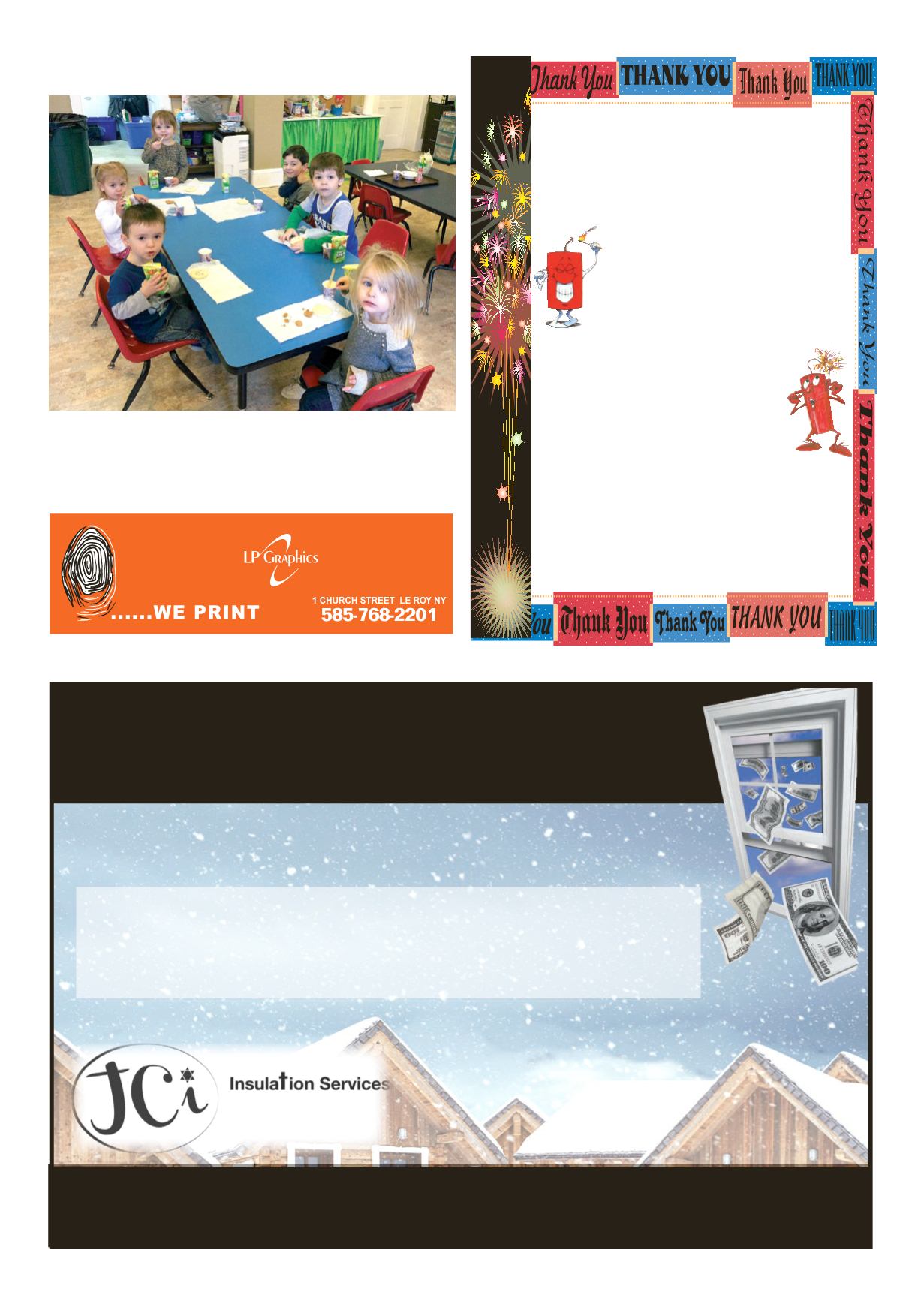 LEROYPENNYSAVER&NEWS - JANUARY 10, 2016
HolidayFunAt SNS
SunshineNurserySchool'sPlaygroup childrenhad funprepar-
ing forSantabydecorating cookies,making reindeer food, and
practicing holiday songs. Of course, eating the cookieswas lots
of fun too!
Thank you for everyone that supported
LeRoyBusinessCouncil's
FirstNight Celebration!
FirstNightRaffleWinners:
GrandPrize (LimoRide&Dinner): JenHart
Around theHome:MaryGugino
Health&Beauty: FrancisMcCall
Tailgater Special:MikeSmith
Special thanks to our sponsors:
Village of LeRoy •Town of LeRoy
PizzaLand •NexgenVentures, LLC
Orcon IndustriesCorp •AnnWalters
FalconeFamilyFuneral&CremationService Inc
Northwoods Sportsman'sAssociation Inc.
HasgoPower Equipment Sales, Inc.
lpgraphics.net
Insulation Is Key For SavingMoneyOn
MakeYour HomeMore Energy Efficient!
Freeestimates andefficient service
Materials and employees
made inAmerica! smile!
Web site:
Email:
Phone: 585-768-2003
Ice dams on the roof, cold rooms, drafts
mean higher energy loss
The 3 types of insulationwedoare:
fiberglass rolls, fiberglass or cellulose spray in
andpolyurethane spray foam.
Newadditions, newbuilds, andall attics andcrawl spaces.
Fluent inASL for theDeaf or Hardof Hearing.