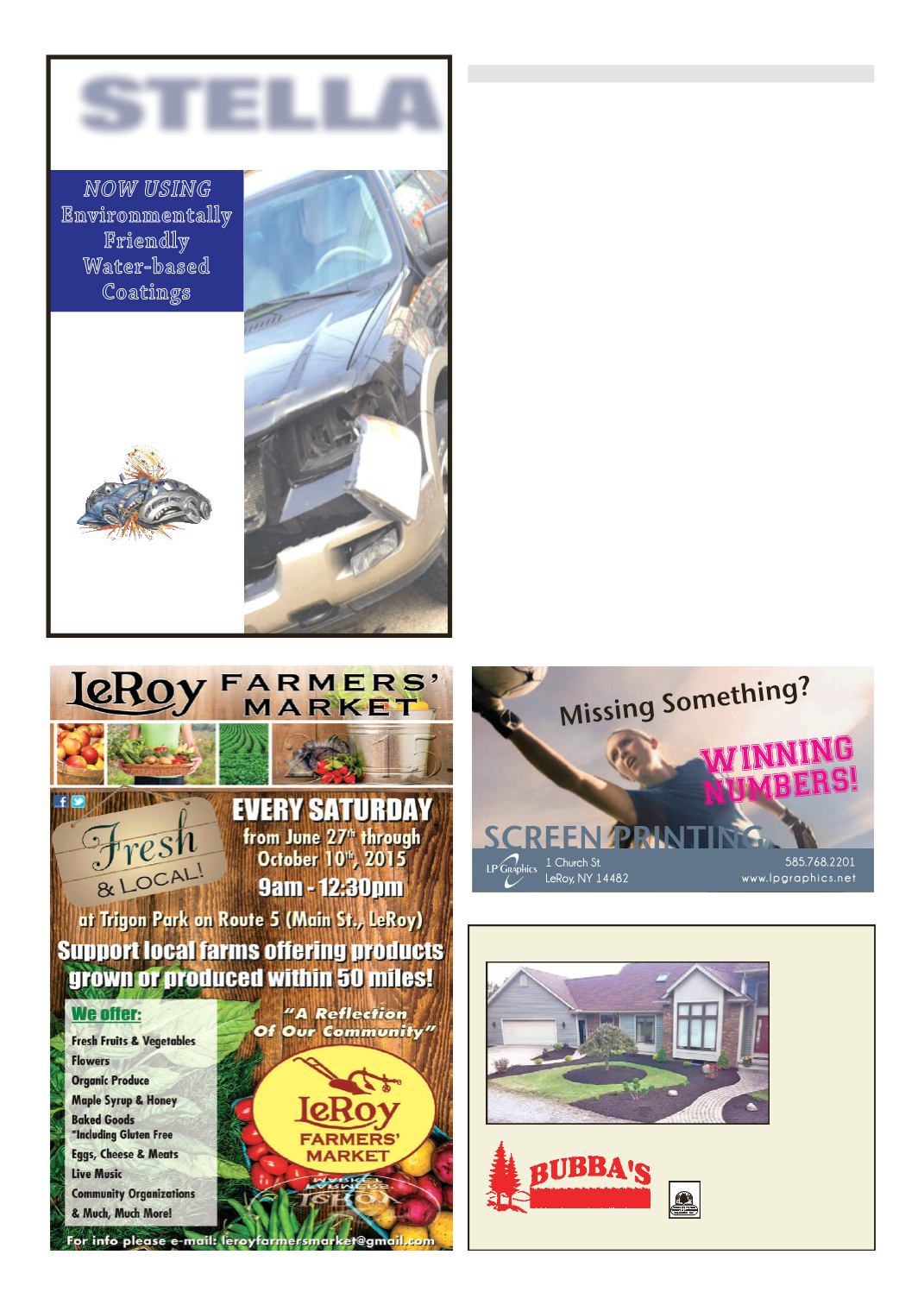 LEROYPENNYSAVER&NEWS - JUNE 14, 2015
Collision Service, Inc.
STELLA
Complete
AutoBodyRepair
GlassReplacement
24HourTowing
DowndraftPaintBooth
ComputerEstimating
8375EastMainRd.
LeRoy,NY
768-7370
NOWUSING
Environmentally
Friendly
Water-based
Coatings
byGreg "Porp"Rogers
Mayor
Very shortlyour sidewalkproj-
ect will be taking place through-
out theVillage. This projectwas
made possible by the SafeRoute
to School Grant. This will allow
us to replace many of the side-
walksnear theschool.Wewilldo
our best to inform the public on
the areas thatwill be impacted to
the best of our ability. Please be
as patient as possible, this may
involve some inconveniences
including street parking, but in
the endwe feel itwill beworth it
foryears tocome.The total grant
TheVillageBoard held aZon-
ing andCodeWorkshop on June
1st. Thanks to allwhoparticipat-
ed,wewill allbeworking toward
making our community a great,
clean place to live and respect
our neighbor's rights. We will
keepyoupostedonotherventures
we have in store to clean up our
LeRoyhasbeenblessedwithso
manygreat people, thatwhenwe
loseone, it ishardnot tomention
one in this column, but where
would I draw the line? And I
wouldn't want to leave anyone
out. So Imade itmy rule only to
mention someone who worked
for the Village. With that being
saidKatie Stone has left us, she
will be greatlymissed but never
forgotten.Katie served formany
years as Deputy Clerk-Treasurer
for theVillage.Shewas themost
efficientperson I'veeverknown,
and her contributions to our
community are too numerous to
mention.One thing thathasstood
the test of time in LeRoy, when
someone saidKatie; itwasnever
followedbyKatiewho, therewas
one and only, rest in peace.
On a brighter note, soon the
childrenwillbeoutofschool, the
pool opens and Jackie Whiting
andher staff has a great summer
planned, forall. Fiveweeksuntil
OatkaFest.Signup for theTri the
"It's what you learn after you
know it all that's important"
Notes From TheMayor's Office
JOB JUSTCOMPLETED!
Residential &Commercial
81 LakeSt., LeRoy
Landscape
bubbaslandscape.net