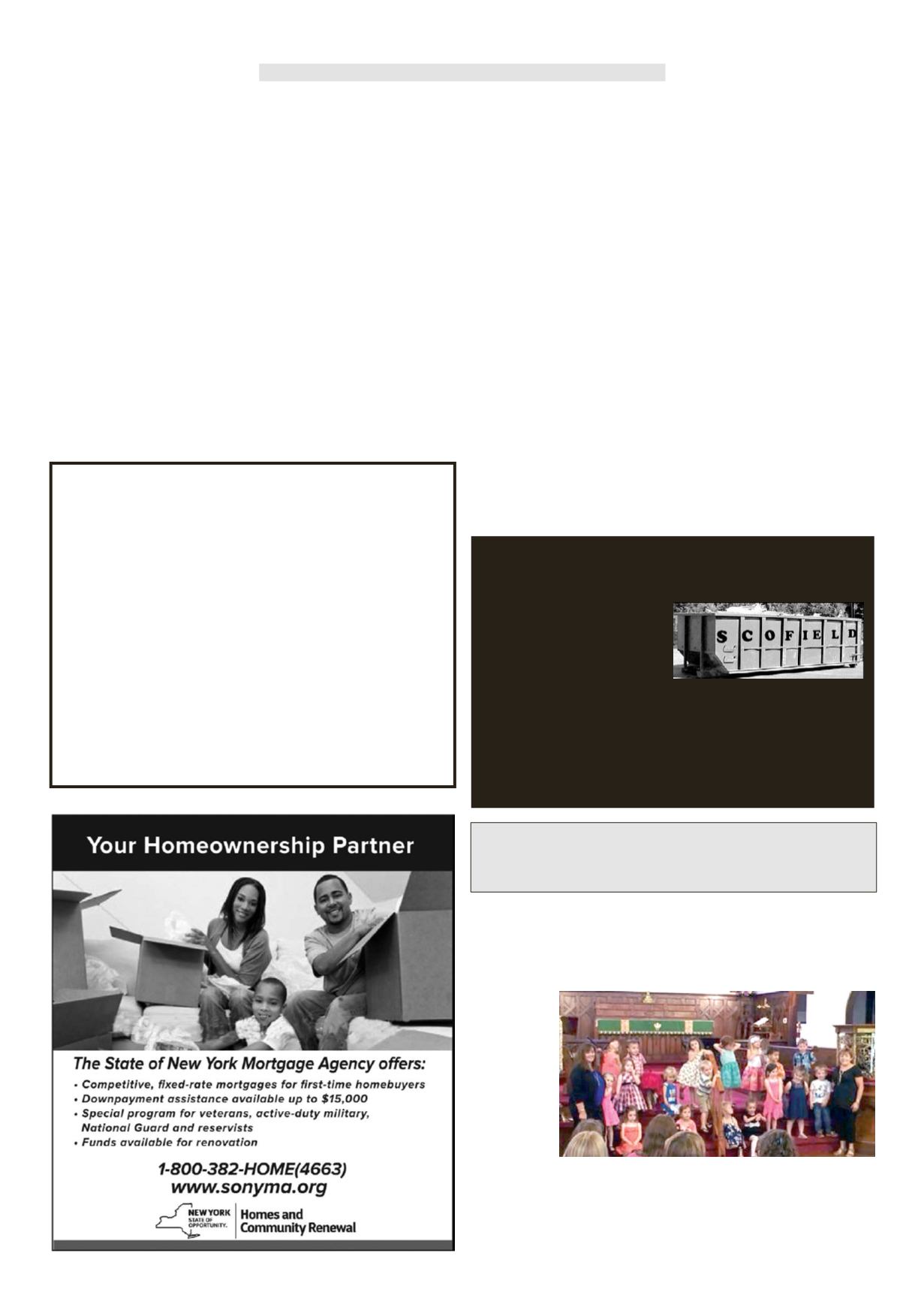 LEROYPENNYSAVER&NEWS - JUNE 14, 2015
SUPPORTYOUR LOCALADVERTISERS!
They help sponsor the local news section of the Le Roy Pennysaver.
THANKS FORYOUR SUPPORT!
PAINT&BODYTECHNICIAN
(BATAVIA, NYAREA)
• 3-5 years of experience
• Trucks / ConstructionEquipment
• Part-time or Full-time position
• Pay based on experience
• Competitive compensation package
Send resume or outline of experience to:
Paint&BodyTechnician
byKimM. Cox
Superintendent of Schools
The 2014-15 school year is
rapidly coming to a close. Our
high school students have com-
pleted their classes and are pre-
paring forfinal exams.TheProm
was a great success and our
seniors are off on a wonderful
trip to Cleveland this weekend.
The elementary students will be
done on Wednesday, June 24th
and will have several culminat-
ing traditional events suchas the
6th grade rocket launch, awards
assembly, andfielddaysover the
next few days. Please check the
calendar and the district website
for more information on any of
I would like to take amoment
to thank thestaffandstudents for
their dedication and hard work
that went intomaking a positive
and productive school year! We
havehadmanyaccomplishments
andhavemetmanygoals. It has
been a great year. The entire
Le Roy Central School District
community ensures that our
students are provided with safe
passage to school, a positive and
secure learning environment,
healthy meals and a viable and
rigorous curriculum. We are
fortunate to have supportive
and caring adults serving in all
aspects of the school. This year
we have a few of our cherished
teammembers leavingus tobegin
new adventures in retirement.
Congratulations toMr. JimFarn-
holz, high school social studies
teacher, Mrs. Judy Bower and
Mr. Niles Hickey, bus drivers,
and Mrs. Maragaret Gravanda,
food service worker who retired
inJanuary. Thankyou forallyou
havedone tosupport thechildren
of the Le Roy Central School
District.Wewishyouwell inyour
The summer is a busy time at
thedistrict.September2nd,2015
will be here before you know it.
before
LaborDay!
New to the District?
call us as soon as possible to
register your children for school
so we can plan for a smooth
transition to our school district.
Also, don't forget to complete
transportation forms for
pick-up and delivery
children. Routes are already
being created for the fall. Look
for our school bus in the Oatka
FestivalParadeonJuly18th!You
andyour children can take a tour
of the bus and complete a form
right at the festival. Bring a can
good or non-perishable item and
let's see if we can fill the bus to
helpout theLeRoyFoodPantry!
Finally, Graduation will be
Sunday, June 28th at
1:00
at theHigh School Audito-
rium.We areveryproudof these
young men and women as they
leave us and take the next steps
to college, career, or military
service. Congratulations Class
Happy Summer!
15, 17, 20, 25, 30,
and 40 cu. yd.
CONTAINERS
ScofieldRolloff •343-8383
NobodyBeatsOur Prices!
Sunshine
Nur s e r y
School held
their Mov-
ingUpCer-
emony for
their amaz-
ingNursery
class. The
children re-
ceived theirNurserycertificatesandprovidedentertainment for
Sunshine friends and families. Following the ceremony, those
in attendance enjoyed refreshments and viewed a slide show
of photos taken of the children throughout the year. Sunshine
Nursery studentsmade their teachers and families veryproud!
SunshineStudents
ShineBright!